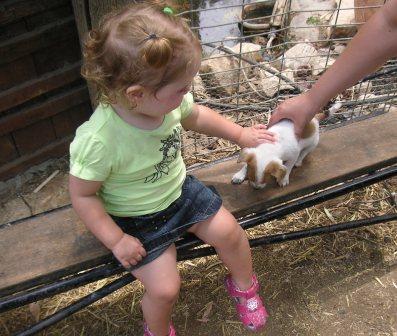 For a family with children on vacation in Israel, I can highly recommend a visit at "The Farmer's House", a park situated close to the city of Petach Tikva, in central Israel. There children and adults can meet different kinds of animals and have lots of fun.
A good idea is to start the visit at "The Farmer's House" by going on a trip with a horse and wagon. After that, you can for example watch when goats are milked or sheep are sheared. You can also get into close contact with bees, snakes and lizards. For the less adventurous, there is a large area, where goats, sheep, very small dogs (see the pi.jpgcture) and other "calm" animals walk around freely. They enjoy very much to be petted and fed. Thereafter you can go riding on donkeys (for smaller children) or camels (for older children and adults).
The visitors at "The Farmer's House" can also take part in producing wine and olive oil, as well as baking pi.jpgta bread over an open fire. If it is the right season, you can also pi.jpgck oranges directly from the trees and eat them − very tasty! To finish off the day, children can enjoy several jumpi.jpgng castles and water games.
If you get hungry or thirsty, you can visit the café/restaurant in the park. There they serve sandwiches, hot dogs, ice cream, drinks, etc.