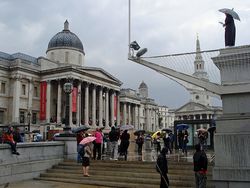 (photo courtesy of diamond geezer)
From July 6 to October 14th, a unique art exhibition is taking place in London's Trafalgar Square, where a different person will stand on the vacant fourth plinth, for one hour. 
The exhibition will continue for 100 days, meaning that 2,400 different people will participate in the project, titled One & Other. Those selected are free to do whatever they choose with their hour, with the exception of bringing a pet. Thus far, many are using the opportunity to raise awareness for various causes. 
The project is the creation of artist Antony Gromley, and there are four criteria for being selected. From their web-site:
"Participants must be age 16 and must live, or be staying in, the UK, an equal number of men and women will be chosen,and the population of the UK will be represented proportionally by choosing a certain number of people from each region: 207 participants from Scotland, 67 from Wales, 71 from Northern Ireland, 227 from the East of England, 103 from the North East of England, 227 from the North West of England, 334 from the South East of England, 207 from the South West of England, 217 from
the West Midlands, 208 from Yorkshire and the Humber, 178 from the East Midlands and 304 from London.
If you are curious about the project, and can't make it to London's Trafalgar Square anytime soon, you can watch a live stream on the
One & Other official website
.