Fact file: The Vuvuzela – part of the indigenous culture of South African soccer – has been given the blessing by FIFA. The Vuvuzela is allowed to stay and will be blown in all the stadiums and fan parks.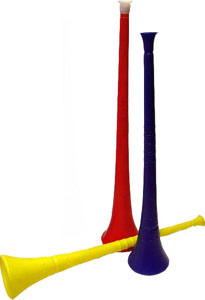 Making a noise with regards to football varies from continent to
continent. If you have seen 'Green Street Hooligans' then you will know
that the British take their support of the sport to a whole new level.
So it comes with great relief to learn that security is being bumped up
considerably now – from the very start of the process to presence at
the actual games. South Africa has signed a memorandum with the United
Kingdom which involves sharing intelligence. This will start at
boarding ports overseas and will prevent deranged fans from even
getting on a plane, which is great. Fans we like. Deranged ones we can
do without.
Other great ways of making a noise would be coverage. It will have come as music to many ears to learn that the 2010 FIFA World Cup™ is headed to iPhone with an April 30 release date to the App Store. There are very definitely new features and ways to stretch this event as far as possible. And if you don't have an iPhone, don't worry, just make sure you have a Vuvuzela – readily available in South Africa. Another great reason to be here!
Muzi Mohale