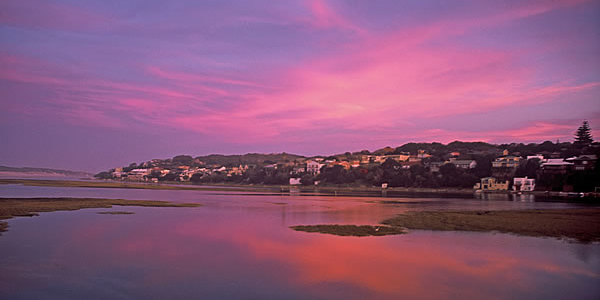 Port Elizabeth in the Eastern Cape has not been top of list for places to visit, at least not for me, but it does make for an excellent hub to visit some of South Africa's best holiday spots. Here are 3 reasons to book yourself a flight to Port Elizabeth:
Top private game reserves are a stones-throw from Port Elizabeth
Quickly becoming the private game lodge capital of South Africa, the Eastern Cape's malaria-free reserves are best reached by flying into Port Elizabeth. With the likes of luxury lodges on private reserves like Lalibela, Shamwari and Pumba, you'll be stuck for choice on where to pick that romantic weekend away. I've visited Shamwari and it was utterly outstanding with excellent food, personal game ranger, and top quality accommodation. The lodges are all within 2 hours by car from Port Elizabeth Airport, making flying in and hiring a car, a breeze.
Eastern Cape beach towns are tops for surf & chill holidays
From casual surfer to up-country turfer, some of the best beaches of the Eastern Cape are a short drive from Port Elizabeth, attracting a variety of visitors due to their varied offerings. From the playground beach towns of the rich like Kenton-on-Sea and Port Alfred, to South African surfing capital, Jeffreys Bay to arguably the best beach in the country at Cape St Fancis, jet into P.E. to make the most of your weekend break.
Grahamstown, South Africa's arts and festival capital has a lot to offer
Flying into Port Elizabeth will mean you're only a 2 hour drive to Grahamstown, home to the National Arts Festival, schools festival, flower festival and science festival – the small university town has a busy calendar. If festivals are not your thing, the city is home to some great architecture like the stone Commemoration Church, as well as historical museums like the Albany museum documenting the arrival of early settlers. Neighbouring towns Riebeek East and Alicedale are worth visiting too for their quiet, picturesque settings.
There are plenty of excuses to book a ticket to Port Elizabeth for a weekend away, keep it in mind for your next weekend break!
[boilerplate bytitle="Standard"]
Shamwari image from official site
Kenton Image from official site