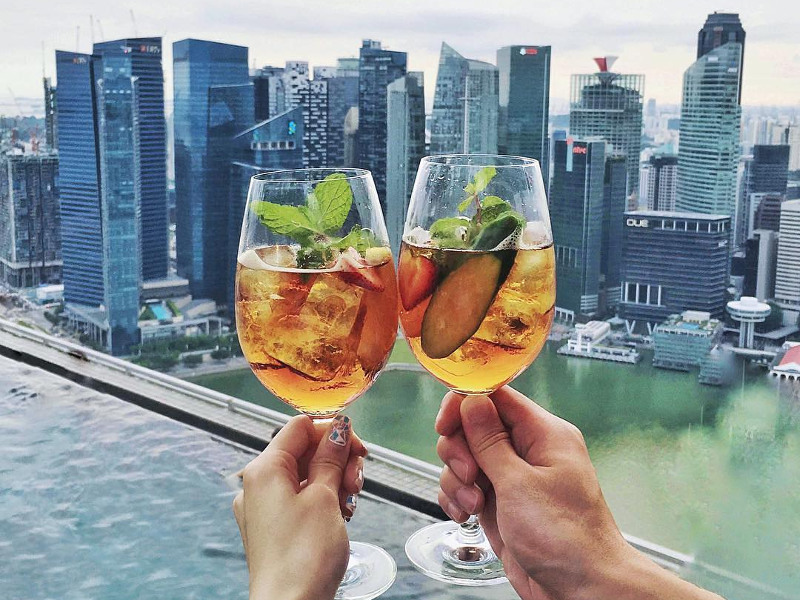 Singapore is a cosmopolitan blend of historical culture and new age glamour. You'll be astounded at how seamlessly everything flows, from its public transport to its artwork. You can easily find yourself getting swooped up by the art galleries and architecture before you've even made your way across town. And the locals are super friendly, too.
Arriving at Changi Airport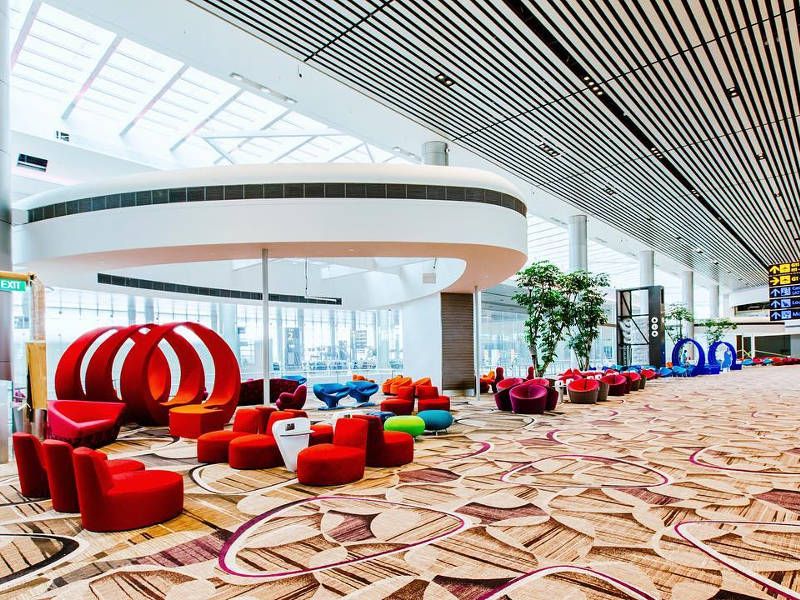 Changi Airport is in a class of its own. As soon as you hit the tarmac, you'll be awestruck by the airport's interior. The hub of Singapore Airlines, this airport includes a 24-hour movie theatre, Butterfly Garden and Entertainment Deck; while those looking for some peace and quiet can wander through the Orchid Garden, Cactus Garden, Koi Pond or take a dip in the rooftop swimming pool. Not too shabby for an airport!
Just 20km east of the city centre, a taxi ride (S$25) will get you to the CBD in around 40 minutes, while the MRT line (S$2.20) takes half the time.
But, first thing's first. Find your bearings. Get your hands on a map of the city to see the general layout of the island. Singapore may look small, but there is so much more to the city than meets the eye, and you don't want to miss out!
Day 1:  A Splash of Culture
Central District/ Clarke Quay
Start your day off with a touch of culture. Wander through Fort Canning Park, admiring the eclectic art installations along the way. This historic landmark represents the British surrender to the Japanese during WWII, and houses the Maritime Corner, Spice Garden, Sculpture Garden and former underground military complex.  When you're done, the National Museum just behind it is worth exploring. Hop on a bus and make your way across the highway to the National Gallery, housing the largest public display of contemporary Southeast Asian art.  Around the corner, the Victoria Theatre is a fine example of Neoclassical architecture. If a typical art gallery isn't your thing, make your way up to Queen Street, famous for its bold splashes of street art. Grab some lunch and wander around, marveling at the city's impressive architecture.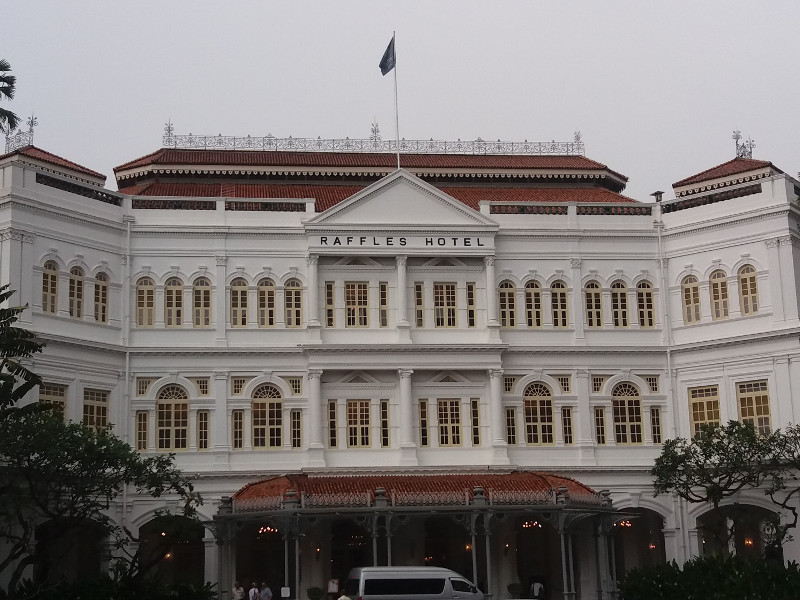 Pop in at the historic Raffles Hotel for a signature Singapore Sling before a night on the town in Clarke Quay. Go on a river cruise and capture the city showing off its beauty as it lights up across the water. Depending on your taste and budget, there are plenty of bars and restaurants to choose from.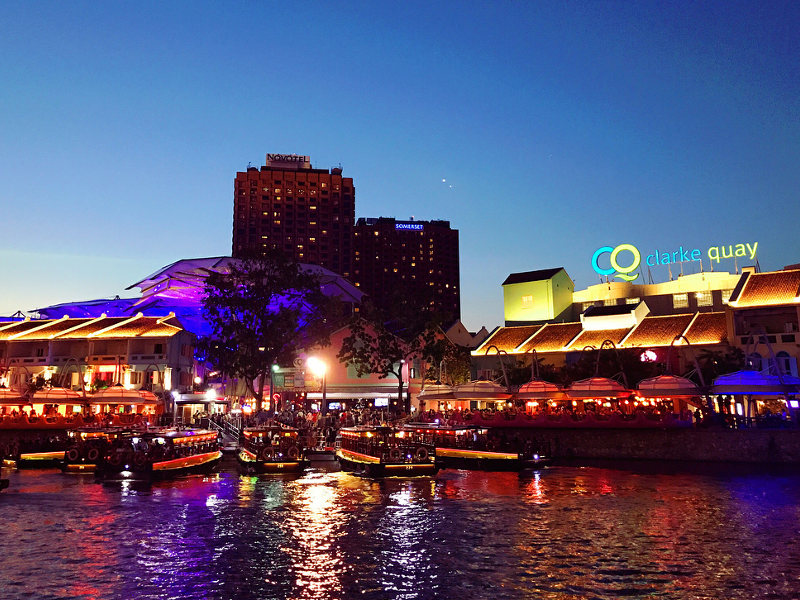 Popular Hotels: Nostalgia Hotel (4 Star), Furama RiverFront  (4 Star)
Day 2: Shop 'til You Drop!
Botanical Gardens/ Orchard Road/ Kampong Glam
Get an early start and make your way to one of Singapore's top tourist attractions – the Botanical Gardens. The only tropical botanic garden on the UNESCO World Heritage List, you can set aside a good few hours to wander through the gardens, lakes and Heritage Museum. When you've had your fill of flowery fun, it's time to hit the shops along Orchard Road! From high-end fashion boutiques to games and electronics, this is several kilometres of pure shopping bliss. A walk down to the end of Orchard Road will lead you to Chijmes, a former convent-cum-heritage centre buzzing with restaurants and cafés.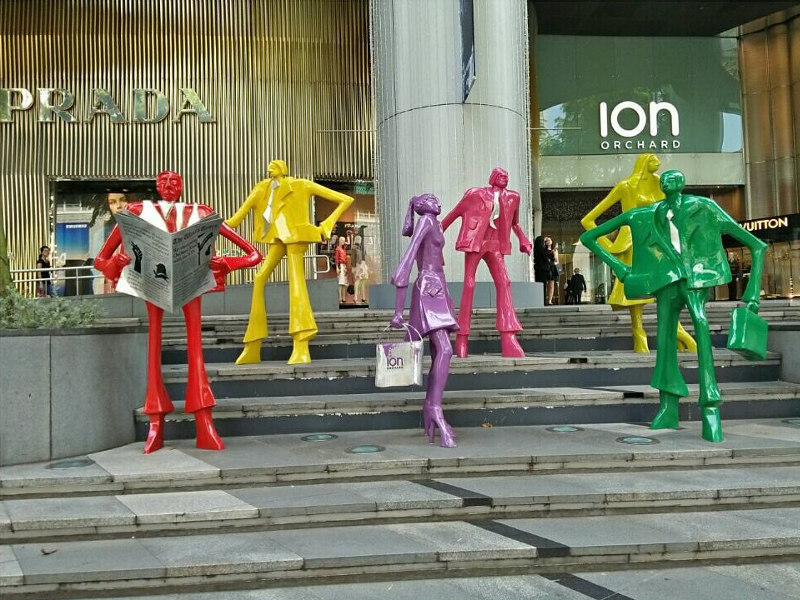 Stop for some lunch before exploring the Arab quarter of Kampong Glam, where the historical buildings are bursting with colour and culture. See the gold-tipped Sultan Mosque, while aromatic Middle-Eastern cafés dot every street corner. If you're needing a break from all the walking, or suddenly fall victim to a sporadic rain shower, duck into The Projector, Singapore's famous indie cinema, where you can catch a local film or something more intriguing.
Do not leave Kampong Glam before exploring the wonderous shophouses and bakeries along Haji Lane. An eclectic mix of Mediterranean eateries, artisanal coffee and avante-garde boutiques, this area is sure to indulge your curiosity. Arab Street is a mecca of rugs, jewellery, clothes and shisha bars.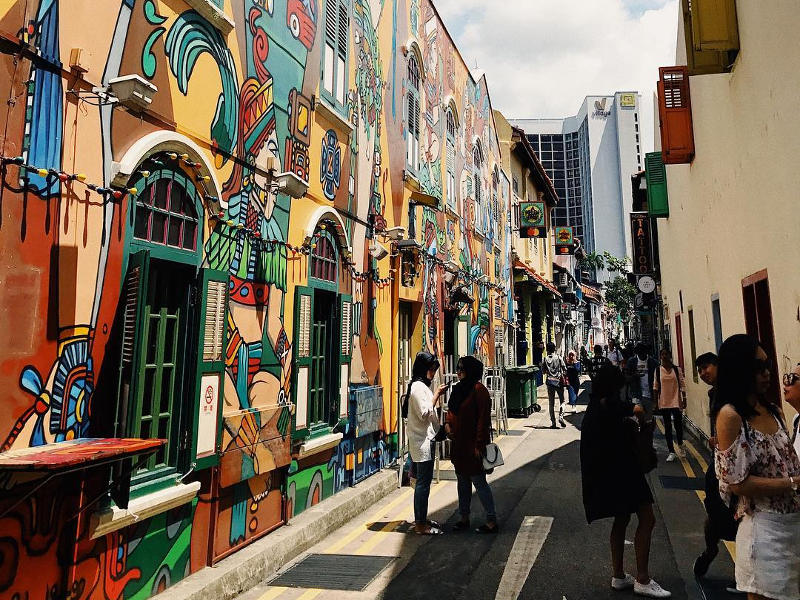 To end off your day, weave through the alfresco cafés, tasting the local delicacies as the vibrant streets come alive with music.
Popular Hotels:  Fairmont Singapore (5 Star), Somerset Bencoolen Singapore (4 Star), Ibis Singapore on Bencoolen (3 Star)
Day 3: A Colourful Affair
Chinatown/ Tiong Bahru/ Little India
Begin your day by going down to Chinatown. Filled with museums, temples, teahouses and street markets galore, this historic Chinese settlement will leave you fascinated. Free walking tours are available daily and the guides take you around all the major sites, including the iconic Thian Hock Keng Temple. Pack in a water bottle and a healthy appetite – you'll definitely be tasting your way through the streets as you walk along. Try the dimsum and get a relaxing massage after your walking tour.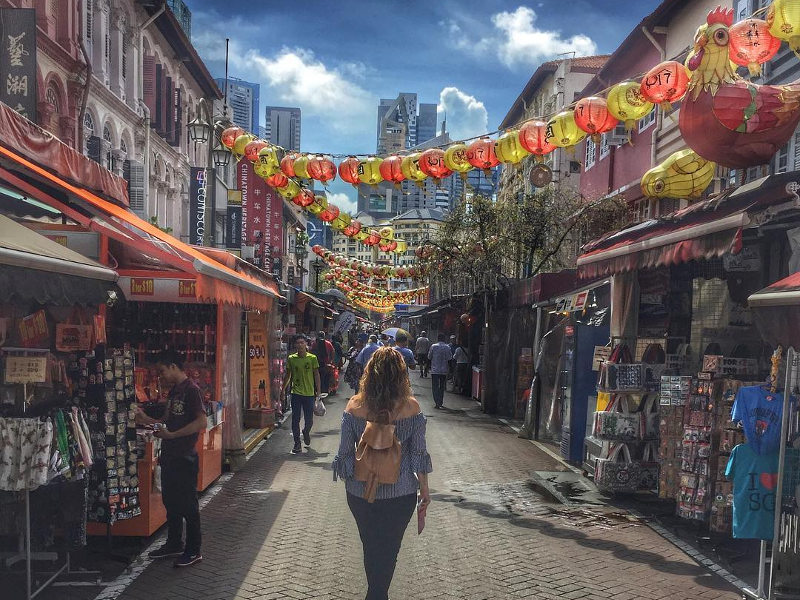 See the marvelous depictions of Chinese folklore at the Haw Par Villa, open daily. Best of all – entry is free!
Just next door, the district of Tiong Bahru is the island's hipster central. When you're not marveling at the art-deco architecture lacing the streets, pop into the vintage book stores, souvenir shops and trendy boutiques while you savour a delectable pastry.
Little India is Singapore's vibrant claim to fame. Amongst the ornate temples, you can find poky little cafés, sweetly-spiced bakeries and colourful shops brimming with heavy perfumes, rich fabrics and henna tattoos.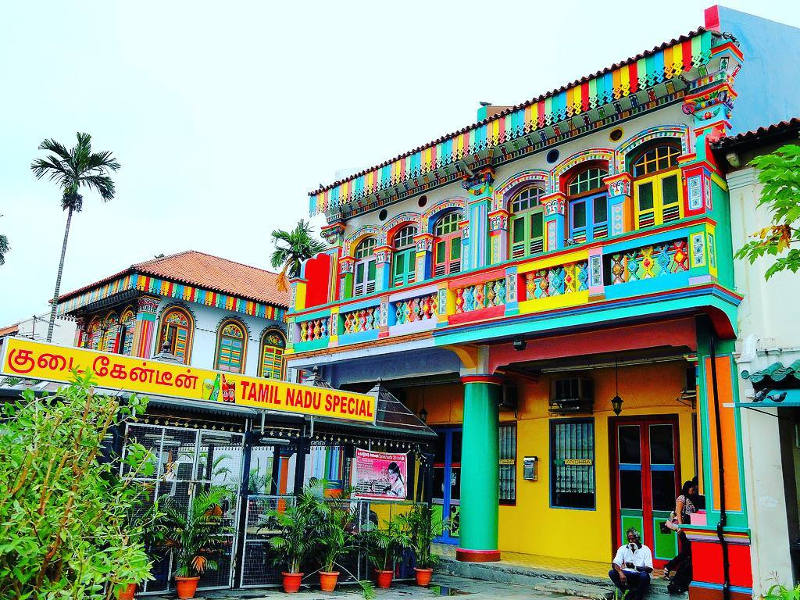 Shop up a storm at Mustafa Centre, Little India's iconic indoor market, open 24/7. You'll be drawn into the fragrant flavours around every corner. Raj is a great place for vegetarian options, while the signature tandoori dishes and roti prata at any given restaurant are a must! Walk down Serangoon Road and its side streets, admiring the ornate Hindu temples and brightly-coloured houses.
As the evening draws in, set the mood for a little mystery at The Library Bar, tucked away on the outskirts of Little India. A secret password gets you in, or you could just crack a joke with the doorman.
Popular Hotels: Oasia Hotel (5 Star), The Scarlet Singapore (4 Star), Hotel YAN (3 Star), Cube Boutique Capsule Hotel (2 Star)
Day 4: Adventure Time!
Sentosa Island
As they say, the early bird gets the worm, so beat the queues and buy your tickets early. Spend the entire day on this island resort as you live out your childhood fantasies. The magic happens at Universal Studios Singapore, boasting 7 themed zones and mind-blowing rides where you'll face mummies in Ancient Egypt and battle evil forces in the heart-stopping Transformers 3D Ride. Step into 50s glamour along Hollywood Boulevard and be a part of the fairytale action in Shrek 4-D Adventure in Far Far Away.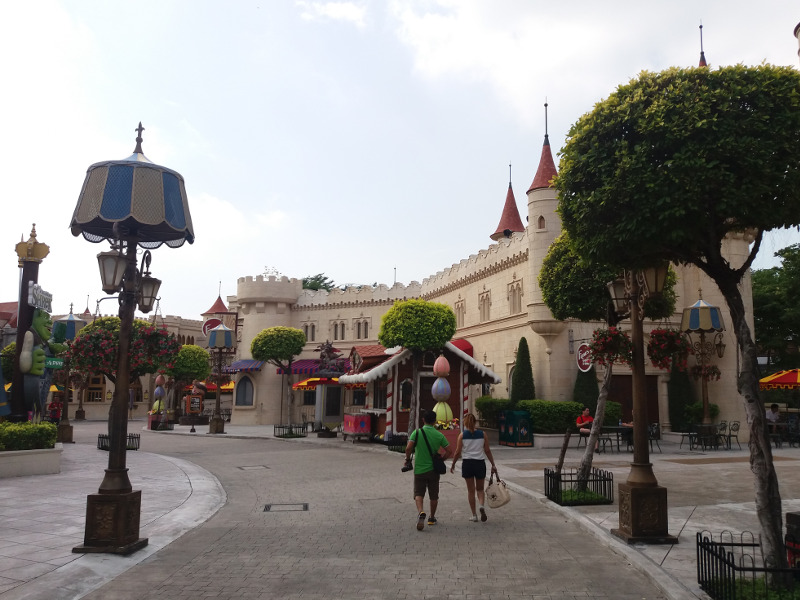 If theme park action is not your thing, you can work on your golden tan at Tanjong Beach Club, or laze along the palm-lined Palawan Beach. Siloso Beach is ideal for picnics, water sports and beach volleyball.
For a family day out, the S.E.A Aquarium is home to over 100,000 marine animals. Feel like you're one with the sea creatures as you explore glass tunnels, crawl into caves and have lunch among the starfish at the Ocean Restaurant.
Your day pass to Sentosa will get you back to the mainland, where you'll be exhausted after a full day of adventure!
Day 5: Add a Little Pizazz
Marina Bay
Save the best for last and treat yourself to the amazing sights and sounds of Singapore. If you have the budget for a little glitz and glamour, Marina Bay is the crème-de-la-crème of Singapore's luxury living.
Start your day at Gardens by the Bay, where the shimmering Supertrees tower 50 metres above you. Walk along the aerial walkway for stunning views of the city skyline. Entrance to the Gardens is free and, once inside, you can explore the Flower Dome and Cloud Forest, housing the world's tallest indoor waterfall.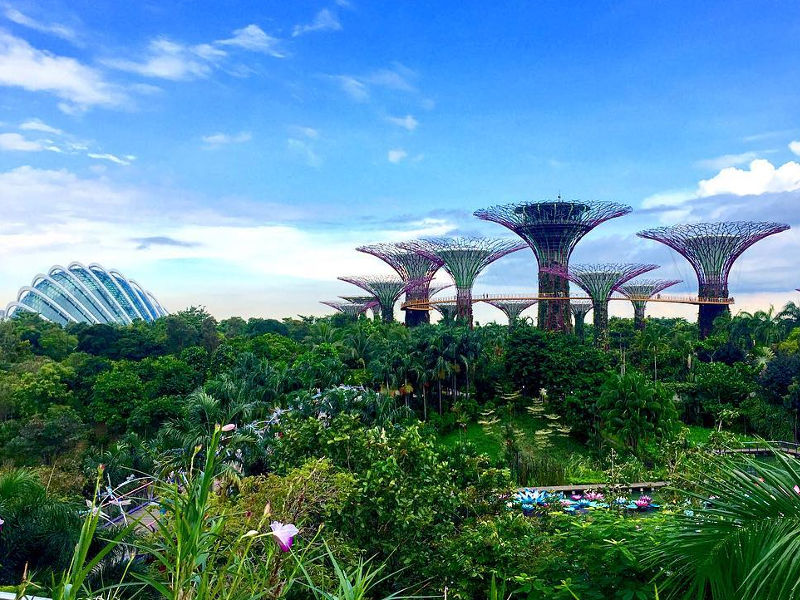 For more incredible views of the city, head on over to the Singapore Flyer, boasting unrivalled, panoramic viewing. Walk along the Marina promenade and cool off with a side street ice-cream for S$1. Peruse world-class exhibits at the lotus-shaped ArtScience Museum, with its unique innovation and design concepts. Even if you don't plan on spending a cent, walk through The Shoppes at Marina Bay Sands and get a look at its spectacular architecture and central water feature, taking extravagant shopping to the next level!
Watch the sunset with a cocktail in hand at KuDeTa rooftop bar on the SkyPark Observation Deck. Night time is when Marina Bay pulls out all the stops, so make sure you've crossed the bridge to the Esplanade to watch the dazzling light shows from the other side of the bay. Take a photo with Merlion, Singapore's iconic emblem. The street food market around the corner from the Esplanade is a great dinner option. End off your evening with a walk along the waterfront promenade where you may just be lucky enough to catch an open-air concert.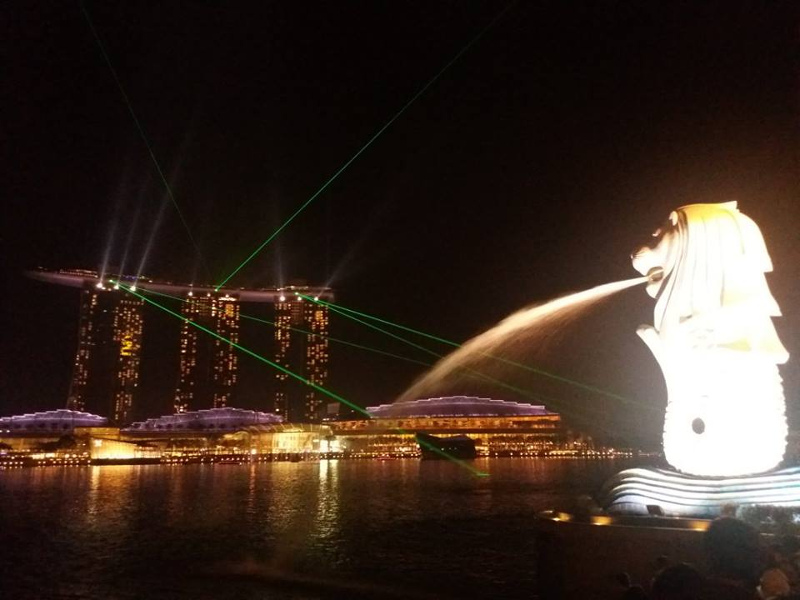 Popular Hotels:  Mandarin Oriental (5 Star), Pan Pacific Singapore (5 Star)
Getting Around Singapore
Singapore's public transport system is world class. Get from one end of town to another in no time at all with the city's extensive MRT (mass rapid transport) system. Trains and stations are accessible to wheel chair users and families with strollers.
If you've just got five days in Singapore, a great way to get around and see the sights is through the Singapore Tourist Pass. This ticket gives you access to bus and boat tours, plus unlimited access to the city's public transport. A 3-day pass will cost you S$20. Tickets can be purchased at the airport and throughout the city. Don't confuse the Singapore Tourist Pass with the Singapore Pass, which is a type of 'smart card' giving you access to over 30 top attractions for S$97.
The Hop-On Hop-Off bus is a great way to see the major city sights within a day. There are various ticket combos to choose from.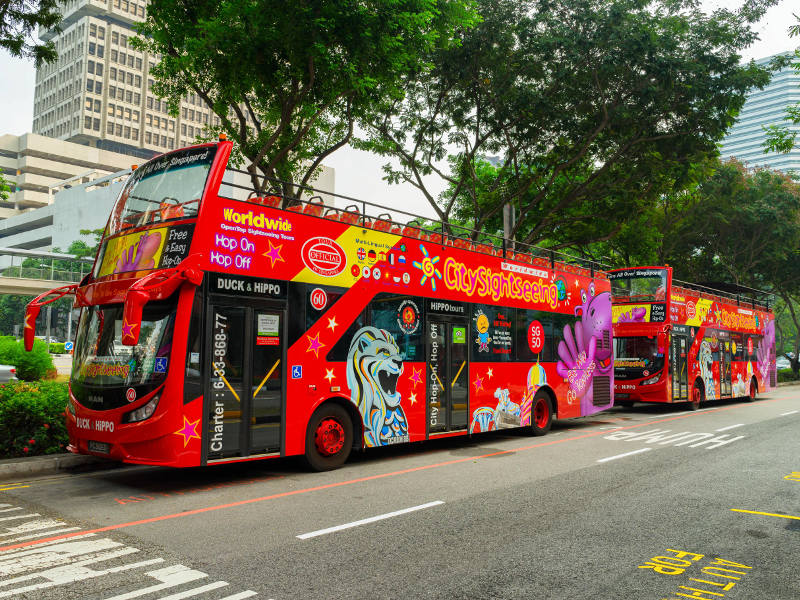 Singapore gives you the opportunity to live it up and also experience the history that shaped the city-state to what it is today. After spending just five days in Singapore, you'll fall in love with its charismatic neighbourhoods and profound beauty. Book your ticket to Singapore today!
Photo credit:
Cover Feature: @singapore_tourist via Instagram
Changi Airport: @changiairport via Instagram
Raffles Hotel: Robert Sequeira
Clarke Quay: @a111504 via Instagram
Orchard Road: @kat.rin8 via Instagram
Haji Lane: @theliyanaaris via Instagram
Chinatown: @viajan2singluten via Instagram
Little India: @laksmi_subadra via Instagram
Universal Studios: Robert Sequeira
Marina Bay: @ivanov.s.f via Instagram
Gardens by the Bay: @krisssbe via Instagram