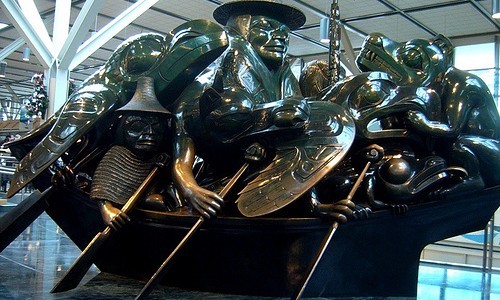 I'm somewhat embarrassed to admit that the number of airports I've visited in my lifetime is a mystery to me. My best estimation is that it's somewhere between 70 and 80.
Frequent visits didn't reveal any personal favorite airports per se, but there are some features of airports that have resonated with me over the years. Here's a list of five airport features you may want to check out during your upcoming travels.
5. Local Art
Nearly every airport features collections of local art. One particular creation that immediately comes to mind is the remarkable jade sculpture at Vancouver airport (photo). Standing 6 metres long, 3.9 metres high and weighing nearly 5,000 kilograms, the Spirit of Haida Gwaii sculpture was produced by the late artist Bill Reid. An image of this sculpture is also displayed on the back of the Canadian $20 bill.
4. Local Foods.
The airport can be your last, or first chance to sample the local cuisine. In Copenhagen Denmark, one of the popular traditional Danish foods is called the "ristet pølse." (similar to a hot dog, but better!) The Danes love their pølse so much that you can enjoy one while you wait for your baggage to arrive, available from a vendor located right beside the carousel. It may be the most aroma-filled arrival area that I can remember.
3. Best Practices
Speaking of luggage carousels, at the Helsinki Airport in Finland a one metre line around the perimetre of the luggage carousels exists, stating in several languages "stand behind line." The idea is that all passengers wait behind the line until they see their luggage appear on the carousel. Then, step over the line in an orderly fashion and pick up your bag. It's the most practical, efficient and pleasant luggage carousel system I have witnessed, and you no longer need to push your way between people to get at your bag. This is a best practice that other airports could learn from.
2. Free wireless internet.
Any airport that offers its passengers free wireless access is OK in my books. In fact, in my heart I do divide airports into two categories – those with free wireless internet and those without.  Soeul Incheon Airport in Korea goes one step further, providing free wireless for those with laptops and phones, plus free computer terminals if you are without a computer.
1. Meeting Strangers.
One of the most socially-acceptable places to start up a conversation with a complete stranger is the airport. I've had many lengthy delays turn into enjoyable social encounters over the years. Most people you meet in an airport have a story or two to share, and it's a nice way to pass the time.
(photo courtesy of Flickr user hmerinomx)
[boilerplate bytitle="Standard"]