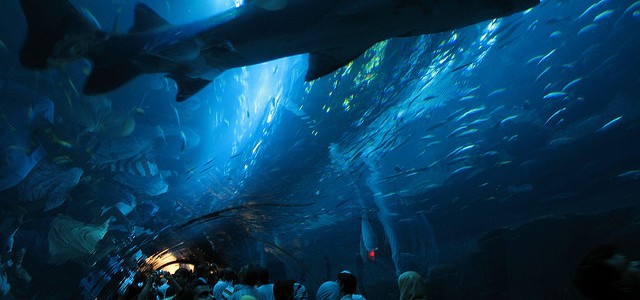 Dubai is known for constantly trying to be the biggest and best in the world and if you're wanting to visit Dubai, you're probably going to want to check-in at these world record holding sights:
Burj Khalifa, world's tallest building
The mammoth and unmissable Burj Khalifa was formally known as Burj Dubai until neighbouring Abu Dhabi's ruler bailed out the financially stricken Dubai owners. It holds numerous world records including highest swimming pool, highest occupied floor and highest observation deck!
Dubai Mall, world's largest shopping mall by area
The enormous Dubai Mall is full of exciting and extravagant sights, part of the Burj Khalifa complex, it has over 1200 stores on 4 floors attracting 750,000 visitors per week. It boasts many attractions like the a SEGA theme park, KIDZANIA edutainment centre, and an underwater zoo!
Dubai Aquarium, world's largest acrylic window
Well worth visiting in Dubai mall is the Dubai Aquarium & Underwater Zoo where you can take a stroll through a full perspex underwater tunnel and learn fascinating facts about the creatures of the ocean. Most importantly though, the 32.88m wide, 8.3m high, 245,614kg acrylic viewing window is the world's largest and will blow you away!
Dubai Fountain, world's largest dancing fountain
An instant hit at the opening of the Burj Khalifa, the Dubai Fountain welcomed it in with an aquatically choreographed rendition of Sarah Brightman and Adrea Bochelli's duet, "Time to Say Goodbye". It uses 6,600 lights, and keeps 83,000l of water airbourne at any time up to a height of 150m (50 storeys!) and cost R1.5billion to build – it shows from 6-10pm daily (till 11pm on weekends), don't miss it!
Ski Dubai, world's largest indoor snow park
Part of the Mall of the Emirates, and completely out of place in the desert, Ski Dubai is something of a marvel and has to be seen to be believed! It is kept at -2°c and has 5 ski runs on it's 85m high "mountain" and a total 22,500m² covered in snow, year round.
Dubai truly has something for every adventurer (or record-seeker). Next time you're looking to book an emirates flight with Travelstart, see about stopping over to take in these amazing sights!
Image from Paolo Rosa in Flickr