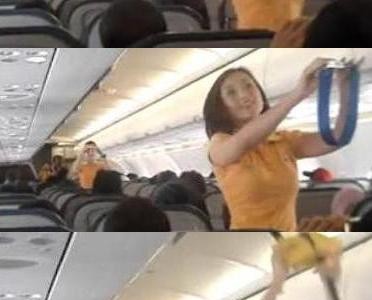 We all know and have experience with what has to happen after an airplane's door is closed and before takeoff…We have to watch flight attendants perform a safety demonstration telling us what to do in the event of an emergency.  Some of us try to make the safety demo fun and add our own little funny acts, but mostly it has to be done according to the FAA requirements.  And most of the time, passengers are not even paying attention to it…either they have seen it way too many times, or they have already passed out in the small seats.
In the last few days however, I keep having this video pop up over and over on my facebook page.  I ignored it at first until it kept coming up in all of my friends feeds with comments of "must watch" and "so cool" and "this is awesome!"…so I finally decided to watch it and see what it was all about.
Cebu Pacific Airlines of the Philippines, which I had never even heard of before this, decided to spice up the safety demo by dancing to the song Just Dance of Lady Gaga.  They had the dance choreographed and still had someone talked over the announcement of what to do in the event of an emergency.  The passengers were shocked to see this but definitely were paying attention to this particular demo.  They were so in awed that many passengers recorded it on their phones and posted it on youtube.  This video, in just 36hrs of being on youtube, had over one and half million hits!
I think it was awesome for them to do this…and it makes our jobs fun too when we get to do things like this, not to mention the passengers actually paying attention to the safety demo.  A lot of comments posted under the video agreed with me, and called it refreshing, nice, and a cool way to glam it up.  But some comments say that this is not safe and that safety demos are meant to be informational in case something does happen.  I say, however, it can't be that safe when the passengers are not watching it anyways, so why not spice it up?
What do you think? 😀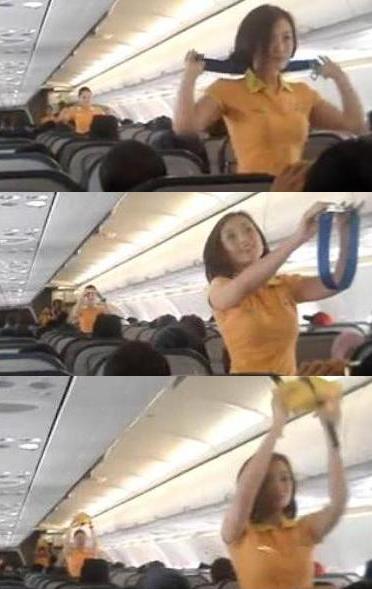 [boilerplate bytitle="Standard"]