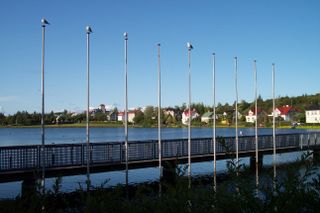 On my way from Seattle to Copenhagen this week, I was fortunate to have scheduled a flight with a 12 hour layover in Reykjavik, Iceland, the most northern capi.jpgtal city in the world.  
What can you manage to see in a day in Reykjavik?  Quite a lot actually.  
Bus connections run at convenient times between the Keflavík International Airport and the city centre. From there, you can easily connect to other tourist sites of interest nearby, as well as explore the only metropolitcan city in the country. 
A popular excursion for the time-crunched visitor would be to take a dip in the Blue Lagoon geothermal spa, which is just 10km from the airport, and is located on the route between the airport and the city centre. The Blue Lagoon is one of Iceland's most famous attractions, where spa users bathe in 40 degree clear blue waters in a lava field.   
You can also explore the city, enjoy some tradition Icelandic fish dishes, and see how the Icelandic people live in their remote capi.jpgtal. Photographed above is Tjörnin (The Pond), a small lake in central Reykjavík, where hundreds if not thousands of birds call home. It's a perfect place for a pi.jpgcnic in Reykjavik. 
Whenever I fly between continents, I always make an effort to book a flight that gives me a layover in a place where I have never been. It's a very affordable, and convenient way to visit a new city and country. I hope to one day return to Iceland for a longer visit.