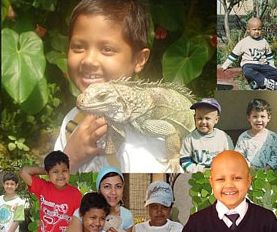 Can you believe we are already headed toward the end of 2010? And what a year it has been so far… It has been a year of success for the Angels

and a very busy year, at that!
In February, we hosted an Auction Day to raise funds for a very special boy, Ra-ees Khan, who has been fighting Leukaemia for 8 years. Within 1 hour we managed to raise over R12000.  In April, Ra-ees underwent a Cord Blood Stem Cell Transplant, which has thankfully been a success. It has been a long road for this incredibly brave 11 year-old, and it will still take time for him to heal. Our thoughts and prayers are always with Ra-ees and his family.
We got to tick off an item from our original Angels' bucket list when we went to Thembacare in Grabouw, in May. The Angels, together with a number of Travelstarters, spent the day out at Thembacare where we literally got down an dirty in the sand. The kind people from Stodels sent out an expert (equipped with extra donated goodies) to help guide us through the process and after a long day in the warm winter sun, we successfully created 2 beautiful vegetable gardens to support a good cause.
In celebration of the FIFA World Cup, we hosted a Soccer-themed work party where we raised R2380 for D.A.R.G. (Domestic Animal Rescue Group) in June. We have many animal-lovers here at Travelstart,

therefore, a visit to D.A.R.G. was inevitable. We conducted a further office

collection of pet food and second-hand goodies and made our way to D.A.R.G. earlier this month. We were blessed to get a full tour of the property by Edna and were amazed to find that not only do they rescue cats and dogs but also cows; rabbits; ducks; geese and even donkeys too. If you live in the Cape Town area, I highly recommend a visit to their property in Hout Bay (take some carrots or apples with you for the donkeys).

August is a particularly special month for us Angels as it marks our birthday – we Angels have had our wings for 1 year this month! To celebrate, we would like to introduce a 4th member to our team, Charlene Boshoff – we are so proud to have you join us, Charlene!
In the past year together, we have shared tough days and we have shared great days, hugs on sad days, hugs on birthdays. But no matter what day it is, it is always a pleasure to share each day with each of you… So, thank you, my Travelstart Angels, thank you to all Travelstarters, and thank you to everyone out there who has supported us along the way.
With love and appreciation,
Charlene Pereira and the Travelstart Angels