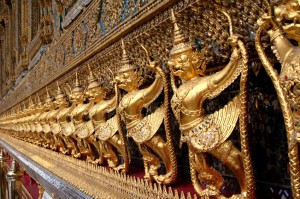 We've often heard very mixed reviews of Bangkok, but Travellers from Travelstart's Facebook page seemed to have a more positive outlook on this vibrant and intriguing city. Reviews mentioned everything from the smell, and the chaos to rich culture, delicious food, friendly people and an awesome vibe. Here's what everyone said, starting from ugly to good:
Bangkok smells and the roads are crazy
Two things people reviewing Bangkok always remark on negatively is the smell and the traffic. Bangkok is a massive city with almost 12,000,000 people within its metropolitan area, this means two things, lots of cars and lots of smell unfortunately. Theresa van der Meulen remarks: "The smell got me down. There were times when I couldn't leave the hotel because it was so bad. But am planning to go back because people are surprised when I say I hated it. I have to experience the beautiful side of the city." But the city's electrifying nature still keeps people loving it and coming back Deirdre Adams comments: "Bangkok is awesome despite the crazy roads & hectic smell…. so much to see & do!"
Watch out for Bangkok taxi drivers
With so many people and so many taxis, it's a real dog-eat-dog society when it comes to catching a taxi in Bangkok, even this can't put people off this extraordinary city. Kim Hawkins warns: "Besides being scammed about three times (there's no such thing as a 2baht tuk tuk) – Bangkok is great fun!" But there are ways to get around this if you don't want to fleeced out of a few bhat as Warren Goldswain recommends: "don't let tuk tuk drivers rip you off, they will try. Only take taxis that agree to use the meter. Usually if you are 2 or more it is cheaper to take a cab. Motorcycle taxis are fast and efficient, look out for the motorcycle dudes with orange jackets, they are lifesavers when the traffic is heavy (most of the time) use public transport, it works well, better than ours."
Bangkok Shopping is great
From everything like stall-lined khlong (canals), night markets, food stalls, knock-off clothing and the enormous Pantip Plaza electronics mall, Bangkok is generally regarded as a shopping paradise. Kim Hawkins recommends: "Excellent for cheap fun t-shirts. The best is the weekend market." Look out for excellent shopping at big malls like the Siam Paragon, and Central World Plaza, as well as the legendary and exotic Patpong Night Market.
Bangkok food is out of this world
A huge talking point for travellers who've been to Bangkok is the food, the majority of which comes from roadside stalls, or those on the side of khlong, beware of where you eat tho, it could lead you from singing its praises to the heavens to singing them into the toilet-bowl! Gary O'Bryan advises: "Best thing to do is take a River Boat through the many internal Klongs, and then get off periodically to buy an ice cold fruitshake from a roadside stall.. or have a bowl of deliciious Prawns for R15-00." Julie de Jongh reminisces: "I loved every minute of it. Great food, great people, great shopping and great temples."
Bangkok is diverse, full of contrast and excellent value for money
One this is for sure, love it or hate it, Bangkok will leave a lasting memory in your mind as a city of contrasts, diversity and bargain deals. Travellers always report back how they were taken aback by the contrasts of the cityscape (from glass skyscrapers to ancient temples) and the diversity of the excellent attractions. Phyllis Gibson endorse Bangkok as a destination saying: "Facinating, excellent food, very cheap . Highly recommended." Cathy Box also reminisces: "I thought it was the most wonderful crazy city! So much contrast… a temple next to a skyscraper next to a shack. 8 lanes of traffic at a standstill, and then an elephant passes you by!! Planning to head back in November, cannot wait"
Check out the comments made on Travelstart's Facebook page by travellers who've been for some extra tips!