Loftus Versveld, home of the Blue Bulls, was packed to the brim with a sea of blue 'cladded' supporters while the Chiefs and Bulls battled for the Super 14 crown.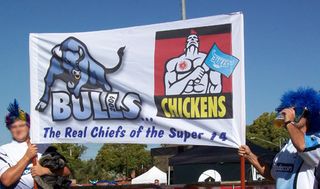 Going to Pretoria is a big culture shock – even for me a person that speaks the same language as most of the inhabitants of South Africa's capi.jpgtal city. The people are louder and more friendly. When you share their love of THE GAME and THE TEAM (as there is only one), you will get along fine.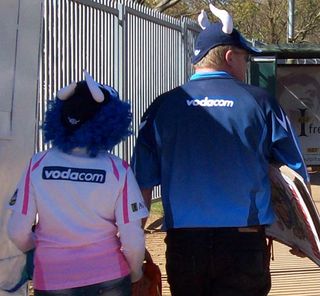 We found a parking 3 blocks away from Loftus and walked past numerous small groups of people having a beer and braai-ing (BBQ) a "stukkie vleis" (pi.jpgece of meat) while working up some blue spi.jpgrit. They sing Afrikaans songs and toast everyone that comes past – while waving a Blue Bull Flag.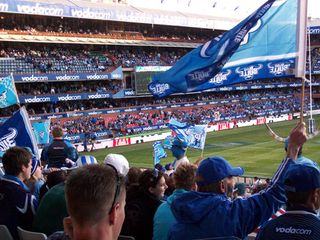 The pavilions filled up with Bulls supporters and I felt quite sorry for the Chiefs as I'm sure that they had less than a 100 supporters sitting in the crowds. We sat about 15 rows up just left of the centre line.
Everytime a Bull added points to the scoreboard the song "Kaptein span die seile" (Captain put up the sails) played and the supporters waved their flags and sang along. The crowd would also jump up everytime a really exciting moment was in progress and you had to do the same in order to see.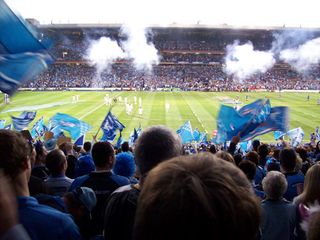 At the end of the first halve of the game the Bulls had more than 20 points and the Chiefs only 7. Imagine the crowds excitement as they could sense the imminent victory… A surprise entertainer, Robbie Wessels, also made his appearance during the 10 minute break and the crowd loved it.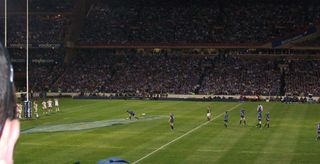 If ever you visit South Africa and you can catch a rugby game in Pretoria at Loftus – go! It will be an experience you will never forget.