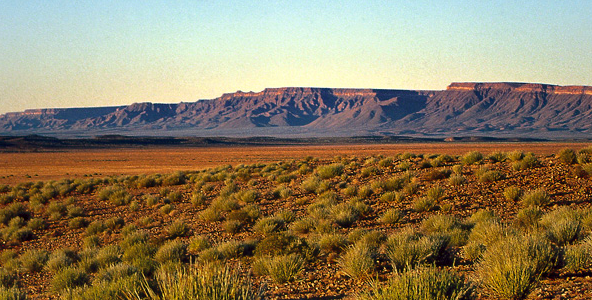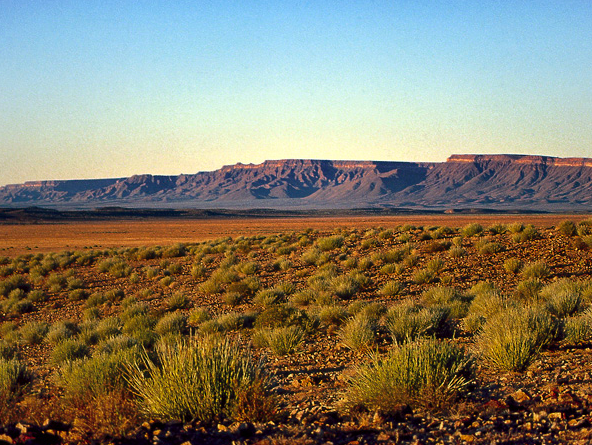 One of the most amazing things about Namibia is its' ability to make you feel like you're perched on the edge of nowhere at any stage. Because the country is so vast and the people are all centered around the cities and towns, there are huge stretches of desert with nothing to break the sand, rock and mountain as far as the eye can see.
Then out of this nothingness springs Canon Lodge, part of the Gondwana Collection in Namibia, and more specifically part of the Canon collection of places to stay – the Canon Roadhouse is a short distance down the road and is creatively (to the extreme) decorated with old cars, bits of cars and car memorabilia – they even have plants growing out of an old Beetle! It has rooms, a restaurant and a shop and is well worth a visit. Canon Village is a self-catering option for families, with much larger chalets, and Canon Mountain Camp is for those who like roughing it in the desert – it's a great campsite.
But for those who like a bit of luxe when they travel (and really, who doesn't?) Canon Lodge is the most obvious choice. There's a main lodge area with the bar, restaurant and shop, and a refreshingly green lawn planted with bougainvillea and a beautiful collection of succulents. The chalets are set into the granite boulders of the desert, which is a lot more exciting than it sounds (one wall of each chalet is literally a boulder – which meant we were showering against a wall of rock, extremely cool). And they have a pool straight out of a dream – sparkling, icy cold, surrounded by lush green grass and right on the edge of the desert. There's nothing like swimming in a pool of cool water while looking out over an endless, hot, dry, desert to make you feel special!
The other thing that sets Canon Lodge apart is its proximity to the Fish River Canyon's main viewpoint. It's only 20km away (on a pretty terrible dirt road) which means you have access to the wonder that is the Fish River Canyon before anyone else has woken up or once everyone else has gone home. The viewpoint itself is awesome – a wide open expanse where those who are crazy enough to do the 5 day Fish River Canyon hike descend into the canyon itself.
Back at the lodge, there's plenty to keep you occupied. Horse riding trips into the surrounding desert, guided 4×4 treks and walking trails mean you'll never be at a loss for activities, or you can stay closer to home and enjoy the delicious lunches, buffet dinners and sundowners on top of the nearest rocky mountain – with guaranteed pictures to last a lifetime.
Because it is so beautiful – the kind of stark, harsh beauty that is difficult to describe but simply overwhelming when you're there. The kind of beauty that will stay with you for many months afterwards.