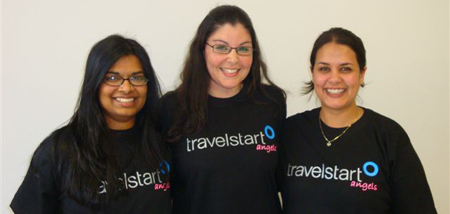 Travelstart angels – Priya Raghavan, Charlene Pereira and Diana Coetzee
Four months ago, three Travelstarters sat down for lunch and struck up a conversation, which ended in tears of laughter. That was the beginning of a beautiful friendship that no doubt will last a lifetime.
From this friendship, began the glimmer of an idea – to give back to our community and to help those in need.  Circumstances and events enforced this idea and we made up our minds to start a charity drive to give back, expand consciousness, create awareness and essentially create a platform for other Travelstarters to get involved.
Months of hard work, laughter & planning culminated in today – 7th August 2009 – the day we presented our initiative to our management team who, as it turns out, are as excited about this as we are. Today marks the day that Travelstart angels – our charity initiative, finally gets its wings.
We will be putting this plan in motion and continuing our journey and we cannot wait to share our experiences and joys with all of you. Watch this space…
Much love,
Travelstart angels