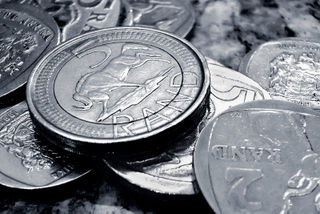 In today's highly-communicative and networked world, we are often exposed to countless headlines that can effect our beliefs and behaviour. 
One in particular that I hear far too often, are headlines like "the Rand is down," or "the Rand is up," or the "Rand is nervous," whatever that means. (Can a currency be nervous?)
We unfortunately allow these headlines to effect our perception, perhaps even thinking that the sky is falling, when in fact every minute of every day, currencies fluctuate in the financial markets. It's a simple fact of life. Some days the Rand might be up, and some days it might be down. There will be good and bad days, weeks and months, and everything in between. 
Over the past few months, the Rand, just like most currencies in the world, has depreciated against the US dollar, which has been strong of late.

But on the contrary

, did you know the Rand is 
up about 12%
against the British pound in the last 90 days?
It has also performed well against the Australian dollar and the Euro in the past three months, so perhaps you should plan your next trip accordingly.   
Currency markets fluctuate all the time, and they have been particularily volatile in the past year or so. But don't 
let negative headlines discourage you from taking a trip.  Instead, be on top of the situation, study the currency values and use the fluctuations to your own advantage!  
To research currency values, I recommend using
Google Finance
 for daily and historical charts.