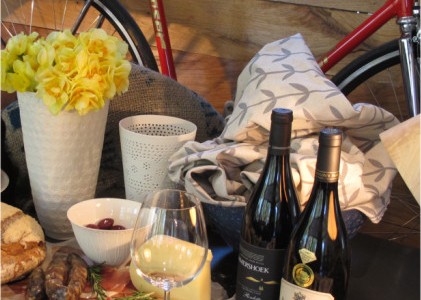 I wasn't going to write about food again (at least not this month), I swear, but then I heard about the FoodWineDesign Fair, and my resolve disappeared faster than a truffle beneath the snout of a cochon.
The FoodWineDesign Fair takes place on the rooftop of Hyde Park Shopping Centre in Johannesburg, one of the city's most luxurious retail venues, and is a lifestyle show unlike any that's been offered in Jo'burg before.
Specialist curators of all the exhibitors are what set this food, wine and design show apart.
While I'm not naïve enough to believe that all the motives behind the fair are altruistic (we're talking money-mad Jo'burg after all), I'm all for a platform that helps small-scale artists and producers connect with like-minded consumers.
Above the one-stop convenience of being able to discover new and wonderful products, and the added indulgences of Jozi sunsets and night shopping, it's the PEOPLE: the cheese makers, the craft brewers, master butchers, farmers, ceramicists, jewellers, and the designers that give this show meaning.
In as much as the show's about sampling and buying top-end products, showcases like the FoodWineDesign Fair are about choices and sanity. (Yes, of course they're about making money – everyone's gotta eat).
So if you're someone who believes that we don't all have to shop at Wal-Mart and eat McDonald's, and who still cares about variety rather than standardisation, who values seasonal over 'I want it 24/7/365', and who rates craft over commoditisation, this is the fair for you.
The FoodWineDesign Fair runs from Friday 26 November (12:00 – 21:00) until Sunday 28 November (10:00 – 16:00). Tickets are R70 per person, and under 12's get in free.
Parking is available at Hyde Park Shopping Centre (hourly rates apply), and on Saturday and Sunday at Albury Office Park across the road from Hyde Park Shopping Centre (off Jan Smuts Ave). Use the pedestrian bridge to access the shopping centre once parked.