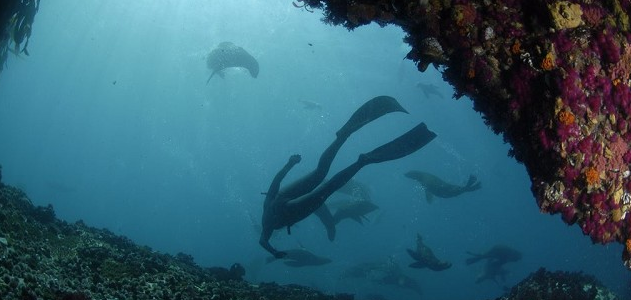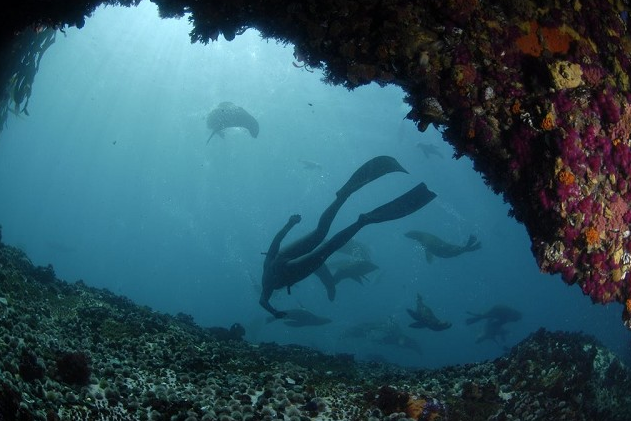 For most of us, diving is something we do on holiday with a tank. It's not an everyday part of life and it's certainly not something we would consider doing without a substantial amount of equipment. Not so for Hanli Prinsloo, who has been described as part-aquatic mammal, part-human because of her extraordinary ability to hold her breath and freedive for long stretches of time.
What many people don't realize is that this ability can be taught, and is taught by Hanli herself. In her 'Experience Freediving – one day Aquatic Journey' she teaches her small class (made up of scuba divers, swimmers, surfers, spearfishermen and others who love the ocean) how to freedive. The course is made up of theoretical and practical sessions, and begins with a  yoga session in a light-filled studio, where Hanli explains that it's possible, with stretching, to expand your lung capacity. Breathing is obviously vitally important for freedivers, and Hanli teaches both correct breathing and muscle usage for the sport/art.
A theory session explores the history of freediving and how the body adapts to holding the breath. It also goes through the (surprisingly few) dangers of the sport. Because it all depends on the individual, i.e. no equipment to malfunction, no competitions against other people, it's a sport that doesn't run nearly as many risks as other watersports. And it is So. Much. Fun.
I must admit, I started off our one day freediving course a little apprehensively. I'm not physically competitive, and when we were doing the swimming pool breathhold I didn't try to push past my obvious barriers. But then we went out into the ocean, to frolick with seals, and all of a sudden it all made sense to me. The practical training part of freediving is all about being able to spend more time underwater with the extraordinary wildlife you find in the world beneath the sea. Unless you freedive competitively, it's not about holding your breath for a set number of minutes – it's about having the capacity to pretend to be a seal or a dolphin for a few precious minutes.
The day we spent with Hanli and her lovely skipper Steve Benjamin from Animal Ocean was simply magical. Not only did we learn how to do something greater than we thought we could physically, we had an absolutely thrilling ride in wild and stormy seas (that felt perfectly safe and ever-so-slightly James Bond-esque) spent an incredible hour in the ocean, sipped on hot coffee on the boat, and then sped home, cherry suckers in hand.
If you're in Cape Town and you're in the mood for adventure, you should check out Hanli's courses and Steve's boat. You won't regret it!
Image: Hanli Prinsloo
http://animalocean.co.za/