The Gili Islands make for a perfect holiday getaway. Less hectic and crowded, and much smaller than Bali, the Gili's are a short, quick boat ride away and worth the trip.
"I didn't even bother to wear shoes pretty much the entire time I stayed on Gili Air. The atmosphere is relaxed with no cars, no traffic, and everything close by."

The Gilis consist of three islands off Lombok, a short distance away from Bali. If you are looking for a more relaxed scene than the party island of Gili Trawangan but a little more action than Gili Nemo, Gili Air is the island for you! It's the happy medium of less chaos, but still stimulating with plenty to do and many restaurants and bars. It's also a great base from which to visit the other Gili islands.
If you are coming from Bali (most people do) there are several boats a day, which makes getting there very easy. Enjoy a beer while lazing in the sun on the rooftop of the boat. It's short hour-long boat ride with beautiful scenery.

Getting Around
"the island is small and entirely walkable"
Upon arrival the locals are as warm and inviting as the surrounding sea. You'll immediately be greeted by friendly locals offering to take you away by horse and buggy to wherever you may want to go. This form of transportation is cheap and a great option if you don't feel like trekking with your bags to find your hotel. However, the island is small and entirely walkable. For a fun, faster alternative to walking, bicycles are available all over the island at very affordable rates.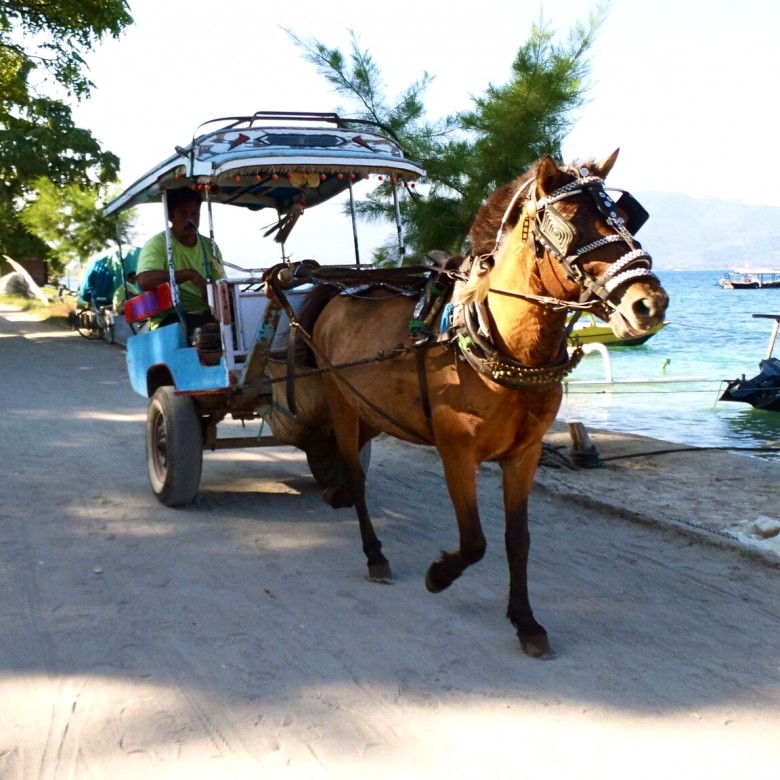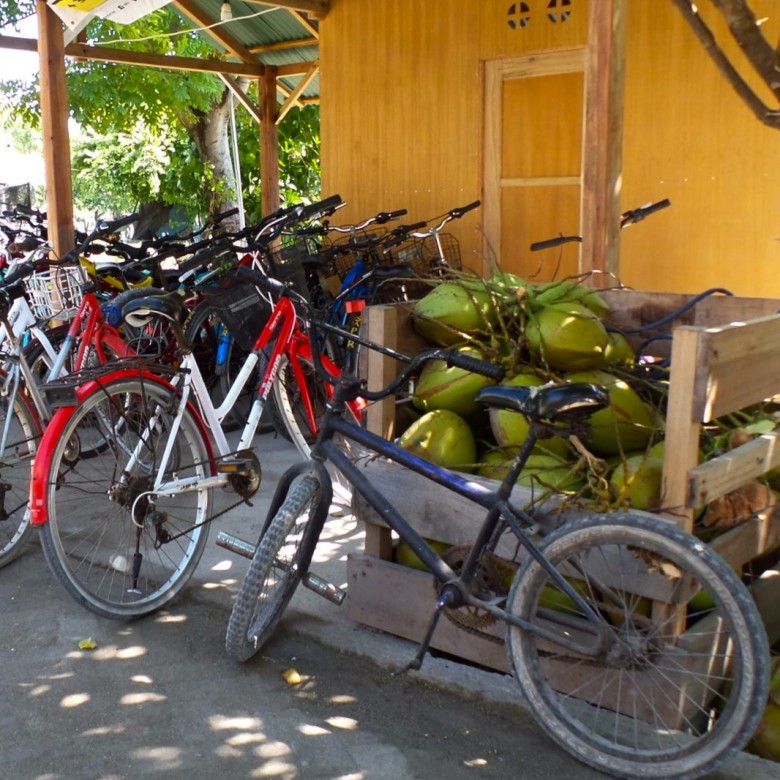 What To Take With You
My personal list for this is short: a bikini, I lived in it. I didn't even bother to wear shoes pretty much the entire time I stayed on Gili Air. The atmosphere is relaxed and with no cars, no traffic, and everything close by, there really was no need to. But for those of you that are a little more sensible, a pair of flip-flops will come in handy. There are plenty of shops selling sunscreen, clothing, and beach gear like rafts, paddle ball sets, and towels in case you forget anything.
Never want to leave? Also read:
I did manage to go for a few runs around the island, so if you are the workout type bring some running shoes you don't mind getting sand in. The island is the perfect size for a quick lap. In the morning the path is clear of people, the sun is only beginning to warm up, and the calm and quiet of the island as it's cafés and inhabitants are waking up make for a unique, peaceful way of experiencing the island. The loudest sound you'll hear is the moving ocean, second only to the pounding of your feet onto the dirt path that claims the perimeter. Some parts of the path send you into quiet, secluded spaces that offer great views and space to think and reflex or simply admire the beauty and feeling of being far away.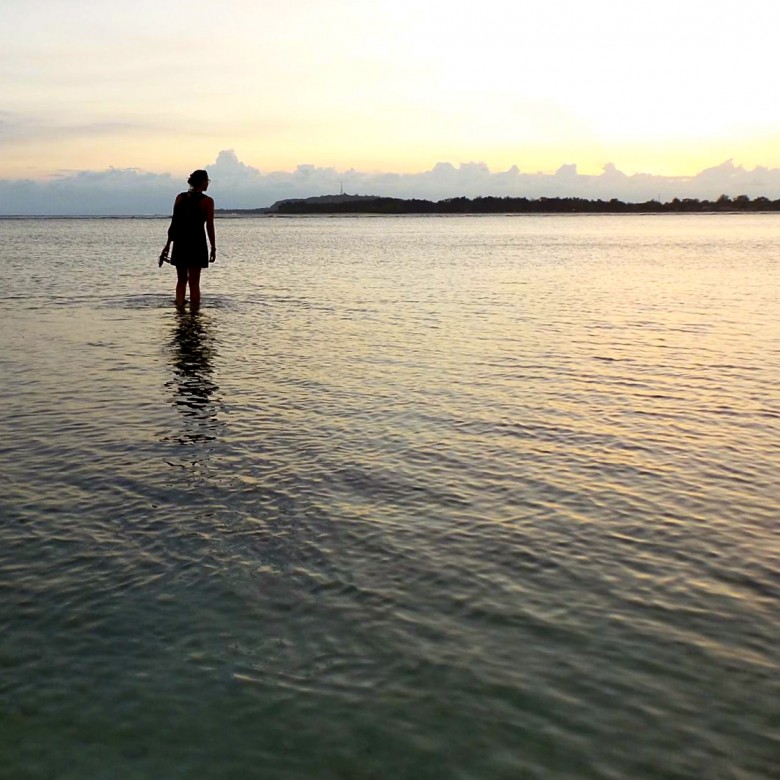 A walk or run followed up with a swim in the ocean makes for an invigorating start to the day. By then you'll find smiling faces welcoming you to the many restaurants serving fresh squeezed juices, fruits, and hearty breakfasts.
Where To Eat
There are many restaurants serving similar fare. There is a nice mix of western restaurants and family owned warangs offering traditional Indonesian food. You'll never find yourself too far from an ice cream stand, but for a real treat I recommend Scooperific italian gelato for a sweet crepe or waffle. My favorite combination is a crêpe smothered with nutella and pineapple. They have a great space to hang out in and take in the view, and strong wi-fi for instagramming all your best beach shots.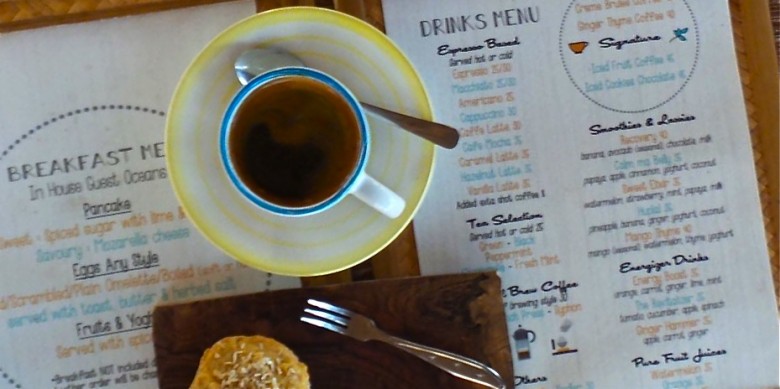 I also frequented the Coffee and Thyme cafe. They make a proper cup of coffee and some tasty cakes. They also have the friendliest staff on the island. The coffee shop is situated in the very center of the main crossroads, making it the perfect spot for a little people watching while you catch up on your emails.
End the day with a nice meal, cold beer or fruity cocktail, and enjoy the sunset. Many restaurants along the water offer comfortable, relaxed bean bag seating positioned for optimal sunset viewing.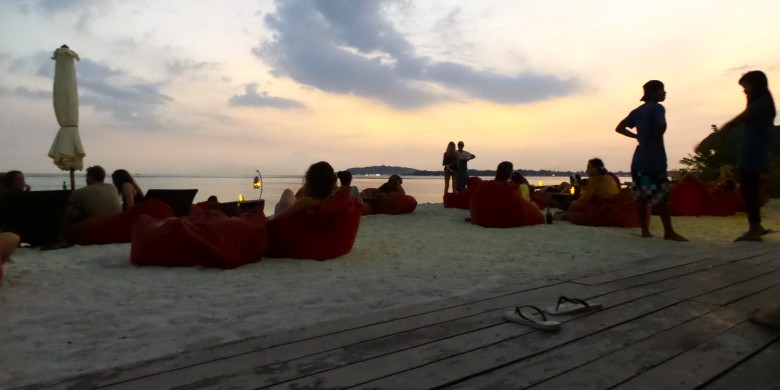 For those on a budget or traveling alone like myself, I stayed a few night at Begadang Backpackers. They are situated on the opposite side of the of island from the harbour, which is the busiest area. The location can feel a little far away, but perfect for those seeking a quieter place to rest. It's a new hostel, with a friendly owner, and nice, new clean beds. Definitely worth checking out. "Begadang" is Indonesian for staying up all night talking.
"leave your worries elsewhere and enjoy the slower pace of island life"
I also stayed with a friend in simple bungalows just a stones throw from the ocean. Breakfast was included and the room was equipped with a bed, a fan, and a hammock on the balcony, and separate, shared showers and toilets, the accommodation is basic, but the cost is cheap, the location is quiet yet not too far from the action, and right on the water. It's not easy but If you can get in, I highly recommend them. We walked by everyday for three days asking if they had space before they finally did, it was worth the effort. They have no internet presence and seem to work on a first come first serve basis, and in a very relaxed, slightly disorganized fashion. Be patient. They have a small, hand-made sign that reads Paradise Bungalows. It was never made clear to us that that was in fact their name. You'll see the six bungalows in a row just past the large green letters sticking out of the sand. Ask the guys at the restaurant next door, where they also make some of the best local food I had.
What I love about Gili Air is it's the kind of place where you can turn off your brain and just relax. You won't find yourself worrying about the responsibility of a scooter, or how to arrange getting somewhere, or what to do. Any information, transportation arrangements, and activities are readily available and simple to acquire.  So leave your worries elsewhere and enjoy the slower pace of island life.