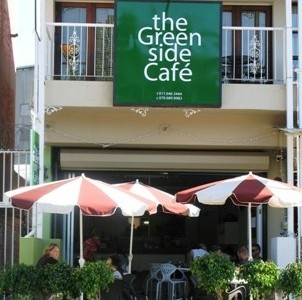 Jo'burg, being a business town, is the home of the steakhouse. Brokering a multi-million Rand deal over a 500g grass-fed, 35-day dry-aged hunk of sirloin, prime rib, or fillet is just Jozi's way of saying "It's a deal!"
While carnivorous Jo'burger's are sophisticated, enough to know that chicken isn't a vegetable, in many instances, upon telling your waiter you're a  vegetarian; they might proceed to tell you about the catch of the day…
Happily, vegetarian restaurants in Johannesburg are not only increasing, but they're disposed to offer exciting menus with all the planet-friendly, karmically-aligned fringe benefits that today's green grazers expect when dining out.
In Johannesburg, vegetarian restaurants are mainly located around the city's trendier northern suburbs. That said there are some terrific, cheap vegetarian meals to be had where immigrant communities have settled.
Trendy vegetarians in search of food salvation with style should head to Gingko (+27(0)11 486 3361) in Parkview. Open for breakfast and lunch, the buffet here offers numerous options suitable for vegetarians and vegans. Their organic coffee and smoothies are a must-try.
Fresh Earth in Emmarentia is a whole food store-cum deli with an impressive range of lifestyle products for vegetarians including groceries, clothes, cosmetics, and health food supplements. Nearly everything on the menu is natural and organic, so join the neighbourhood environmentalists at the guilt-free Table of Abundance buffet every Saturday.
A suburb away, Greenside attracts eco-epicures in their Prius-driving droves. The Green side Café (+27 (0)76 689 8983) situated at the corner of Gleneagles and Greenway roads, is Jozi's first vegan restaurant. Serving organic food and beverages, everything on the menu here, with the exception of 3 items, is vegan.
Nearby, Spiceburg (+27 (0)11 486 2255) serves authentic North and South Indian cuisine, and has an extensive vegan menu available on request.
Farther north, at the Hobart Centre in Bryanston, Fruits and Roots is health food heaven. Munch tofu burgers and sip carob shakes in the leafy courtyard before filling your hemp shopping bag with politically correct goodies from the store.
Run by Gujarati Swaminarayans, Baps Shayona restaurant in Mayfair is among Jozi's best vegetarian restaurants. Don't be put off by the scruffy-chic interior, or the fact that the menu features Italian and Mexican dishes. The food in this Indian restaurant is authentic, as the all-day crush of local diners combined with food trekkers from across Jo'burg attests – your best bet for a delicious, cheap vegetarian meal in Johannesburg.