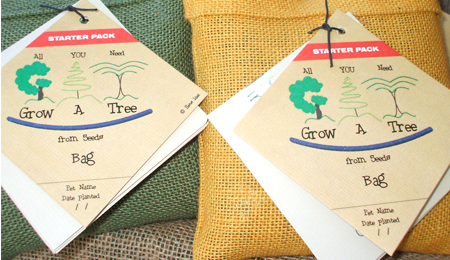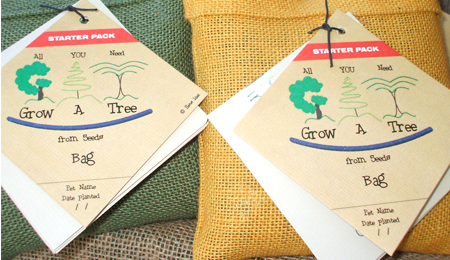 Is there anything as magical as seeing something grow? As a child, we used to fairly frequently do the experiment where you grow a bean in a piece of wet cotton wool to see how sprouting works. I found it fascinating.
As an adult, I'm still fascinated by growing things, but it's more often easy-to-keep-alive things like succulents. I have a bit of a thing for succulents. Still, there's a part of me that would love to see the whole growth process again, only not in a bean. I don't like beans. I do like trees, and even more than trees, I like the idea that I could be doing something for the environment, and for future generations. Which is why I fell in love with the Grow a Tree initiative.
Essentially, Grow a Tree sells all you need to grow a tree, in a bag. So there's a brightly coloured hessian sack, some potting soil, a planting bag and, of course the seeds (five of them, so you have five potential trees). If you follow the instructions – some of the seeds need overnight soaking to activate them, some can be planted straight away – you should have the beginnings of a seeding in 4 to 6 weeks. And from there, it's a 9 month process till you have your very own sapling. Splendid!
All the seeds sold by Grow a Tree are indigenous, and they each have a little story about them – what they represent, a little poem and a space for you to write a wish or a hope so that you can grow with the tree. They also have a unique tracking number. After the 9 months, when you're ready to plant your tree in soil (preferably somewhere where it can grow to be a giant oxygen-producing machine), you send the GPS co-ordinates to the Grow a Tree team, and they'll log it for you, so you can always keep tabs on where your tree is.
There are a number of reasons why Grow a Tree is one of my favourite things. Firstly, of course, because it means more trees. And more trees mean a happier environment. Secondly, because I get to watch a tree grow from a seed, and I think that is pretty damn cool. And lastly, because Grow a Tree is committed to teaching under-priviledged kids from under-greened areas why trees are important and how to keep them alive.
You can find out more about Grow a Tree at www.growatree.co.za or watch a short video about them here. Most importantly, though, go and buy yourself a tree in a bag! It's one easy way to green up your life, and maybe even reintroduce a little magic…
Photo: Grow a Tree