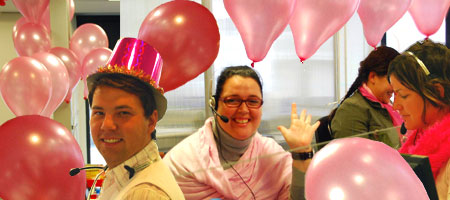 Our Travelbar team celebrate their 1st birthday today.
The Travelstart office has been decorated with pi.jpgnk helium filled balloons with the team also dressed in pi.jpgnk – Travelbar's official colour.
It's hard to believe it has been a year since we opened the phones to our customers wishing to book directly with a consultant opposed to booking online.
Travelbar has grown from strength to strength. Having started business a year ago with just 2 consultants, we have now 5 consultants.
Happy birthday Travelbar long may you reign & continue raising the bar.
Our Travelbar team are:
Wouter Nel – Team Leader
Delani van Rijswijk
Kirsty Henderson
Nanette McDonald
Levonne Aspey
Tel: 0861 878 278 (select option 5)
Email