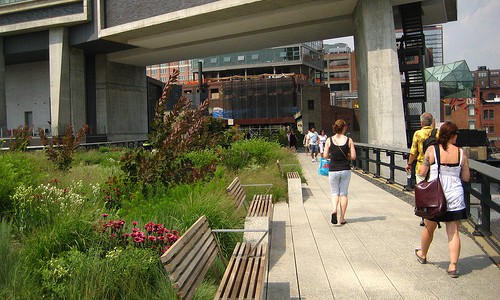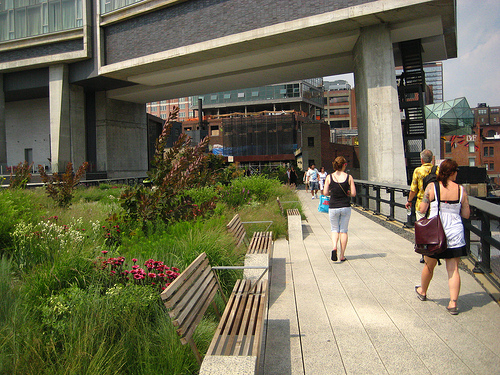 Photo from: Concrete Jungler 101
Just over a year ago, New York City opened the first section of the High Line, an elevated park that stretches from Gansevoort Street to 20th Street between 10th and 11th Avenues. The High Line was originally constructed in the 1930's as a way to lift hazardous freight trains off of the city's streets, and the fixture of New York's industrial past is now preserved as a vibrant pathway of innovative design and flourishing landscape.
By 2011 the remainder of the park will open, stretching all the way to 34th Street—totaling a mile and half in length and hovering over the Meatpacking District, Chelsea and Midtown West neighborhoods.
To find awesome flights to New York go here.
Since the park opened, more than two million visitors have traversed its winding walkways. And with all that's going on there—from gardening programs and art exhibits to free fitness classes and food samplings, it has quickly become one of the city's hippest summer hangouts.
Check out July's calendar of events:
Free Pilates Fusion Class, Every Tuesday, 10am; FREE
Stargazing with the Amateur Astronomers Association, Every Tuesday, 8:30pm; FREE
Walking Tour with High Line Gardeners, July 6, 12pm; $10 for members / $15 for non-members
High Line Design Walking Tour, July 7, 6:30pm; $10 for members / $15 for non-members
High Line Art Walking Tour, July 14, 6:30pm; $10 for members / $15 for non-members
Imagination Playground in a Box for Kids, July 17, 9am; FREE
Sketching What You See (All Ages), July 17, 11am; FREE
Wild Flowers and Urban Landscape Collages, July 18, 1pm; FREE
High Line Talks: Gardening in the Sky, July 21, 6:30pm; FREE
Wild Wednesday: Bees, Butterflies, and Beetles, July 28, 4pm; FREE
For a complete calendar of events at the High Line, click here!