One of the most interesting places I have ever been would have to be Hoh Chi Minh City, the largest city in Vietnam. (Prior to 1976, it was called Saigon.)
Apart from being the economic centre of the country, it is also a fascinating place for a traveller to explore for a week. It's home to hundreds of theatres, cinemas, museums, markets, pagodas and cathedrals, all of which will take you a week to explore with any depth. The Western Quarter is a popular area for backpackers to stay. 
Life is lived in the streets in Hoh Chi Minh City. Restaurants fill the sidewalks throughout the city, and in the evenings, you can hear a buzz from all the lively activity of people.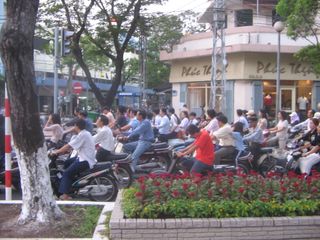 One unique aspect of Hoh Chi Minh City is that it is called the "World Capi.jpgtal of Motorbikes." A population of 6.5 million people, with an estimated motorbike population of 4 million. This can make crossing the street in HCM City a hair-raising experience.
My advice for crossing the street in Vietnam – You have to pi.jpgck your moment where the traffic seems light, and then walk at a steady & consistent pace, crossing sometimes 5 to 10 lanes of traffic. Your pace must be consistent, so that motorbikes can navigate around you, which they will do. But any hesitation on your part can lead to a collision, so you must walk steadily. It takes some getting used to for a foreigner, but it is so challenging that you are likely to celebrate a successful crossing! 
If you need to escape all the people in the city, I recommend a day trip out to the Waterslide park. It's not so popular with locals. We went on a weekday, and we had the park to ourselves for hours.
Every traveller should see Hoh Chi Minh City once in their lifetime; it's as unique a place as you can find.