The secret to avoiding queues and making your South African passport renewal relatively painless is to get there early. That way, you won't be left standing in the queue, wondering what happened in the 10 years since you last applied for your passport.
Note: visa and passport information is not guaranteed. Kindly confirm details with the relevant government authorities.
That said, I've just got back from renewing my South African passport and it was easier and more pleasant than I could ever have imagined. This is the story of my application …

Take One: South African Passport Renewal
Things got off to a sour start when I went to the Reserve Bank Building in the Cape Town CBD. The Home Affairs website lists the Reserve Bank Building in St Georges Mall, Cape Town as a place to get your South African passport renewed. Please note this is NOT the case. The Cape Town Home Affairs office is located in Barrack Street in the lower Gardens area.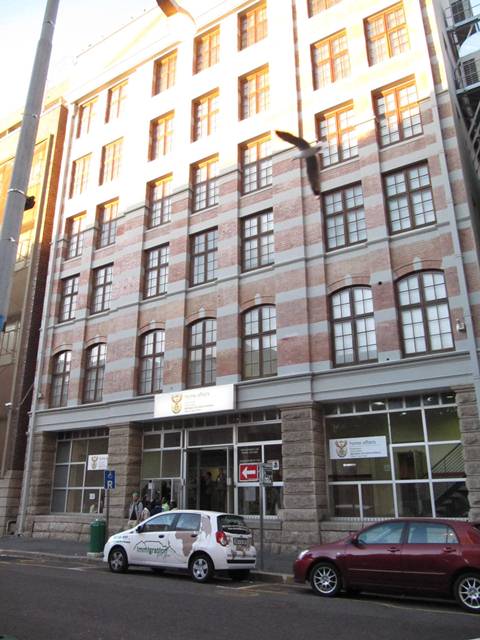 After making this initial error, I decided to wait a while before trying again.
Take Two: South African Passport Renewal
Fast forward a few weeks and I was ready to go to Home Affairs and get my new passport. I took the following things with me.
What to bring
South African ID document
Passport photos – usually come in sets of 4 and cost about R35 though you can get these taken at Home Affairs.
Your old passport
Cash – R400 (March 2012) + R10 to buy a Coke from the vending machine in Home Affairs
A pen
Your patience and a good attitude (if you get there on a particularly busy day)
Like I said, I got there early and this was definitely key in helping me get in and out of there as quickly as possible. The Cape Town Home Affairs opens at 8am so I made sure I was already queuing by 7am – there were already 20-30 people in front of me.
When the doors opened sharply at 8 we all filed straight in and got given numbers. It seemed that everyone in front of me was there to do other Home Affairs related stuff as they just dispersed into other sections of the building as soon as we got inside… not that I was complaining.
I proceeded to passport applications in the back on the ground floor – there's 4 stages apply, pay, fingerprint and another biometric process which wasn't working when I went and officials told me not to worry about it.
Cape Town Home Affairs
Location of Barrack Street Home Affairs in Cape Town:

View Larger Map
Opening Hours:
Monday to Friday: 8 – 15:30
Saturday: 08:00 – 12:30 (Only for collections)
Address:
Faircape Building 56 Barrack Street Cape Town, 8001
Contact:
021 468 4500/5 or 0800 60 11 90 for national enquiries

Collecting your new SA Passport
I can't tell you much about collecting your new passport as I'm yet to collect mine; it has only been 5 days since I applied. However, the friendly lady at Home Affairs told me the new South African passport can take up to 6 weeks to arrive but I think they just tell you this to be on the safe side as friends I've spoken to have gotten it in as little as 2 weeks. Take the receipt you received on applying + your SA ID book to collect.

Can third parties collect passport on applicant's behalf?
If you're unable to collect your new South African passport yourself then you can send someone on your behalf. Just provide them with the following documents:
A letter of consent, signed by you, stating that you're giving your friend permission to collect on your behalf and a reason why you can't collect it yourself
Your friend must take your original ID book with as well as his/hers
The proof of payment you received on applying for your new SA passport
Notes
If you're travelling overseas and you only have 6 months left on your passport then it's a good idea to renew it well before you leave. Most countries will only grant you entrance if you have at least 6 months left on your passport before it expires, so don't let this little bureaucratic oversight become a hindrance to you and your travels
The same goes for the lucky folk that have passports that are nearly full of stamps. Rather renew your passport and have lots more empty pages to fill
If you travel a lot, then get a Maxi passport. The Maxi passport has more pages than the normal one and costs R600
If you have to renew your SA passport, but you still have a Visa that's valid on your old passport that you want to use, then don't worry. Simply take both your old and new passports with you when you travel
The latest version of the South African passport looks a little different then what it did in the past. It's a security enhanced booklet with some new features that aren't visible to the naked eye – I'll report back on this as soon as I've taken a look at mine
Contrary to popular belief, renewing your South African passport isn't the painful hassle it once was. If the Cape Town Home Affairs Department is anything to go by, then government has done remarkably well in cleaning up their act. The whole process seems a whole lot more efficient than it did when I last went in 2002.
Joburgers, Durbanites and everyone else, we'd love to hear about your South African passport renewal experiences. Please leave comments below; every tip helps.
Simply enter your ID number to check your passport application status.
Postscript: 27/03/2012
So my new South African passport arrived, ready for collection, exactly 2 weeks after applying for it. I got an SMS from Home Affairs saying Home Affairs: Passport for #MY-ID-NUMBER# is ready for collection at the office of application
Once again I was pretty much in and out when I went to collect the little green book. The new passport features 32 pages plus the biometric card at the back; and it's handed to you in a little brown envelope. Make sure all your vitals are correct before you leave the department. All in all a positive experience, but I'd still get there early if you want to save time.