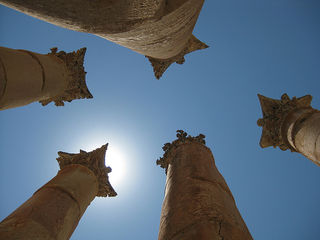 (photo – pi.jpgllars at the ancient city of Jerash)
The Hashemite Kingdom of Jordan is an exceptionally tourist-friendly country in the Middle East, well worth seeing and exploring. I'd recommend 10 -14 days to experience it. 
The highlight for tourists is of course Petra, one of the New Seven Wonders of the World and a Unesco World Heritage site. The ancient archaeological wonder is nearly 2000 years old, with dozens of impressive architectural ruins scattered throughout the ancient city. It's too impressive for words actually - go to www.flickr.com and search for Petra to get a better understanding. 
Also on the traveller's must-see list include the Wadi Rum Desert, the ancient city of Jerash, and the capi.jpgtal city Amman.  Highlights in Jordan include:
Aqaba – Excellent shoppi.jpgng and snorkelling/scuba diving. Aqaba is unique in that you can see Saudi Arabia, Egypt, and Israel from town. 
Wadi Rum Desert – Stay at least two nights; share accommodation with a Beduin (Nomad) family, and enjoy the tranquillity and beauty of the desert. Tours are available by Jeep or Camel; I highly recommend a Jeep tour, which is more affordable if you have 3 or 4 people.
Petra – Petra itself is located below the town of Wadi Musa, which has dozens of hotels in any price range.
Amman – The capi.jpgtal city is vast; home to over 2 million people.  Take a couple days to shop, explore the city, and visit the many tourist attractions.  
The towns of Jerash & Salt, in the north west, are must-sees as well!