For the most majestic view in Knysna, one must head to the Heads. Famous for its breathtaking views, the Lion's Heads as the locals call it, is the best lookout point for whales and other marine life.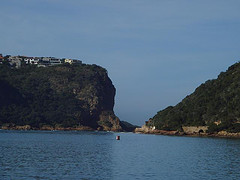 June till November, whales can be spotted making their way to warmer seas and often you'll be able to spot a whale calf or two with it gigantic mother in tow.
The Heads also is home to some of the most beautiful homes in Knysna, off owned by the rather wealthy residents that form part of the greater Knysna community.
The Heads look out points are off course all on the Eastern Heads and legend has it that many a ship has been put in danger trying to navigate its way to the treacherous water that aligns the Heads to the rest of the Atlantic Ocean just outside its borders.
The best time to visit the Heads and escape the mad rush is in the afternoons to watch the sunset and of course early mornings for a fresh breeze and peace and quiet. Be sure to pack a snack box or a pi.jpgcnic because you'll want to enjoy the view for hours on end.