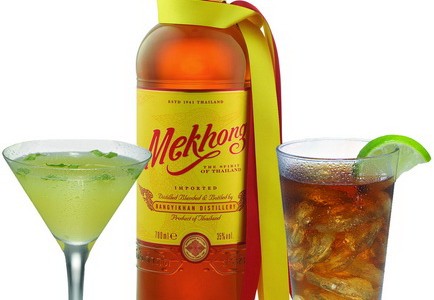 Since many countries have national cocktails, like Mexico's Margarita or Peru's Pisco Sour, it's only fitting that these countries have national spirits. For Mexico and Peru, it's tequila and pisco, respectively.  Travel around the globe, and local liquors change due to climate, growing conditions and what's readily available.  In Southeast Asia, for example, most liquors utilize rice, while some include tropically grown fruits and other crops.
Thailand's national spirit, Mekhong, is a sugar cane spirit blended with a rice spirit, plus Asian herbs and spices.  Mekhong was first introduced in 1941 and is named after Thailand's Mekhong River, which runs along the border with Laos.
Mekhong is a reddish copper color due to the addition of molasses, and its taste includes flavors of vanilla, toffee and citrus.  It's often categorized as a whiskey, but Mekhong has more in common with rum.  Drinkers used to aged whiskeys and rums may find the spirit too thin and harsh for drinking straight, but the exotic herbs and spices add an interesting depth to the spirit and make it a good addition to tropical cocktails.  Try the following drink for a simple and refreshing introduction to Mekhong.
Thai Smile
2 ounces Mekhong
1 ounce fresh squeezed lemon juice
¼ pomegranate fruit
¾ ounce simple sugar syrup
In a mixing glass, muddle pomegranate and sugar syrup. Add remaining ingredients and shake with ice.  Strain into a cocktail glass, and add a spoonful of pomegranate seeds as garnish.