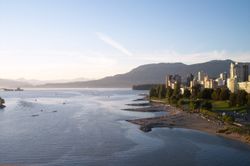 (photo – Vancouver's West End)
Next week, I will begin four weeks of summer travels, leaving Sweden and returning to my native Canada, to visit with friends and family. 
Because there is no way to fly directly from Malm
ö
 in Sweden to Vancouver, each time I make this trip, (about once a year), I try to arrange my multiple flights, so that I have as many layovers as possible. If it's possible, I try to get a layover for about 24 hours. There's no better way to see a few new cities and countries, than by taking advantage of a layover! 
On this trip, for example, I will travel from Malm
ö
, spend a day in Copenhagen Denmark, before flying to D
ü
sseldorf, Germany.  There, I will have 12 hours to explore the city, before flying to Canada. In a month, when I make my way back to Sweden, instead of flying from Vancouver, I will travel by land to Seattle in the U.S., which is a superb city to visit, just a few hours south of Vancouver.  From Seattle, I will fly to Reykjavik Iceland, where I will layover for about 16 hours, plenty of time to explore the city.  From Iceland, I return to Copenhagen airport, and then back to Malm
ö
. 
For this trip in particular, it will allow me to experience 5 countries within a month, including Canada, the U.S., Germany, Iceland, and Denmark. I love layovers!  
I hope that you have some enjoyable summer travels planned as well.  If you don't, it's not too late to make some!    
* This is my 100th post on the Travelstart South Africa Blog. My next few posts will come while I am travelling.