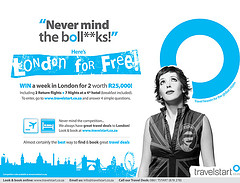 Never Mind the Boll**ks!
Originally uploaded by Dplanet::.
We wanted to grow our database of subscribers in South Africa as our experience in Sweden shows that newsletters generate good sales. We decided to run a 'viral'* competition offering the possibility to win flights and a hotel in London for a week. *[Quick note – I hate the word 'viral' used in this context, hence the inverted commas].
In keepi.jpgng with the rest of our communication, we wanted to avoid the usual clichés about London (Big Ben, 'bobbies' on the beat, cups of tea etc). As we were searching for something iconic we came across a poster for the classic Sex Pistols album, 'Never Mind the Bollocks, Here's the Sex Pistols'.
Other than the childish pleasure of getting the word 'bollocks' printed in the (somewhat conservative) national newspapers, we relate to the Sex Pistols' brash, anarchic style (that was revolutionary at the time). Often mistakenly perceived as being about nothing more than cheap shock appeal, the Sex Pistols are now considered to be the central formative influence on Punk Rock music.
Anyway, we had a bit of fun playing with our brand by dressing Sophie up as a punk grrrl, complete with Union Jack top and heavy make up. The copy reads, "Never mind the boll**ks! Here's London for free!".
We also wanted the ad to let people know that even if they don't win, we still have great deals to London (which is actually true incidentally). We wrapped up the concept with the line, "Never mind the competition… We always have great travel deals to London!"
Always good to have a sly dig at 'the competition' too. Just don't tell them 😉
Look out for the ads in the Weekend Argus and the Sunday Times.
Oh yeah,,, almost forgot – you can enter the competition here