During my trip to Florida I visited Orlando – and since I am going to write about them – several of the theme parks there. At first it felt odd. I'm a grown up, I was by myself and still I spent the days going on thrilling rides and watching sea lions do tricks. But very soon the kid in me started to enjoy it.
When I was younger I used to love amusement parks, especially the rollercoasters, and one of the highlights was a trip to the United States I took with my family when I was twelve. We visited Disney World and Sea World in Orlando then, and now 21 years later I can see that much is the same.
But not everything. For some reason the different parks try to outdo each other by constantly building scarier and more thrilling rollercoasters. During the summer of 2009 no less than two new rides are scheduled to open.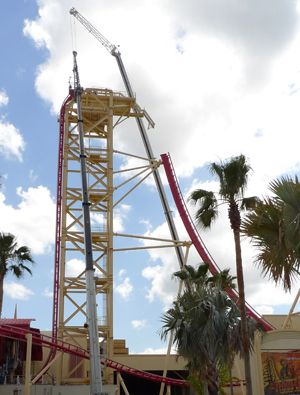 Sea World has long been famous for "Kraken" but when I visited the park they were test driving new "Manta". The name of course comes from Manta Ray and the scary part here is that you are strapped under the ray facing down – at times there is nothing between you and the sky.
Universal Studios has accepted the challenge and are currently finishing their new "Hollywood Rip, Ride, Rockit", the first rollercoaster I've seen with a completely vertical section (see pi.jpgcture). The ride will also combine audio and special effects in a way that Universal is famous for. I think this one is a must for all "coaster-junkies". It's scheduled to open on Memorial Day, May 25th.