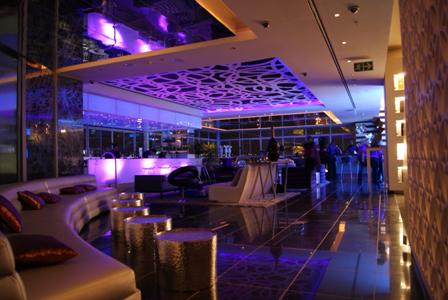 NB NB: Zar club & bar is set to close within 6 weeks of 23 Jan 2012 :NB NB
The ZAR bar is one of Sandton's hottest, new lounge bar and nightclub venues.  Overlooking Jo'burg's fashion district and financial heart, the ZAR bar Sandton has the best night views of any Sandton bar.
Jo'burg interior designer Kim H's team was responsible for the interior of the ZAR lounge bar and they have delivered a gorgeously over-the-top adult playpen for Jo'burg's party elite.
Open 7 days a week, from 11am till late, by day the ZAR bar's silver and purple, richly textured interior, is airy, light-filled, and elegant (in a bizarre Star Trek-meets-Retro-meets-Russian boudoir kind of way).
ZAR's balcony is becoming the place for businesspeople and image conscious fashionistas to lunch lightly while pigging out on the spectacular views.
At night, the ZAR bar goes gonzo, and transforms into an electric pink  and ultra-violet hued party penthouse, with 3 bars, a cocktail bar, a VIP lounge, cigar bar, and VVIP lounge hidden behind a liquid wall.
The Pimp-my-Ride LED bar changes colour constantly, and the suspended pod chairs are the favourite hang-out of …er, swingers.
Clearly aimed at party animals for whom expense is never a barrier to a good time, at the entrance, is a ceiling-to-floor display of rare champagnes, whiskeys, and cognacs priced to reduce your Black Amex to a molten lump by dawn. Anyone fancy a 50-year-old Glenfiddich at R15 000 a tot?
If you don't want to look like a tree-hugger at New York fashion week, make more than an effort to look good before turning up at ZAR. If you must do casual, make sure you've plenty of labels on display – and I don't mean the tacky nametag variety.
ZAR bar is celebrity central, so if schmoozing A-listers is your idea of heaven, gents pay your R200 cover charge on Fridays and Saturdays (men) after 8pm. Ladies you only pay your school fees, R100, after midnight.  On all other nights, entrance is free.
During ZAR's 'soft opening' in June, the Sandton bar welcomed football stars Patrick Vieira, Christian Karembeu, John Barnes, Edgar Davids, Arsene Wenge and Luis Figo.
Since then actor Jeffrey Wright, singer John Legend, and US music producer Swizz Beats have all made guest appearances here (pun intended), along with party brats Kim and Khloe Cardboard-cash-in…I mean Kardashian.
A final word on ZAR: autograph hunters, celebrity-hangers-on, and paparazzi beware. Not only will you need to get past the bouncers waiting at the elevator doors on the 13th floor, but if you pester ZAR's very exclusive clientele, it's a very loooooooong way down….
[boilerplate bytitle="text"]