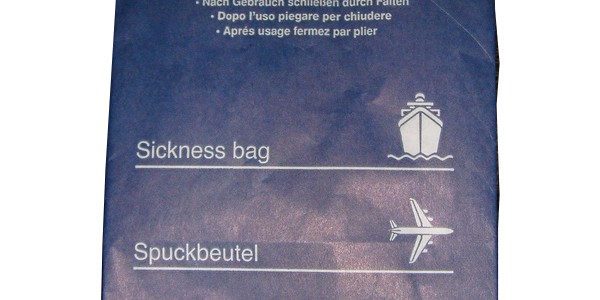 I was on a long international flight, I think to Paris.  We were finished with the first food service and crew rest has already started.  For those of you who are not aware, after we take off and it is safe for us to begin our service.  We come through first with a small snack and beverage service.  Then we come through to do meals with yet another beverage service.  Then we will come through again to refill coffee, tea, or water.  Trash comes next, we come through with the trash cart and pick up trash, food trays, and any other items you might have to discard.  Then we will start duty free sales through the whole cabin.  Yes, I know, it is actually a pretty long process.  But then again, we have a long time on this flight.
So, as you can imagine, I was starving by the time I actually had time to settle down to eat.  So I was standing there in the galley in the middle of the plane, trying to get my food all prepared.  I was about to take a bite into my oh it smells so good chicken, when a woman walks out of the bathroom that is located right next to the galley.  Do you know where this is going?  I bet you do…
She walks out of the bathroom, and mind you, she is still standing right there.  Her back right outside of the bathroom door.  She then mumbles something and vomits…let me tell you, she is a grown woman, not a eight years old.  She also did not even bother to cover her mouth or anything.  She just projectile vomits all over the galley.  Then, without saying a word, walks away back to her seat.
Now, I understand that sometimes these feelings rush in and you have no control over it.  However, I usually try my best to run to the bathroom or at least a trash can where I can do so without a mess.  And this lady, let me tell you again, was right…outside…the…bathroom…door…So she could have just turned around, walked inside, and did her business.  But she didn't…
I don't know whats more bizarre…this lady doing this or the flight attendant's reaction.  After this happened and the lady walked away, the other flight attendant standing there in the galley looked at me and said, "I'm not cleaning that up."
Needless to say, I threw my lunch away…