The Day of Reconciliation is celebrated annually on the 16th of December. This day came into effect in 1994 (after South Africa became a democratic country and apartheid was abolished).
What happens on this public holiday?
Festivities around the country are held by government organizations. These festivities include performances by musicians and addresses by political figures to promote racial interaction.
At the Voortrekker monument in Pretoria mainly white Afrikaans citizens still observe the "Day of the Vow". This day is considered a holy day by this community.
Public Holidays in South Africa:
1 January New Year's Day
21 March Human Rights Day
21 March* Good Friday (Friday before Easter Sunday)
24 March* Family Day (Monday after Easter Sunday)
27 April Freedom Day
1 May Workers Day
16 June Youth Day
9 August National Women's Day
24 September Heritage Day
16 December Day of Reconciliation
25 December Christmas Day
26 December Day of Goodwill or Boxing Day
* The dates on which Good Friday and Easter Sunday fall are determined according to the ecclesiastical moon. It varies each year but fall at some point between late March and late April.
If a public holiday falls on a Sunday, the Monday thereafter is a public holiday in South Africa.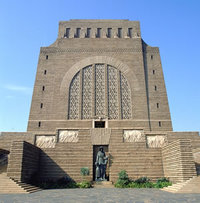 VoortrekkerMonument – H.Weyer
Copyright South African Tourism