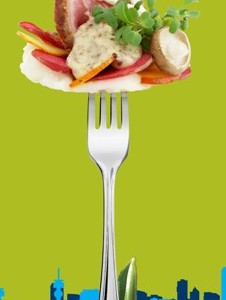 Utterly gorgeous spring weather is one thing Jo'burg can laud over its annoyingly well-endowed counterpart, Cape Town (winelands, beaches, mountains, need I go on…?), so spring food festivals are an affirmation that there are other things to do – fun things – in Jo'burg besides climb the corporate ladder.
First up in September is the Good Food & Wine Show, taking place from the 23rd to the 26th of September at the Coca Cola Dome in Northgate.  One of Jo'burg's longest running food shows, it's slick, well organised, caters to greenies, gourmets, and greedy-guts', and at R75 a ticket offers great entertainment value.
One of the main reasons food-addicted Jo'burger's LOVE this food show is the chance to see their favourite BBC Food channel chefs in action. This year's line-up includes strictly-come-pastry's James Martin, cake meister Eric Lanlard, Giorgio Locatelli (g*d help him if he eats what passes for majority Italian food in Jo'burg) and Willie Harcourt-Cooze of Willie's Wonky Chocolate Factory.
Speaking of wonky, Herr Harcourt's chocolates are now available in Johannesburg, at a whopping R50.00 for 80g. I love that the man is trying to prove to the Dairy Milk brigade that good chocolate, like good wine, has it's own terroir, but R685.00 per kilo? Holy Cacao! For that price, there better be a whole lot of Fair Trade going on…
The first weekend in October (30 September to 3 October) sees the Taste of Jo'burg, at Montecasino, my pick of the 2 shows if you're forced to choose. No. 1, the festival promotes local Jo'burg restaurants and chefs – a big plus, and No. 2, much of it takes place outdoors.
A Taste of Jo'burg works a little differently in that in addition to your ticket (R60), you have to purchase crowns (R5) in order to taste the different signature dishes of the restaurants on show. Prices range from 4 to 8 crowns per dish. You'll spend a little more at this show, but what I really like about a taste of Jo'burg, is it's the city on a plate – a little Chinatown, a little Yeoville, a little Soweto, a little Fordsburg, and a LOT of Sandton.
Jozi might not have Cape Town's restaurant pedigree (if the folk at the S.Pellegrino World's 50 Best are to be believed) but we have heritage and diversity; real fusion food thanks to Jo'burg's range of immigrant cultures.
Best of all, for a fraction of the cost of a full meal, you get to check out the dishes of some of Jo'burg's top restaurants. Portion sizes are substantial enough for you and your beloved, or food buddy, to share, and there's plenty of wine, beer, whiskey, or vodka to wash it down.
Since there are no beaches in Jo'burg, there's no need to worry about your bikini-body, so celebrate spring the Jozi way: loosen your belt buckle a notch, eat, drink, and eat some more!