If you have never experienced the city of Las Vegas as a tourist — you definitely want to take a trip at some point. The "Sin City" getaway is one of the many places that I absolutely love visiting in the States. It truly has something for everyone — male, female, old and young — anyone can find something out of the ordinary to do here.
photo by http2007
Bright lights, nightclubs, casinos, roller coasters, exotic cars, museums, galleries, day parties, shows, all types of cuisine, shopping, pools galore, golf — nowadays you can make it an adult experience or a child friendly destination.  Luckily, the majority of entertainment is all available in one place — the Las Vegas Strip.  According to Wikipedia – "Nineteen of the world's 25 largest hotels by room count are on the Strip, with a total of over 67,000 rooms."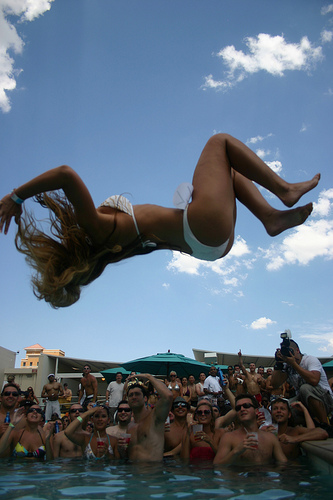 photo by yotut
Last week I flew out to Vegas for a short break — I was only there for a few days — anything more becomes sensory overload for me.  As always I stayed in the Tower Suites at the Wynn which I highly recommend. Don't get me wrong — I love clubbing and gambling at the other hotels — but the Wynn is where I always opt to stay in the city because it still provides a boutique experience. Tower Suites at Wynn feature a totally separate check-in area (and elevators) from the rest of the hotel, so you do not have to worry about long lines upon arrival.
– Find out more about Danish Online Casinos, visit bedste online casino –
photo by golf_pictures
Team USA happened to be staying at the same hotel for their July 19-24th camp. The group of U.S. athletes was preparing for the FIBA World Championships, which are set for August 28 to September 12, 2010 in Turkey.
Feeling lucky? Visit casino on line
I didn't do much clubbing this time in Las Vegas — I mainly enjoyed the pool, a LOT of good food, played blackjack in the casinos, and I took in a new show.
photo by PhotoDu.de
I saw the Cirque du Soleil show LOVE at the Mirage, which I highly recommend. I've seen quite a few shows out in Las Vegas — this particular one now ranks at the top of my list! Cirque du Soleil paired with The Beatles music! Who could ask for anything more.