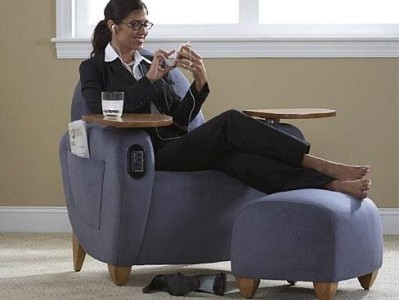 After a long day and four long flights during the day, I arrived at a Wyndham Hotel for a layover and was ready for my rest.  I, of course after being in hundreds of hotels, expected my room to be somewhat similar to every other hotel out there.  When I opened the door and glanced inside my room, I almost screamed because I thought I saw what looks like a massage chair in the corner of the room.
After turning on the lights, I realized unfortunately it was not a massage chair.  However, my disappointment quickly vanished and my interest peaked once again when I looked closely at the chair.  The chair was extremely comfortable, and it had everything I needed right there for me to wind down and relax.
I looked it up because after I had to leave this chair at the hotel I couldn't seem to stop thinking about it.  Its called the Wyndham SmartChair.  It has pivot tables on the armrest that you can move once you are seated.  And right on the chair are power outlets, ethernet port and telephone port!  No longer did I have to get down on my arms and legs searching for the power outlet inside the room.  I didn't have to plug in my computer and sit on the floor wherever the closest outlet I found was.  I also didn't have to hold the laptop in my lap the whole time I was using it and causing my neck to hurt.  I sat down comfortably on this smartchair, pull the pivotal table towards me and plugged in my laptop.  LOVE IT!!!  Yes, it is the little things that count when you are home away from home…and this, definitely, will continue to be one of my loves I can't wait to get back to.
I did see that I can also buy one for my own home…however…the price…not so love =P  It's approximately $2000 per chair not including the ottoman that I had my feet comfortably rested on.  I now fully appreciate the hotel for investing in this and putting one in every room.  Now, if it had a massage function as well…hm…