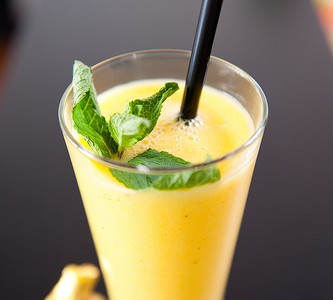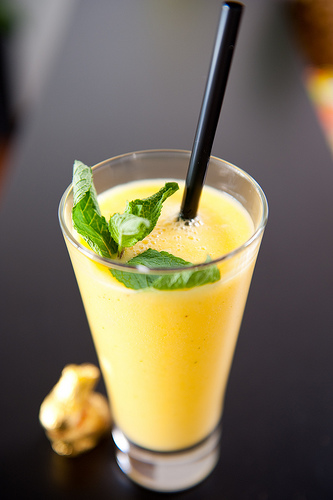 Photo: realSMILEY
I realise that's quite a claim, but trust me – once you have tasted the mango juice in Amed, on the Northern coast of Bali, you will realise it's absolutely true.
Mind you, most of South-East Asia has fruit juice down. Nothing but fruit, that's the secret, crushed fruit with some ice, a little water (preferably distilled so that you don't finish your drink with a few new inhabitants in your body), and a tiny dash of sugar syrup. That was the secret, I realised on our last day in Indonesia, at the airport, flying to Jakarta and then home. I bought us our last fruit juices of the trip, and saw the man behind the counter slosh a little of the syrup into the glass. There you have it! Sugar syrup, incredibly juicy fruit, and ice. Yum.
But back to Amed. Because of all the places we tasted freshly squeezed fruit juice (and they were numerous, throughout Thailand, Cambodia, Vietnam and Indonesia), Amed won. Hands-down. This could be because Amed itself felt like a bit of a winner. Bali as a whole is extremely touristy (and that's putting it mildly). After the relative hidden gem nature of parts of Vietnam and most of Cambodia, Bali came as a bit of a slap in the face – with all its glitzy shops, brand names and uber-developed tourism infrastructure.
But then we hit Amed, a small fishing and diving village on the coast, that most people stopped by only to scuba dive for a day or two, and then moved on. We spent five days there, diving every second day (in some of the most extraordinary waters we had ever seen – more on that later) and hiring a scooter to drive through the largely left-alone surrounding villages and vistas. Views straight out of a book of postcards hit us at every turn, rice paddies and oceans stretching in vast 180 degree sweeps, and everywhere that lush vivid green. And, of course, mangoes.
The mango juice in Amed was so delicious it had presence – it walked up to you and had a conversation, and the conversation was all about how it was the best juice in the whole entire world. Ever. Bursting with flavour, smooth but full, icy cold and so sweet it could have been dessert. If you're looking for the hands-down best drink in Bali (and possibly all of Asia), head on over to Amed. While you're there make sure you spend a day snorkelling just off the shore – if you're lucky you'll see a giant turtle amongst the profusion of coral, fish and strange sea creatures.
And that, together with the mango juice, will ensure Amed is a place you'll never forget.