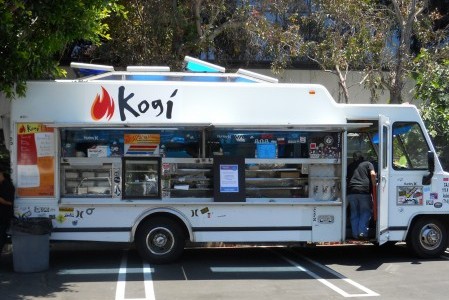 Good food's no longer just found in standard restaurants, complete with doors, roofs and tables. Now, tasty food — from street staples to gourmet snacks — can be found at roadside stands and food truck windows across the globe.  And while street food's long been a constant presence in Asia and elsewhere, it's the trucks that are making the most noise these days.
Food trucks are partially a product of the times. For the past several years as the world's economy floundered, restaurateurs have taken fewer risks launching pricey concepts.  And as food trucks have become more present in popular culture and have established a cult-like following in cities like Los Angeles and New York, chefs and entrepreneurs have set up their own food truck businesses, which require fewer startup and overhead costs than traditional restaurants.
While some trucks stick to casual favorites like hot dogs, tacos and burgers, plenty more have ventured into upscale cuisine like tapas, gourmet cupcakes and foie gras-focused menus.  Not all concepts take off, but as food trucks continue their infusion into mainstream dining, more and more are popping up.  Many trucks are mobile and move between popular business areas and late night scenes, providing quick lunches for busy workers and late night snacks to bar goers.  Several others, especially in cities like Portland, OR and Austin, TX, park permanently at food truck destinations, where a handful of trucks offer a variety of options to diners.
Fueling the food truck fire and further propelling this cuisine to prominence is the Food Network, which launched a show called the Great Food Truck Race.  In the show, seven teams representing the country's best food trucks hit the road to cook their way across America. It's just further evidence that food trucks are here to stay and should be taken seriously as major players in the world's restaurant landscape.