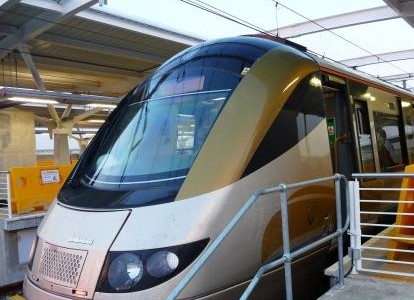 Jo'burg's long awaited high-speed train service, the Gautrain, becomes operational on Tuesday 8 June 2010.
Here are 10 things you need to know before you rush off to a station hoping to give Jozi's newest, fastest locomotive a whirl.
1. Firstly, the Gautrain is a cashless system. To ride on the train, or catch a feeder bus, you will first need to purchase a Gautrain Gold Card at a once-off cost of R10.00.
TIP: It's a good idea to register your card in your name at the time of purchase in case it's lost or stolen. This way, your balance is refundable or transferrable to a new card.
2. Gautrain Gold Cards can be purchased from ticket offices and ticket vending machines at any Gautrain station (cash, credit, and debit cards accepted), and at selected retail outlets close to the bus routes.
TIP: Currently, Gautrain stations do not have on-site ATM's, so make sure you have enough money with you when you arrive at the station. Only Sandton and OR Tambo International Airport have nearby access to banking facilities.
3. Gautrain operates from the following stations:
OR Tambo International Airport (ORTIA), the station concourse is one level below departures at the new Central Terminal Building.
Sandton Station, corner of Rivonia Road and West Street.
Marlboro Station, off the N3 highway/Marlboro Drive interchanges in Alexandra.
Rhodesfield Station, Anson and Ventura Streets, Kempton Park.
4. The Gautrain buses operate from within the Sandton CBD, and between Rhodesfield station and the Kempton Park CBD. Buses are Gautrain-branded, numbered, and coloured according to the route. Feeder buses for Marlboro Station will commence in 2011.
5. During peak periods, 05h30 to 08h30 and 16h00 to 19h00, trains, and feeder buses run every 12 minutes.
6. During off peak periods, 08h30 to 16h00, and 19h00 to 20h30, trains and feeder buses run every 20 minutes. On weekends and public holidays, trains and feeder buses run every 30 minutes.
7. Every second bus or train is disability-friendly. All stations have wheelchair access and cater for sight and hearing-impaired passengers.
8. The Gautrain airport link is only available from Sandton or the airport. One way, the trip takes around 12 minutes. A single airport fare from ORTIA to Sandton (and vice versa) costs R100.00. TIP: Airport commuters use the first 2 coaches only.
9. Gautrain fares are aimed at the middle- to upper-end of the local commuter market. Any combination of bus, parking, and train services can be purchased, from a single ride, to weekly and monthly travel passes.
10. The Gautrain runs 7 days a week, 365 days a year.
There can be no question that once Jo'burg commuters, the majority of whom aren't used to rapid rail, have experienced the Gautrain's stress-free, super-quick ride, forking out a couple of extra Rands for the privilege will seem well worth it. Compared to equivalent services overseas, it's a steal. The Gautrain's a welcome, long overdue addition to public transport in Johannesburg. Long may it ride.