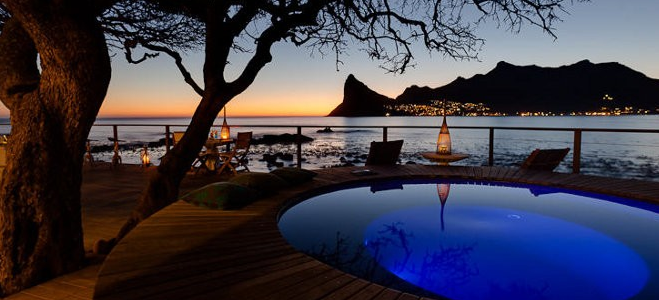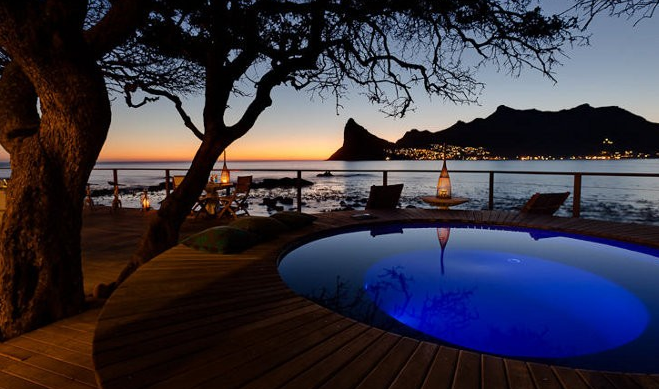 I must be honest, this will be something of a biased review. You see, I am deeply and passionately in love with Tintswalo Atlantic… I can't help it. It was love at first sight.
For starters, this is one hotel that most people have never heard of – even though it's a mere half hour out of Cape Town. That's because it's tucked away on Chapman's Peak, actually on Chapman's Peak (that most beautiful of all Cape Town drives) and right on the ocean. The hotel is entirely eco-friendly and could be packed up and removed without impacting negatively on the environment. It blends in so seamlessly, in fact, that it feels like it just grew up out of the rocks and coastal forest.
And then there's the rooms: each of them with a different island theme (we stayed in Robben Island, a haven of greens), each of them luxuriously decked out to make it virtually impossible to do anything but lie on the couch, or the bed, or sit on the all-wooden verandah, and stare at the stunning, endless ocean view.
When you check in you'll be treated to a decadent high tea: platters of delicious savoury and sweet treats accompanied by tea, coffee and freshly made lemonade, to ease you into the holiday mood. The food at Tintswalo Atlantic is simply mouthwatering, beautifully prepared and balanced dishes made from only the freshest ingredients and guaranteed to melt in the mouth. And the service is superb – friendly but discreet, and marked by the unusual fact that all the people who work there love it.
So let's see, we have the most amazing location, breathtaking nature, luxurious rooms, delicious food, superb service… Really, is it any wonder I'm in love with this place? I think not! Now if only I could go back there tonight…