The Friendly City is much more than a thriving hub for industry. Often overlooked this beachside city has blue flag beaches, a substantial art and food scene and is well regarded as an international destination for sport- Nelson Mandela Bay is proud to be hosting the Iron Man World Championships in 2018. Travelstart brings you our top 21 things to do this summer in easy-going, fresh P.E.
Featured Image above courtesy of SAMREC
First things first- download the Nelson Mandela Bay Travel App which has all the latest things to do in P.E. plus emergency contacts, where to find free Wi-Fi and even audio guides to specific sites. Download it here.
Love Port Elizabeth?
Also read:
Good to know
A great way to save some randelas is to buy a NMB pass to qualify for free entry and discounts for a number of Port Elizabeth attractions. There are a variety of options including the 5 in 1 pass, which is valid for 3 months and limits you to any 5 of the offers.
Fee structure: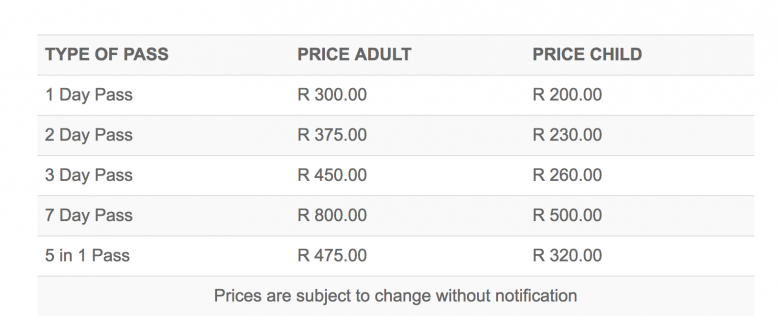 The Ibhayi Sunshine Saunter pass
The Ibhayi Sunshine Saunter pass allows you free and discounted offers to products on the Ibhayi Sunshine Saunter and cost R250 per adult and R200 per child. It is valid for 3 months and limits the Ibhayi Sunshine Saunter Pass holder to a maximum of 4 of the free items on the Ibhayi Sunshine Saunter Pass as well as the discounts.
The pass includes:
Free entrance at the Kragga Kamma Game Park and the Seaview Predator Park.
Pass holders receive a free race card, drink and a R50 entertainment voucher at the Fairview and Arlington Race Course.
You'll qualify for a free round of putt-putt on a challenging 18-hole course at Open Sky Entertainment Park.
And a free Paintball experience which includes all the gear + 100 paintballs at Paintball Heaven.
Free entrance and guided tour to the SA Marine Rehabilitation & Education Centre. (Pass holders visiting SAMREC also receive free admission into Cape Recife Nature Reserve).
Ibhayi Sunshine Saunter pass holders also receive free entry, animal feed, and breakfast at the Holmeleigh Farm Yard.
Pass holders receive a free 1 hour horse trail ride at Heavenly Stables.
A free picnic at Thunzi Bush Lodge.
Normal Nelson Mandela Bay Pass T&C's apply.
1. Have a cup of P.E.'s very own "Blend of the Bay" at Masterton's Roastery

Founded in 1924 in Port Elizabeth this classic roastery is still going strong. Have a cup of P.E.'s finest at their headquarters in Russell Road.
Open from 8am to 5pm in the week, 8am to 1pm on Saturdays and closed on Sundays.
114 Russell Rd, Port Elizabeth
Call: +27 41 585 4044
Find cheap flights to the Friendly City here.
2. Spend a morning snorkeling at the "duck pond" rock pools at Sardinia Bay beach

A beautiful beach a short drive away from the city in a reserve, perfect for sunbathing, swimming- don't forget your snorkel! Insider tip: The hotdogs in the food truck "Wurst Wagen" in the Sardinia Bay Beach parking lot are not to be missed!
3. Learn all about our endangered African penguins at SAMREC

SAMREC is Port Elizabeth's marine bird rehabilitation and education centre. You can find it in the Cape Recife Nature Reserve. Not only does the centre rescue and rehabilitate, but it also informs and educates the public through their programs. If you're lucky you may be in P.E. when they release their rehabilitated penguins back into the wild.
Tour our marine rehab and education centre and experience nature through sight, sound and touch
Visitors can experience the hospital and see the volunteers in action helping to save our environment, in particular the endangered African Penguin.
4. Fire up a braai with friends and family at Island Nature Reserve in the Seaview Dune Forest
This lovely coastal forest reserve is home to bush pigs, vervet monkeys and a wide variety of birds. It's bout 25km from P.E. central, you can access it via the Seaview Road turn off along the national road. Besides picturesque picnic spots there are a number of trails of different lengths to walk or run or you can do the entire 16 km Bushbuck Hiking Trail. The picnic sites have fire places.
R30 entrance fee
Open from 8am to 4:30pm during the week and until 4pm on the weekends.
Location of start : -33° 59′ 8.10″ 25° 22′ 12.41″
Trail distance : 16Km
Call : 041 378 1634
5. Visit the iconic lighthouse and do a guided walk in the beautiful Cape Recife Nature Reserve

Ibhayi Sunshine Passholders visiting the penguins at SAMREC also receive free admission into Cape Recife Nature Reserve and tours can be arranged. The reserve includes a lighthouse built in 1851 and a bird hide. Entrance permits are available from Pine Lodge Resort located at entrance to Cape Recife Nature Reserve. A weekly permit costs R32 per vehicle.
6. Celebrate the 67 years Mandela devoted to public life by following Route 67
This is one of the best open-air exhibits in the country. Urban design meets heritage and art. Explore interactive sculptures, walk alongside the significant terraced houses in Donkin Street and scale the 67 steps leading up the second largest flag in Africa. Start at the Campanile. Find out more here. http://www.nmbt.co.za/listing/route_67.html
7. Drink a milkshake from the Something Good Roadhouse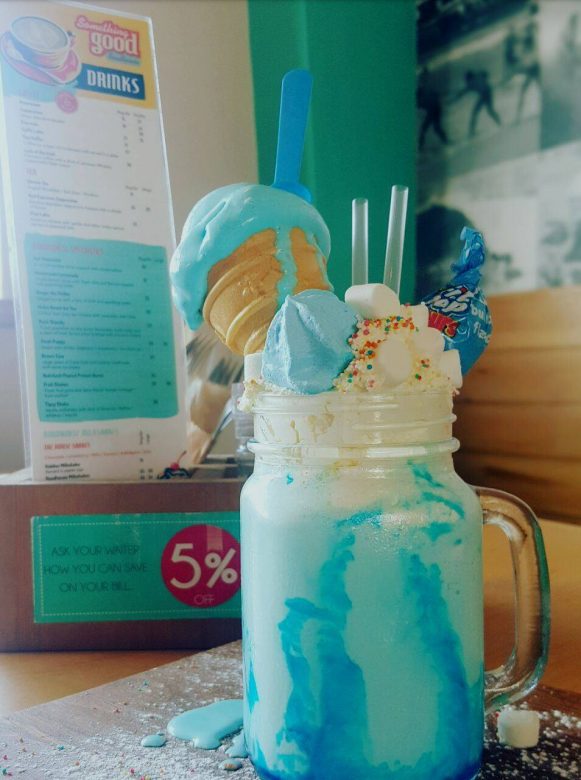 Courtesy of at Something Good Roadhouse
This old-fashioned roadhouse has the best ice-cream laden milkshakes in town. This is a good place to park if you're visiting Pollock beach and the boardwalk.
Open everyday.
Marine Dr., Port Elizabeth
Call: +27 41 583 6986
8. Find second-hand books and antique treasures at Books & Bygones and the Old Curiosity Shop
one of the best ways to remember a place is through the reminder of a second hand book. Lawrence Street has great antique offerings which make for a pleasant morning of browsing.
Books & Bygones
12 Lawrence St, Port Elizabeth
Call: +27 41 582 4375
Old Curiosity Shop
8 Lawrence St, Port Elizabeth
Call: +27 41 586 4786
9. Nature meets city- hike through wild flowers on the Lower Guinea Fowl Trail in the Baakens Valley a stone's throw from the CBD

Truly an example of wilderness within a city, for an easily accessible hike the Lower Guinea Fowl Trail is 7.5km long and can be accessed from the 3rd Avenue dip in Newton Park. Leguaans, dassies, lizards, tortoises and blue water lilies can be seen from this meander along the Baakens Valley flood plain. The trail isn't circular so if you don't want to double back then arrange for someone to collect your hiking group from the Settlers ark at Chelmsford Avenue entrance, off Target Kloof or at the main parking area just off How Avenue, Park Drive.
10. Indulge in the freshest sushi at Fushin Sushi
This Richmond Hill spot is top of our restaurant bucket list. Winner of the Tripadvisor 2016 certificate of excellence, Fushin is an ever-popular crowd pleaser.
Open everyday from midday to 10pm.
5, Stanley on Bain, 15 Stanley St, Richmond Hill
11. Unplugged Backyard Hangout

Look out for events organised by P.E.'s most on the pulse musicians here.
3585 Lukwe Street, Kwazakhele, Port Elizabeth
Call: 084 342 9762
12. Hit up both the Valley Market and the Goodnight Market

One venue – two markets, meet P.E.'s equivalent to Joburg's famous Neighbourgoods Market. If you happen to be in the Friendly City on the morning of the 1st Saturday of the month or the evening of the third Saturday you're in for a treat. All the best of P.E.'s food artisanal food vendors are there to impress. Entrance is R20 and all proceeds go to charity.
The next Valley Market will be held on the 7 January 2017 from 9am to 2pm.
The next Goodnight Market will be held on the 19 January 2017 from 5pm to 9pm.
Both take place at the Corner of Lower Valley Road and Union Street.
Call: +27 79 444 5666.
13. Pizza and live music at local favourite Bridgestreet Brewery
Check their Facebook page for live music events here. The springbok carpaccio and brie pizza is a winner.
Open Monday to Sunday from 11am 'til late.
1 Bridge St, Port Elizabeth
14. Donkin Heritage Trail

History buffs will love the the 5km Donkin Heritage Trail which links 51 places of historical interest in the old Hill area of Central Port Elizabeth.
15. Coffee and cake at the original Vovo Telo

Go to the source of the Vovo Telo empire for the freshest bread and coffee around. To quote their origin story when they first began making their famous bread "fresh aromas would drift down Raleigh Street through the morning air, and people would come to investigate, watching us at work."
Raleigh St, Port Elizabeth
16. Mella's Dim Sum & Noodles Bar
Open for dinner on Mondays, dinner and lunch every other day and closed on Sundays.
15 Bain St, Port Elizabeth,
17. Take a family/friends surf lesson at King's Beach

Surf's up- use your 5-in-1 NMB pass to book a surf lesson at Oceanside Surf Store. The great thing about surfing in P.E. is that it is always loads warmer than Western Cape waters and if you go in winter you'll have your wetsuit and sunshine for company.
18. Thunzi Bush Lodge picnic

Spend a sublime afternoon in the bush veld keeping your eye out for their signature bird the Kynsna Turaco. You qualify for a free picnic with the NMB pass valued at R175!
19. Buy an ice-cream and take a stroll along the boardwalk to magnificent Shark's Rock Pier

Ice-cream and a walk by the seaside, what could be better? Shark's Rock Pier is 137 metres long and was originally built to prevent sand erosion before becoming a picturesque attraction. Surprisingly there is some good scuba diving to be had at its base particular for beginners, plus take in spectacular views of Humewood and Summerstrand beaches from the pier.
20. Take in the magnificent architecture on Govan Mbeki Avenue
21. Collect your free mini angora goat at Mohair South Africa

The Karoo produces the bulk of the world's mohair production. Collect your adorable free mini angora goat at the Mohair South Africa boutique if you have the Nelson Mandela Bay Pass.