Earlier this year the UK launched a new online visa application for South Africans which streamlines the process considerably. Access UK has a shorter and more logical application form compared to the old version Visa4UK and in addition to this the application fee is displayed in Rands and Pounds which makes things even simpler.
Access UK is the online application service which has been launched for South Africans applying for a:
Standard Visitor visa
Marriage Visitor visa
Permitted Paid Engagement visa
You will still need to use the old Visa4UK system if you are applying for a study or work visa.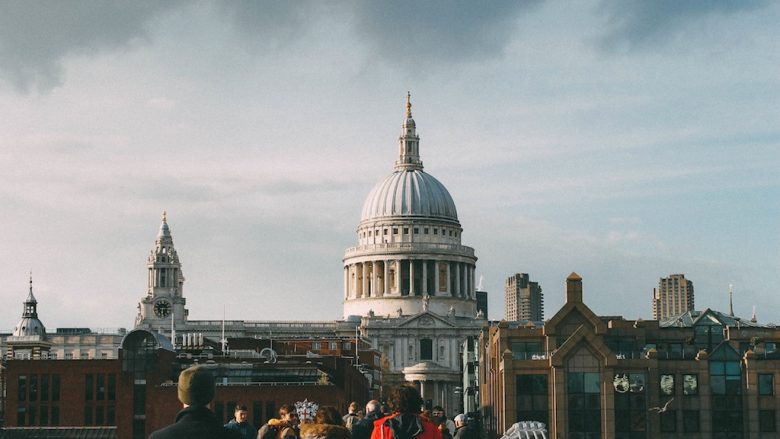 First step
Visit the Access UK site here to begin the process. Note that you will be able to save and edit each stage of your form as you go along and you can log in and out as you wish.
If you are unsure about which visa to apply for, use the following easy questionnaire to receive your answer.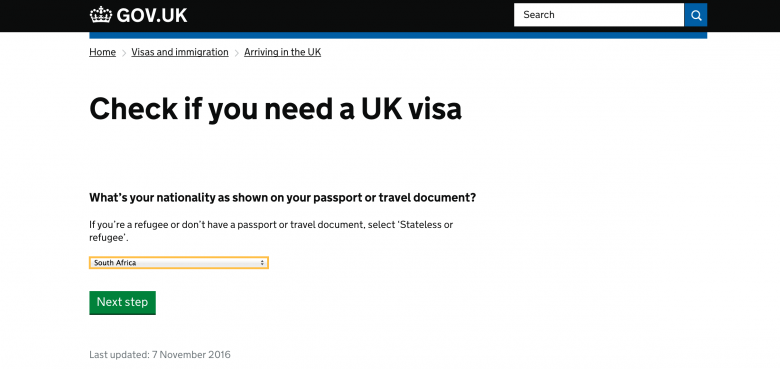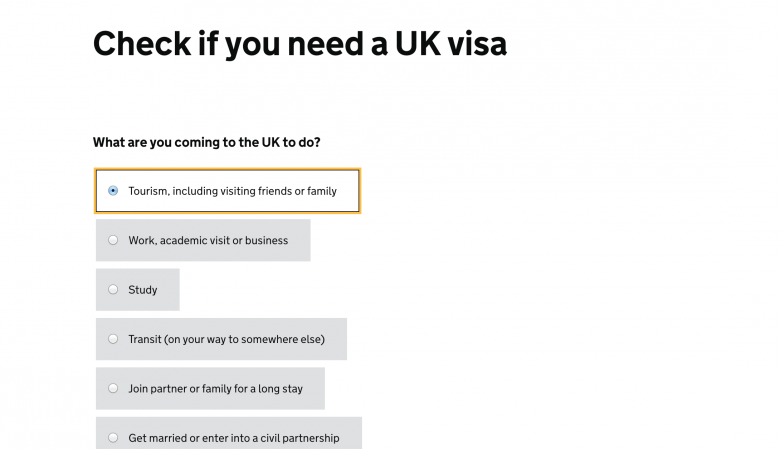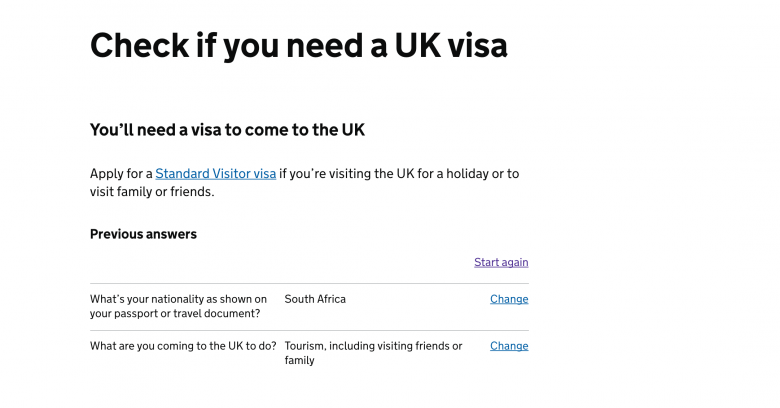 Note
The Standard Visitor visa has replaced the:
Family Visitor visa
General Visitor visa
Child Visitor visa
Business Visitor visa, including visas for academics, doctors and dentists
Sports Visitor visa
Entertainer Visitor visa
Prospective Entrepreneur visa
Private Medical Treatment Visitor visa
Approved Destination Status (ADS) visa
Check your eligibility for the visa you require here.
Which documents will I need on hand?
Your current passport (having past passports on hand does help as you will be required to list the details of past trips).
Evidence that you are able to financially support yourself for the duration of your trip (for example 6 months of bank statements/ payslips).
You require at least one blank page in your passport, and it must be blank on both sides.
Your passport must also be valid for 6 months after your trip.
If you wish to provide as many supporting documents as possible, check the complete list here.
Any supporting documents you submit will be returned to you afterwards.
Overview
To apply for a standard visit visa to the UK, you need to:
fill in the application form and answer in English
pay for the visa fee online
print out your form
book and attend an appointment at a visa application centre near you with your original documents and certified copies of those documents
If your require a UK transit visa read the following:
How long in advance should I apply?
2 months is ideal, 1 month is cutting it fine but perfectly acceptable.
Ready to start your application for a Standard Visitor Visa?
Begin here.
You will be asked to submit your email address and create a password. You can now save each page of your application as you go along and come back to it at a later stage when you have more time.
Remember you must be able to attend an appointment in person at one of the following visa application centers: Johannesburg, Pretoria, Cape Town, Port Elizabeth and Durban.
Fill out your name, your address and your contact number.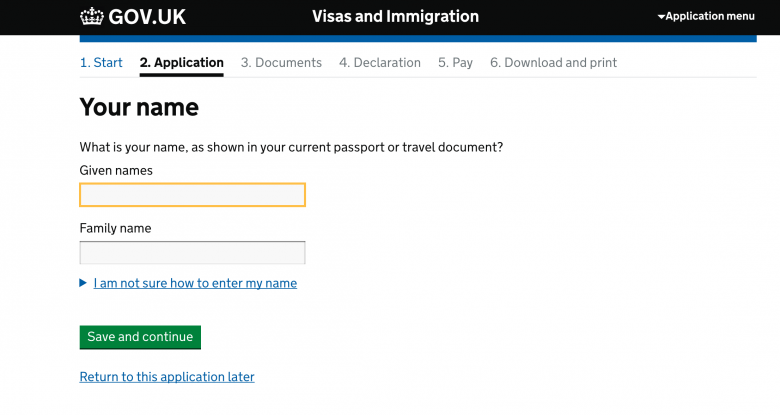 Fill in how long you have lived at your current address, whether you own or rent it, your marriage status, details concerning the issue of your passport, whether you have owned a previous passport, details from that passport, your ID number, whether you are employed, details of your employer, how much you estimate your trip will cost (in Rands or Pounds).
Fill in information about your finances, whether someone else will be assisting you financially with the trip, your savings.
Fill in information about your spouse (if you have one).
Fill in information about any dependants you may have.
Fill in information about your parents.
Answer a series of questions about any previous travel to Schengen states, the USA, Australia or Canada.
Answer about any other travel you have undertaken in the past 10 years.
Fill in information about your proposed trip to the UK (where you intend to stay etc).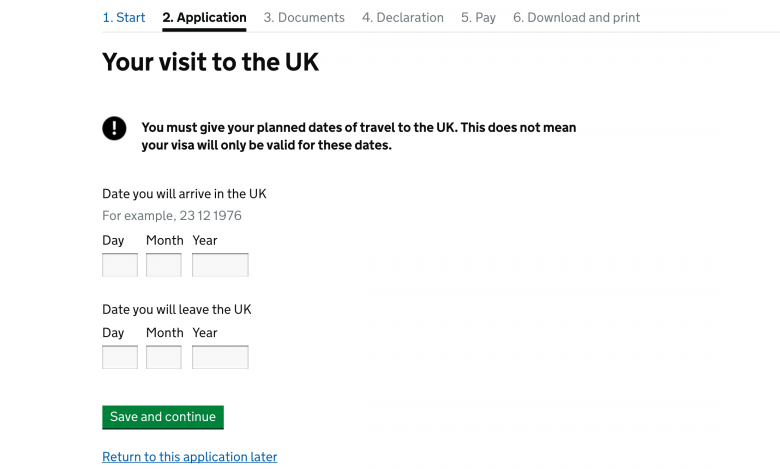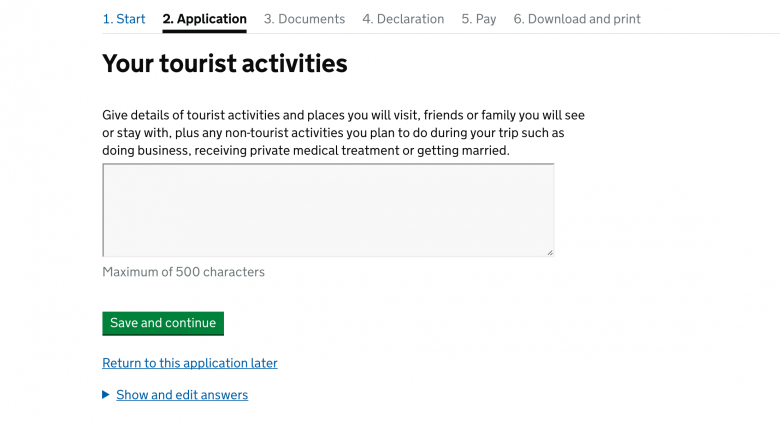 Answer a series of security questions.
Choose your length of Visa (6 months, 2 years or longer).
Good to know: Priority visa applications and the payments for these can be done through this online service.
Costs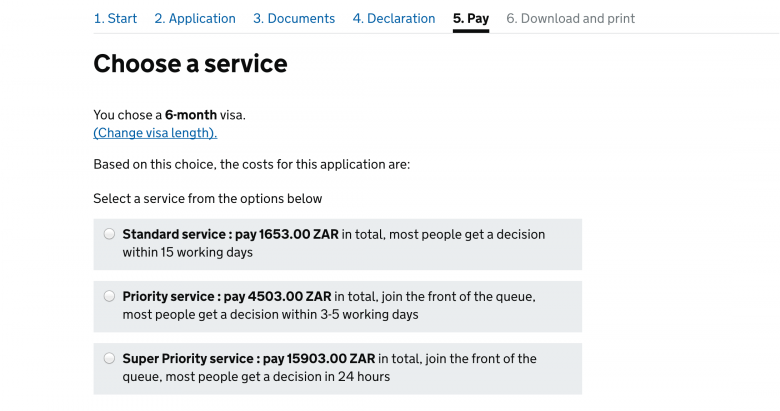 The 6 month visa costs R1653 at the present exchange rate and will be processed within 15 working days.
For a speedier service you can pay more.
UK Visas and Immigration will contact you if it will take longer to process your application. This might happen if:
your supporting documents need to be verified
you need to attend an interview
your application is complex
Attending your appointment
Remember to bring along:
your passport and a certified copy of your passport
the original and a photocopy of all the supporting documents you need for your visa
certified translations of any supporting documents that are not in English or Welsh
Important to note:
Be early for your appointment. If you are late, you forfeit your fee. Also, once you've attended your appointment, if your visa is denied, the amount you paid online is not refundable.
The information included above is accurate at the time of publishing but must not replace direct communication with the embassy.
*Disclaimer!
All information on this blog page was correct at the time of publishing and may change at any time without prior notice. Travelstart is not affiliated with immigration authorities or their application centres and will not be liable for loss or inconvenience arising from the use of this volatile information.