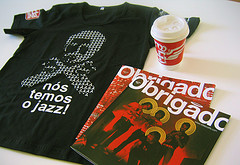 Vida eCaffé gets it right
Originally uploaded by boOo… spo0ky!.
Vida has managed to get things very right by giving equal importance to their products and price, "customer service" and branding / brand experience.
1. They've concentrated on quality over quantity. They have a limited range of products available, at reasonable price and great quality. Nobody does coffee, muffin or buns like Vida. And they have the free choccies 😉
2. The customer service is absolutely impeccable. They remember your order, sometimes your name. They greet you with so much warmth and energy and they're entertaining,,
3. It seems for Vida that the branding and user experience is as important as their products and customer service (yay someone who finally gets it!).. simple, efficient, lifestyle. Great brand, very recognisable and slick. They've also created a cool little lifestyle magazine with great interesting useful content and awesome visuals, all of this whilst representing South Africa. So what they get they give back. I like that a lot,,
Yet another nice Vida trip…
Went for the usual morning fix and the friendly barrista tells me that because I drink so much of their stuff, he wants to give me a teeshirt to rewards my loyalty,, yay! Well I must say they got that one right too, the design is cool and I can overgo the sponsor brand logos and actually wear it. Might as well get the regulars to promote your brand..
Well done Vida,, you've got it right and I wish you well 🙂
PS: Now just don't go and put your prices up like silly Sundance, or take out my favourite off the menu like Crush, that'd be a crime against the coffee society!