… sounds romantic, doesn't it?
I've finally settled on a date for my Mozambique beach wedding – and found a venue. The last 2 weeks it took quite a bit of convincing to get all 18 guests to pay their share and to actually commit to going… but they might have reason for concern considering the things below.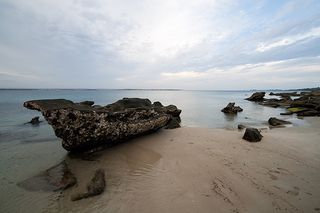 Photo: Stig Nygaard
The location is remote (well, not that remote considering it is less than 100km from Maputo) and cannot be reached by car (only 2×4 and 4×4 vehicles). The establishment does not have 24 hour electricity, but generators running certain times (meaning limited hot water). There is no restaurant or shops in a 20km radius (and cannot be reached by a normal car).
I know, you might now be asking yourself why in the world anyone would get married at such a rustic beach location. The answer is simple… I want a beach wedding, but really don't see the point of spending R30 000 on something that will last only a few hours… if you could use it to travel the world – and I really want to go to Mozambique!
So anyway, here I am 6 months away from a beach wedding and have so far booked the accommodation for my small wedding with a list as long as my arm to take with and do in the next few months.
What to know about beach weddings:
Legally South Africans (and many other countries' citizens) cannot get married in Mozambique (legally that is… but for show only) – so you will have to get married back home and have a "sham" wedding on the beach.
You can find something in your budget if you look hard enough and if you're willing to do some work.
You do get travelling ministers (from South Africa) in Mozambique or you could ask the establishment that will be hosting your wedding to organise a Mozambican Priest/Pastor.
Flowers cannot be bought just anywhere and you won't always find the exact type you want.
Other things you should know:
South Africans currently don't need visas to get into Mozambique (European passport holders do).
The local beer is not that bad (thanks to a friend that brought me back some) and you can buy them in cans if you don't have a crate to buy glass bottles.
Mosquitoes roam freely and in masses in most places. See a doctor and discuss malaria pi.jpglls. Buy lots of mozzie repellents. There is no such thing as too much.
There isn't a McDonalds for a quick bite – but you can buy fresh fish from local fisherman.
Mozambique looks idyllic on photos, but it is not developed fully.