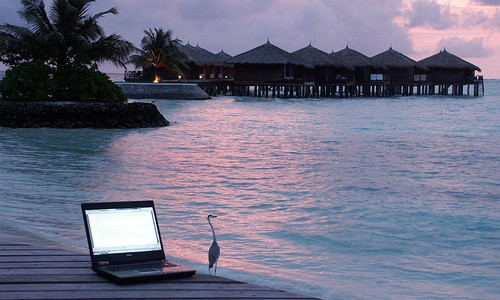 (picture: travelswithmylaptop.com)
Howdy folks!
Well, with the WWDC (World Wide Developers Conference for Apple) coming up imminently, I thought it appropriate to discuss technology and travel. How much technology is too much technology to take travelling? Just how connected to the rest of the world do you need to be when travelling? and what happens when it all breaks down?
I'm the first to admit I'm 90% technology geek. It goes hand in hand with my technical work but I find it spilling deeply into my travel persona too.
I recently purchased a Mini-Notebook, specifically for travelling. As I used to lug a 17″ Macbook Pro around with me, the damn thing got very heavy. While incredibly robust and bulletproof, it was just too big.
That laptop went everywhere with me – rode over it with a motorbike in Cambodia, I used it in the world's smallest hotel room for 3 people in Japan and I whiled away the hours in Hanoi airport watching bad quality movies on it but alas, it was heavy and getting up there in computer years. I still use it, but it doesn't go adventuring with me anymore.
Tricked out now, I use a 10″ Mini Notebook which weighs less than a kilo and has 8 hours of battery life between charges and it only cost $300… so if it dies, my bank won't care too much.
The question is though, Is carrying a laptop too much, let alone anything else? Does it aid travel or just get in the way?
There are points for carrying technology… By taking a laptop or something similar you can edit photos, check out websites and information as you go, meaning you have the most up to date travel info you need wherever you are. You've also got the ability to communicate with home really easily and keep everyone up to date. You can update photos, blogs, youtube channels, just about anything with an iphone or a Nokia smartphone or a laptop and at the very least, you can chew through the hours watching movies on that little screen while on the 12 hour bus ride to Caracas.
Of course, there's a very great risk that by doing any or all of that, you're missing out greatly on the experience of travel itself. Meeting the people, getting lost, finding out things the hard way and hell, looking out the window on that 12 hour bus ride.
So, my advice would be – take the laptop or the phone, use it to plan things and communicate with home but leave it in the hotel. Use it once every few days and the second you find yourself passing the time being on facebook, shut it down! Get out there and see the world! That's why you're travelling in the first place…
So what's your vote? Are you a wired or unwired traveller?