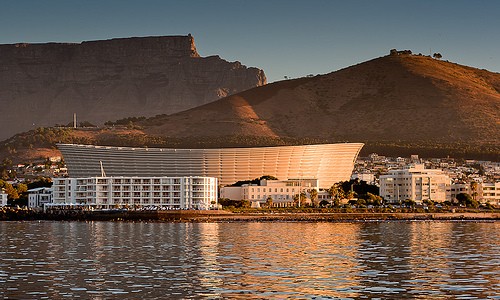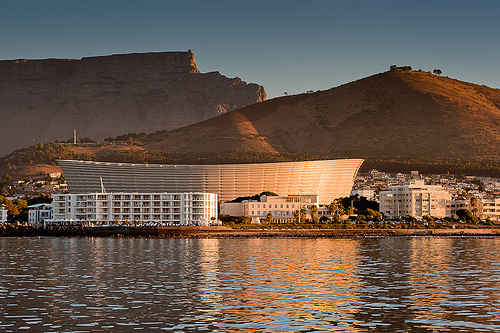 Photo from SteveCrane
Much is mentioned of the legacy of the World Cup for South Africa, and indeed this legacy was promised before we embarked on this journey, now that the festivities have passed us by, what is left for those of us remaining in these South African cities? Here in Cape Town there's plenty of legacy, you just need to leave your car and take to the streets on foot and public transport to see it.
While the latter, here – save for the new bus link from the airport to the civic centre in town – has seen little changed as far as vehicles and routes go, the rather tired and delapidated Cape Town Station has had a dramatic facelift. Those using this facility will no longer be drudging over fuddy-duddy aggregate flooring but are now greeted by high gloss tiling complete with light boxes and daylight streaming in through the new clear glass windows. A far cry from its musty, dinghy and beaten up predecessor.
From the station, make your way out the main entrance, cross the open paved square and across Adderley St to what has for the month of June and July, served as the fan-walk to the striking Cape Town Stadium. The inner city part of it has seen Riebeek St pedestrianised which boasts a collection of well-preserved Victorian buildings with a number of businesses such as bars, coffee shops and a variety of stores all benefiting from the increased foot traffic.
Further on, the fan walk has brought further life to side-walks previously only frequented by the destitute and dodgy. I recall a few years back walking down Somerset Rd being pushed into a corner by 3 youths who attempted to rob me. Were it not for the good Samaritan efforts of a passing cyclist who came to my rescue, I surely would have lost all my valuables. That is a far cry from what Somerset Rd is like now, packed with great shops, restaurants, bars and clubs.
The foreshore end of town has also some some considerable benefit. This part of the city has long been home to plenty of hotels such as the Cullinan, Southern Sun Waterfront and the Protea Hotel North Wharf who's guests always needed to use a taxi (at a cost of R50) to travel the short kilometer or so to the Victoria & Alfred Waterfront. Now with the introduction of a very swanky pedestrian bridge and a well sign-posted secure route, tourists no longer have to fork out for travels but can enjoy a leisurely stroll past new sights like Wheel Of Excellence and older ones like the luxury marina and it's residences.
But what has probably been the biggest legacy for Cape Town and this country as a whole is the memory foreigners will take away from this showcase event. Prior to the cup foreign press went on about machete wielding gang and the need for stab-proof vests in order to survive on our streets. The massive success off the World Cup must surely have come as a massive slap in the face to the naysayers around the world. South Africa will likely see many benefits for years to come through the reputation it has gained as a peaceful, welcoming and safe destination.