Report: 66% Say Online Shopping Has Become Safer In The Last Year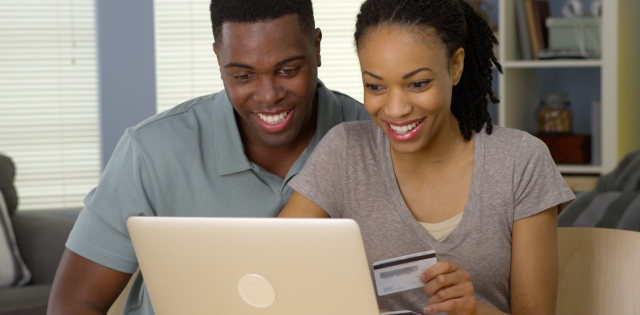 This December, many South Africans will be turning to the convenience of the Internet for last minute holiday season shopping in a bid to beat the crowds at the malls, and secure cheaper deals online. Online travel retailer Travelstart surveyed more than 7500 South African Internet users about their online shopping behaviour, highlighting concerns around scams and what shoppers can do to protect themselves from fraudsters.
Cape Town, 28 November 2014 – Research by Travelstart has revealed that 66 percent of South African Internet users believe online shopping has become safer in the last year, with 37% buying goods and services online at least once a month, 36% once every 3 months, 22% once a year, and 5% saying they never purchase goods and services online.
7511 people aged between the ages of 18 and over 60 were polled in October/November 2014, and the study shows that in spite of the 66% of South Africans who believe the Internet has become a safer place to buy goods and services, banking (30%) and online classifieds (20%) make them feel most uncomfortable when transacting online. To a much lesser degree, travel (9%), electronics (7%), daily deal websites (4%) and fashion (4%) rounded out the categories which make online shoppers most uneasy about fraud. A further 12% said that none of the categories make them nervous, and 32% are comfortable with spending as much as R2500 in one transaction.
As cybercrime becomes more prevalent, savvy shoppers are doing more to safeguard themselves against the threat of fraud, with 53% saying they are above average at protecting themselves from threats posed by hackers.
When asked to rate their awareness of 14 well-known scam tactics used by cybercriminals to gain access to sensitive information, survey participants said they were most vigilant of email phishing scams, Internet lottery scams, credit card skimming and false payment confirmation scams in that order. On the other hand, 419 scams, shortened URL scams, and major event scams are lesser known.
This echoes an article about hacking which appeared on the Times Live website in October 2014. In the article cyber forensic expert Danny Myburgh said, "The FBI has ranked South Africa the sixth-most active country for cybercrime. This is because it is a mix of the third and first worlds. African and Asian syndicates operate here because of the high level of technology. They can send large quantities of e-mails from here. The syndicates piggyback on our constitution, solid business infrastructure and good moral reputation."
The article went on to state that the biggest cybercrime threats to South Africa included spoof websites or phishing, illegal access to data, hacking cellphones and the footprints left by social media users.
Rodney Davids, Risk Analyst at Travelstart South Africa, commented: "At Travelstart we use a multi-layered approach to combat online fraud. Our fraud prevention tools are designed to complement each other. Some of these tools are internally-developed risk assessment rules, which flag transactions made from high risk countries, credit cards, routes and billing addresses. These risk parameters are linked to a fraud risk score which ultimately indicates whether a transaction is safe to process."
"Added to our Internal Risk assessment rules is 3-D Secure. 3-D Secure helps identify and confirm that the person entering the card details is the legitimate owner of the card thus preventing the unauthorised use of a credit card."
3-D Secure is a Visa and MasterCard international secure online transacting mechanism. During the payment process you may be re-directed to your banks 3-D secure page.
"Credit card holders should contact their card issuer to enroll a credit card in the 3-D Secure fraud prevention step."
Worryingly, 36% of those surveyed say they have carried out credit card sensitive transactions using public Wi-Fi networks such as those available at coffee shops, airports and shopping centres.
The survey also revealed the trust factors and security features local shoppers consider most important when purchasing online. The top 9 in order of most important to least important are:
The website is a well-known brand
The website has clearly visible contact details
The website uses encryption for transactions
The website is secured by an Internet security authority such as Thawte
The website has an easily findable office location
The website offers multiple payment channels
Industry body trust symbols are displayed on the websites home page
The website has 3D Secure enabled
The website has a social media presence with recent activity
Sources: Travelstart South Africa, Cornelius, J. (2014, October 16). SA is a paradise for world's hackers. Retrieved October 30, 2014, from http://www.timeslive.co.za/thetimes/2014/10/16/sa-is-a-paradise-for-world-s-hackers
###
Travelstart tips for safe Internet shopping
Protect your identity: Do not let a friend or a colleague use your credit card to make online purchases, and don't use a computer belonging to someone else for online shopping. When it comes to sensitive transactions, avoid Internet cafes and public computers.
Update your computer anti-virus: Protect against malware by regularly updating your anti-virus software. Better yet, select the update automatically so you won't have to remember to do it.
Make passwords long and strong: Combine capital and lowercase letters with numbers and symbols to create a secure password. Change your passwords frequently, and don't use the same password for multiple online accounts.
When in doubt, throw it out: Links in email, tweets, posts, and online advertising are often the way cybercriminals gain access to your computer. If it looks suspicious, even if you know the source, it's best to delete it or if appropriate, mark it as junk. If an email makes you suspicious, mouse-over the link instead of clicking it. Your browser will show you the URL the link is pointing to.
About Travelstart
Since 1999, Travelstart has provided the simplest way to book domestic and international flights online. Travelstart's mission is to make air travel easier for customers in the aspects of searching, comparing and booking flights. In addition customers can book hotels, car rental and holiday packages. Travelstart is in South Africa, Namibia, Tanzania, Kenya, Nigeria, Egypt, Turkey, Bahrain, Qatar and the UAE.
Contact:
Russell Jarvis
Email: russell@travelstart.com
Phone: 021 468 4300
Website: www.travelstart.co.za
LinkedIn:www.linkedin.com/company/travelstart
Twitter: www.twitter.com/travelstart
Facebook: www.facebook.com/travelstart
Instagram:instagram.com/travelstart
---
Share the news