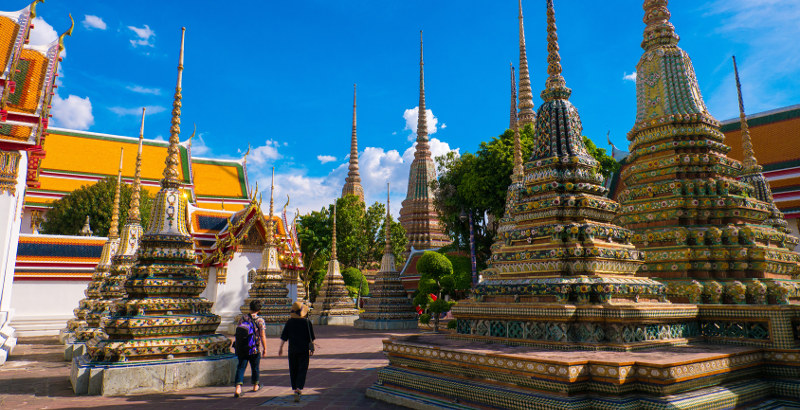 With its affordability, incredibly delicious food and sublime landscapes, South Africans are veering more and more towards exploring the beauty that is Southeast Asia.
Whether you're going for two weeks or two months, you'll learn a lot about the people, the culture, and about yourself. We've narrowed down three remarkable countries within Southeast Asia to add to your travel bucket list!
Cambodia
An often-overlooked destination is Cambodia – a land of quivering red sunsets peeking through the dramatic silhouettes of its ancient temples. This country's beauty lies in its unapologetic simplicity.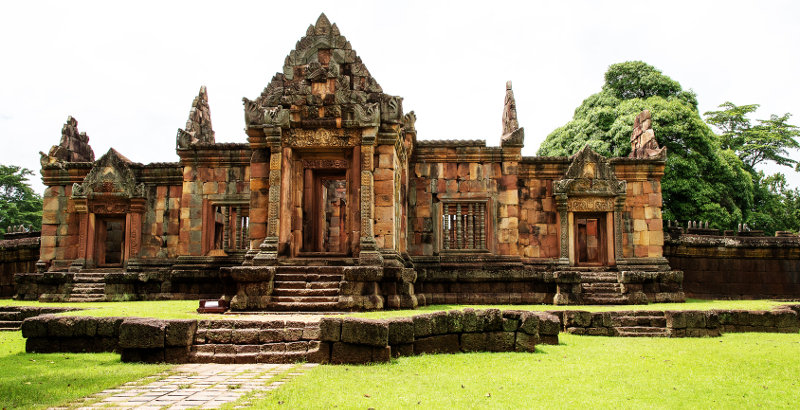 Cambodia's history is embedded in its people and its landscapes, and is a truly fascinating country. If you're considering visiting the two major cities of Siem Reap and Phnom Penh, start south and leave Siem Reap for last. While Phnom Penh is the capital, the city is very raw and unrefined, making for a very humbling experience. The city is a real backpacker's hub. You can find just about anything you like at the colourful markets scattered around town. For an introspective look at the country's war-torn past, tours of the Killing Fields and Tuol Sleng Prison are a must. Be prepared for an emotional experience that will leave you feeling quite overwhelmed.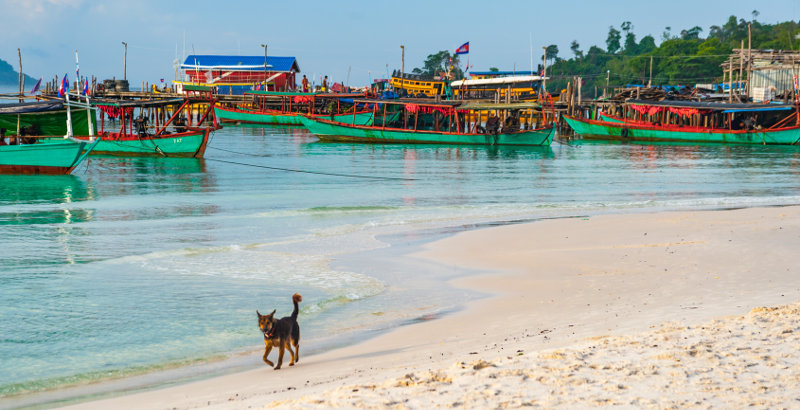 The best beaches in Cambodia are on the islands of Koh Rong and Koh Kong, and along the fringes of Sihanoukville. Stretch out along the white sandy beaches, where we hear the scuba diving is pretty amazing!
Siem Reap is, hands down, one of our favourite cities. Very different from its southern counterpart, life is a lot more easygoing and the locals are extremely friendly. By day, you can hire a bicycle for just $2 and explore the streets and temples at your own pace. Crack open an Angkor beer along the way as you take in the scenery. The famous Angkor Wat Temple is really why you're here, so make the most of your day and start early. Nothing quite beats watching the sun rise above the majestic temples – it's an awesome sight beyond words. A day pass will cost you $37 and you can aim to see the three main complexes of Angkor Wat, Angkor Thom and Ta Prohm. Do take a guide if it's your first time through the temples, and dress respectably. You'll be exhausted after a day of temple-trekking, so we suggest a relaxing foot massage before heading off to explore the evening markets along Pub Street. For the best street food, wander around the Old Market.
Recommended Eateries: The Blue Pumpkin, The Red Piano Restaurant.
Flights to Cambodia are more affordable between May and October. South African passport holders can get a visa on arrival for US$35, valid for 30 days.
Travel Tips in Cambodia:
Carry a map of where you need to go, as many tuk-tuk drivers appear 'lost'. They'll take you on a roundabout way to your destination, undoubtedly overcharging you.
Do a little research before you go to understand its past and history.
Don't give money to street children, no matter how desperate they look – you'll just be supporting their life on the streets.
Vietnam
Vietnam is the quintessential place where modern times meet ancient traditions. Keep an open mind, check your expectations at the door, and you'll be pleasantly surprised by the humble charm and distinct character of this country.
Head up to Hanoi to experience the old, colonial architecture, resembling the country's heavy French and Chinese influences. The Old Quarter bristles with excitement as you make your way through the winding alleyways, following scents of traditional cooking. Haggle your way through the street stalls. Pick up exquisite silks along Hàng Gai street, and grab a warm banh mi as you dodge the traffic. Don't mind the frenetic pace to which everything flows – this is daily life and you're a part of it.
Learn about the history of the Vietnamese War. Pay a visit to the interesting Women's Museum, explore the underground bunkers at the Imperial Citadel, and see "Uncle Ho" himself at the Ho Chi Minh Mausoleum. After a day of sightseeing, make your way up to Tay Ho for a refreshing coconut coffee or mango smoothie along the lake, as you watch the sun set. While there are many amazing places to eat Vietnamese food, don't be shy to pull up a plastic chair at any bia hoi, where you can tuck into some local favourites over a local draft.
Recommended Eateries: Lantern Lounge, Quan An Ngon & New Day.
And then there is Sapa – a quilted landscape of emerald rice fields that are any photographer's dream. Take a train from Hanoi (be sure to book in first class) and you'll soon arrive in this mountainous town, home to the highest peak in Indochina – Fansipan. Do a guided trek through the rice fields and sleep overnight at a homestay, where your host family will lay out a tasty feast of local specialties and you can wander through the ethnic villages.
Whether you're flying or biking your way through Vietnam, the Central region is a magical place to stop and spend a few days. While most locals flock to the beaches in Da Nang, we recommend jumping in a taxi as soon as you arrive, making your way to the quaint town of Hoi An. You will fall in love with Hoi An in a matter of minutes. By day, we recommend you do a tour of the countryside. Climb on a bicycle and explore the pottery villages and hidden trails with Mr Trung's Traditional Village Tours. By night, the city streets of the ancient town come to life with glittering lanterns and the humming of tourists. Do not leave Hoi An without getting something handmade at one of the many tailors around town.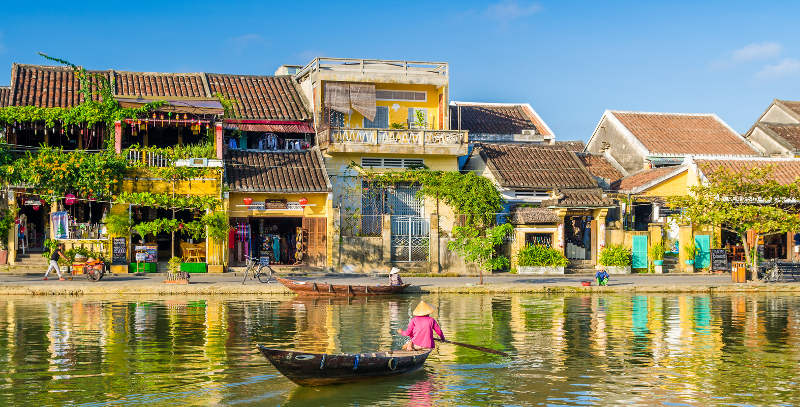 Recommended Eateries: Ba Le Well, Morning Glory, Cocobox & Bahn My Phuong.
If you have an extra day, one night in Hue will give you a chance to explore the Imperial City. Just the drive there alone is absolutely breathtaking. History buffs shouldn't miss a day trip to the DMZ – the official historical border line between North and South, where undetonated landmines still litter the fields. Walk through the Vinh Moc tunnels and discover how the resilient Vietnamese lived out the War.
A little further north, the Phong Nha-Ke Bang National Park is a wonderland of caves and underground rivers – zipline your way into the caves and be greeted by exfoliating mud baths. A treat for any thrill-seeker!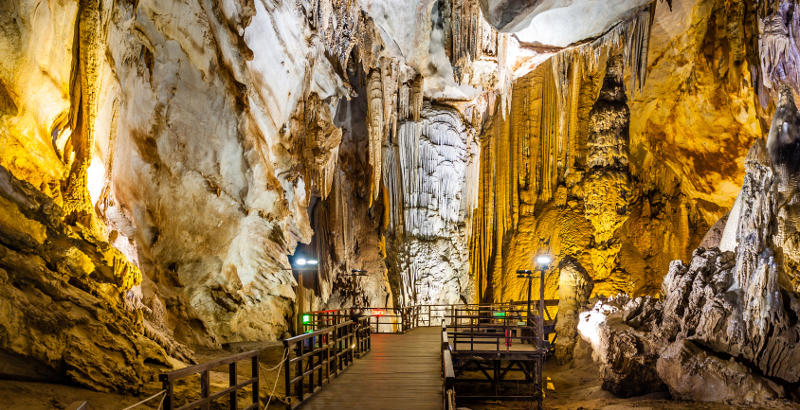 These are just a few points of interest in Vietnam – there is so much more to explore further south, if you have the time. With so many things to do in Vietnam and a real sense of discovery, you'll find yourself longing to go back. Vietnam's visa requirements are very straightforward. You can get a visa on arrival at US$25 for single entry or US$50 for multiple entry (1 or 3 months). Alternatively, you can also apply for your visa online.
The best time to visit is during the cooler seasons of spring (March-May) and autumn (September-November), when flights to Vietnam are considerably cheaper.
Travel Tips in Vietnam:
Do not hire a scooter if you're not comfortable driving – traffic is hazardous.
The best way to cross the street is to just start walking – be bold.
You dictate the price – rule of thumb is cut it down to half and work up from there.
Insect repellent and wet wipes will be your best friends.
Avoid organized day tours if possible – rather hire a private car/ bike and go your own way.
Thailand
This tourist hub has so much more to offer than just a party scene and tropical beaches.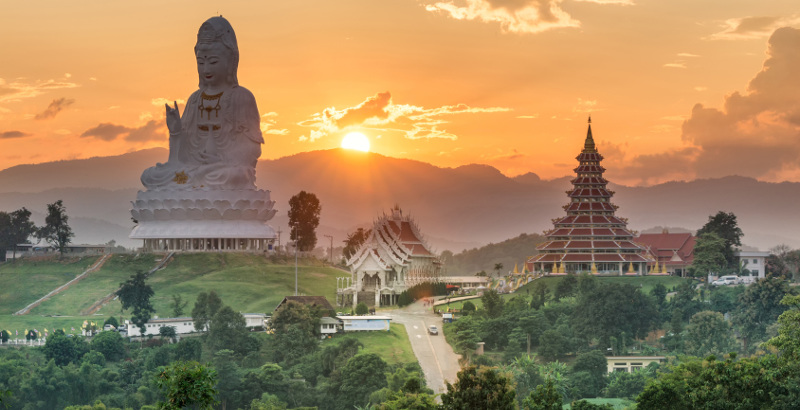 Bangkok will most likely be your entry point. Home to many temples and The Grand Palace, popular attractions in Bangkok include river cruises along the canals and the bustling night markets along Khao San Road where you can shop to your heart's content. From Bangkok, you can either bus or fly your way up north or to the southern islands. Krabi is a paradise of secret lakes and cascading waterfalls. Better yet, imagine waking up to the call of gibbons while kayaks gently paddle across a vast, turquoise lake. For a tranquil retreat that is good for the soul, spend a few nights in the floating bungalows in Khao Sok National Park.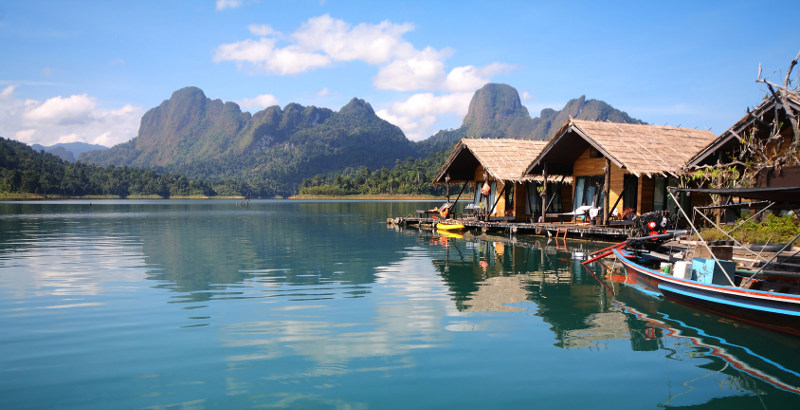 If you're after an easygoing island retreat with all the trimmings, Koh Samui is just the place. Lined with beach resorts, you can easily forget about the world while you're having a luxurious massage right on the beach. Rent a scooter for the day (start early) and make your way around the island by sunset. The Fisherman's Village along Bophut Beach is bristling with eclectic shops and beach bars. By sunset you can sip on two-for-one cocktails on the beach, while checking out what's for dinner on the beachside barbecues.
Recommended Eateries: Had Bang Po, Tree Tops and definitely the street food!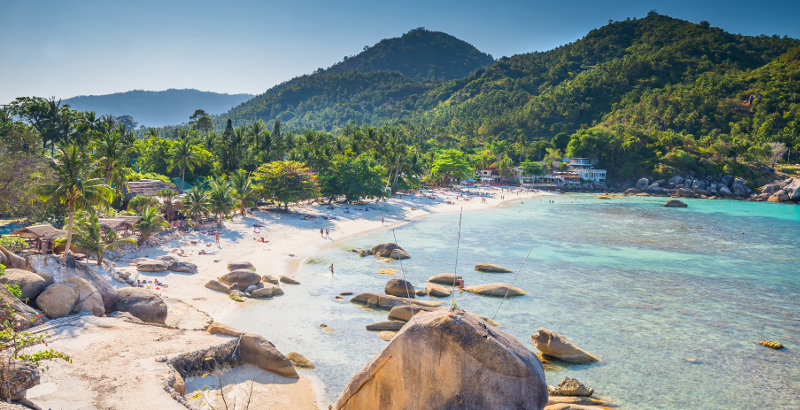 Travelling through Thailand is an adventure all on its own, and is a great place to end off your travels.  Flights to Thailand are generally much cheaper during the low season, between May and October. South Africans can explore Thailand visa-free for up to 30 days!
Travel Tips in Thailand:
Take the time to learn basic phrases like "hello" and "thank you"
Avoid Western food – try as many different local dishes as you can.
Do not ride the elephants or take photos with exotic animals – this fuels animal abuse in the tourism trade.
You'll want to remember this trip, so don't indulge in too many buckets.
Try a 'special' coconut – with rum!
So, whether you're a curious traveller keen to explore the cultures and traditions of the East, or are searching for the ultimate island experience, Southeast Asia is a magical part of the world where you can do both. See Travelstart's great deals on these Southeast Asian getaways!