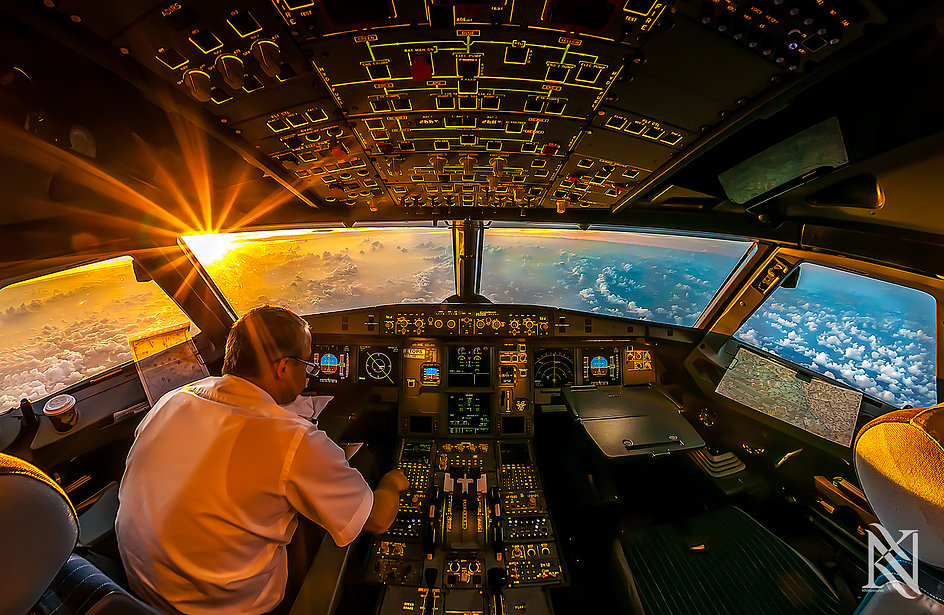 From their offices in the sky there's a new wave of professionals taking to the 140 character medium to share their enviable views. Aviator extraordinaires, air travel writers and published pilot authors and bloggers from near and far; these are the pilots that Tweet from 30 000 feet.
Julian Hall, or @TigerJools as he's known on Twitter, is a passionate BA 747 Pilot based out of Heathrow. According to recent Tweets, his roster sees him doing a lot of Transatlantic flights – flying from Terminal 5 at LHR to Las Vegas, San Francisco, and beyond. He mentions South Africa as another long haul destination he flies too.
Arriving back into Heathrow at 430am. Always love it when London is clear as the view is pretty special. pic.twitter.com/Z09ZdU2hAE

— Julian Hall (@TigerJools) February 23, 2014
Malaysia's only Radio DJ, Music Producer & Professional Airline Pilot, Johan Farid Khairuddin (or @jfkjohan) is a Senior First Officer at AirAsia X. While his initials 'JFK' remind one of one of the busiest airports in the world, Johan is based in Kuala Lumpur and started flying in 2005 to solve his jet setting dilemmas. Johan is something of a celebrity at home so be sure to follow him on Instagram too as he regularly posts scenes from his exciting life.
Patrick Smith is an airline pilot, air travel writer, and the host of askthepilot.com. He's also a published author and his book, Cockpit Confidential, is one of the best reads available for aviation geeks everywhere.
I thought this was kind of cool. An entire Boston subway car done up, top to Bottom, as an ad for Icelandair. pic.twitter.com/m5OPOtQT3L

— Patrick Smith (@AskThePilot) February 28, 2014
4. @si_65, British Airways
An Airbus A380 captain for British Airways, the nameless SkymanA380 provides a real time account of steering Airbus' bulkiest behemoth. Rugby Tweets too … though he is a fan of the Rose-emblemed team.
Lokk what's just arrived next to my #A380 sim. Space age #A320 #brandspankingnew pic.twitter.com/nYCDsfNYR1 — SkymanA380 (@si_65) February 7, 2014
The anonymous Twitter feed of Airbus Pilot provides insight into the daily life of an Airbus-A319 pilot who started in 2014. He/she is also an avid aviation photographer so expect to see loads of interesting snaps from the cockpit.
pilotseye 70 ft RWY 08L TXL @luchtvaartfotos @APilotsEye @apilotsview @AviateAddict @AirlinePicss @Aviation_Pics pic.twitter.com/Y4BXlwVJRK — Airbus Pilot (@pilot_airbus) February 22, 2014
6. @KELaidler, British Airways
Kate Laidler is living her dream as a First Officer & Flight Manager for Airbus fleets at BA. She trained with CTC Wings in the United Kingdom and in her role as a real life pilot she's flown celebrity chef Heston Blumenthal. She cites final approach as one of the favourite parts of her job: "The approach to land is my favourite part of flying. It's like a puzzle you have to solve."
My a320 seeming to have an identity crisis this morning in #SVG #pilotlife #hybrid hehhe pic.twitter.com/mrp6yjZz3q — PilotKate (@KELaidler) February 2, 2014
Although he's not yet using Twitter, we couldn't exclude Karim Nafatni – an Emirates Airline Captain and photography enthusiast based in Dubai. Addicted to height and a fan of architecture, he climbs the highest skyscrapers in Dubai to take his pictures, sometimes more than 300 metres above ground! As the top of the biggest buildings in the world is not high enough for him, he carries his camera with him during work to document his daily routine in "his Office" and shoots from the flight deck. Stay up to date with his awesome photography at knxposures.com.
@benwhitworth1 is a 747 Pilot and business partner at AirlinePrep – a website which was set up to provide both aspiring pilots and current airline pilots with exposure to airline recruitment methods and testing.
So I didn't survive home standby! Off to #Boston #pilotlife — Ben Whitworth (@benwhitworth1) February 7, 2014
Nonhlanhla Radebe is the co-founder of Vukani Aviation and a pilot for South African Express. Nonhlanhla on what inspired her to become a pilot, "I grew up in a township where I could see the Durban International Airport for years. I wanted to do something different and exciting with my life. I simply and madly fell in love with everything about aviation."
I'm off to go spend V-Day with the sky! Hello lover. pic.twitter.com/DS7RAFWEAE — Nonhlanhla Radebe (@AviatorNoni) February 14, 2014
Dave Axenty (@axenty) is an American airline pilot and an FAA-certificated flight instructor. He also collaborates on an app called PilotPro – the ultimate pilot logbook app. Keep up with him on his blog axenty.com.
San Francisco Bay while on the FMS Bridge Visual to runway 28R. pic.twitter.com/WUt9fTmVNx — Dave Axenty (@axenty) February 22, 2014
A mother to 3 daughters, Karlene has been a pilot for 8 airlines including Tower Air, Northwest and most recently Delta. She is the author of Flight For Control and Flight For Safety and has flown Boeing's and Airbus' in her long and illustrious career. She documents her life on her blog and is also a sought after speaker, motivator and artist.
"Women pilots don't land at the wrong airport. We ask for directions!" #Dreamlifter http://t.co/Vv2wSLzFLq #aviation pic.twitter.com/1biME1atGD — Karlene Petitt (@KarlenePetitt) November 21, 2013
Aspiring aviators will love following Paul Green (@paulgreenld) – a Trainee pilot studying at CAE Oxford Aviation Academy. He also writes about his career on his blog – The Road to an ATPL.
Busy day on the OXF ramp today! Best classroom view EVER! pic.twitter.com/fakxKu1qQG

— Paul Green (@paulgreenld) February 7, 2014
13. Brad Tate, American Airlines
Pilot blogger currently on hiatus from his website Airline Pilot Chatter, Brad Tate or @AAFO4Ever, first caught the aviation bug after an unlikely encounter with a real pilot when he was still at school. Having cut his teeth on the apron as an aviation mechanics assistant, Brad's story is one of old school ladder climbing on the road (or thermal?) to commercial aviation glory. Now in his 15th year at AA, Captain Tate spends his hours in the air crisscrossing the United States, Canada and Mexico.
Direct to the lady and up the river for the visual 22…little bit of ice on the wipers. pic.twitter.com/tNeRsR4KvV

— Brad (@AAFO4Ever) February 10, 2014
14. Fatima Jakoet, South African Airways
@FatimaJ is a Senior First Officer at SAA and the founder of Sakhikamva – an aviation awareness and skills development initiative for young aspiring aviators. Fatima has described her admission to SAA's cadet pilot program as an arduous journey having endured a nail-biting 12 months before she was selected.
Come fly with me…@flysaa @flySAA_US pic.twitter.com/J7MhdTJjJP

— Fatima Jakoet (@FatimaJ) November 15, 2013
Thailand based Training Captain for local Nok Mini Airlines and blogger in chief at Cockpit Chatter, Ivan Paredes is an Argentinian whose commercial airline pilot career has taken him from his native South America to Africa and South-East Asia.
Beech 18 – The Twin Beech Photo: Bjorn Moerman pic.twitter.com/u0gUbPEAxT

— CockpitChatter (@CockpitChatter) January 16, 2014
— CockpitChatter (@CockpitChatter) January 16, 2014
@patflannigan is an airline pilot and founder & editor of AviationChatter.com. A licensed flight instructor, Pat has been flying for 14 years and is currently working as an airline pilot in the United States. Pat also wrote Hold Here, an iPhone & iPad app for pilots that assists with holding patterns.
An this is what it looked like out the window. #flyingtips #aviation pic.twitter.com/YxeoZZIp — Pat Flannigan (@patflannigan) August 1, 2012
@capnaux on Twitter, Eric is a US Airways A320 Captain and award winning pilot novelist from Phoenix, Arizona. Coming from a diverse range of aviation backgrounds including a stint as an Alaskan bush pilot and as a Captain for a Caribbean seaplane operation, Captain Auxier writes on his blog capnaux.com and is the author of Code Name: Dodger.
#cockpit #photooftheday Do u like big Haboobs? Photo 2! #avgeek #aviation pic.twitter.com/6HEO5Uq0Z6

— Eric Auxier (@capnaux) February 19, 2014
Flying short and medium haul routes as a First Officer on the Boeing 737, the mysteriously named @Golfcharlie232 shares photos, videos and stories on his blog, Live from the Flight Deck. The blog includes older entries he wrote during his commercial pilot training, flying Kingairs, tow planes, Cessna's in the US and gliders in Europe. He still flies gliders, light aircraft and tow planes in his spare time.
What's your pilot callsign? #avgeek #pilot pic.twitter.com/Yp6NOVTeqi

— From the Flight Deck (@Golfcharlie232) February 13, 2014
Rob Mark's Jet Whine blog won a 2008 Webbie award for what judges called "bold opinion on a wide range of aviation topics providing insight into the industry." His Twitter feed includes a wide range of aviation news postings, insight into how the aviation industry works and back-and-forth discussions with readers that reflects the sometimes chatty world of air professionals.
What can I say. The @southwestair guys had me at the cookies. pic.twitter.com/bH3tm8WX

— Rob Mark (@jetwhine) April 7, 2012
20. JC Kidder, Alaska Airlines
A Boeing 737 Captain, @CaptJCKidder is the proud pilot of more than 20 000 accident free hours and his Pacific crossings take him from the snowy landscapes of Alaska to the contrasting  sceneries of Hawaii.
2of2) but otherwise WX won't be a issue. ETE 6hrs for this mornings 2,830nm Pacific crossing. Good morning! pic.twitter.com/IDdxI1RMAZ

— Capt. JC Kidder (@CaptJCKidder) February 21, 2014
Going by the Twitter handle @jaidillon, Manchester-based Jai is a First Officer at Ryanair currently operating on the Boeing 737-800. He is also one of the youngest pilots in Europe and he has said that he views his day-to-day tasks as "one of the best jobs in the world."
This weather is getting pretty destructive…. Feel sorry for the insurance companies… #avgeek #badweather #wind pic.twitter.com/9OMxWLKuUl

— Jai Dillon (@jaidillon) February 12, 2014
Tweeting as @EjetPilot, Chris Spradlin is a self-confessed 747 lover and pilot on a major US commuter airline.
Total fuel load for our 4.5hr flight today frm Montreal to Houston is 20,620lbs or 3,000gal which is right at our max pic.twitter.com/ERtgen7VWv

— Chris Spradlin (@EjetPilot) March 4, 2014
23. James May, Cadet Pilot
20 year old James (Tweeting as @TheMrMay) is on his way to becoming a commercial airline pilot. He documents his career journey on his blog – theaviatorblog.com – where he inspires other aspiring airline pilots to follow their dream.
Tweets by @TheMrMay

@PilotFelix is an MD-11 Pilot for Lufthansa Cargo and aviation photographer – see some of his work on his website. Felix sums up his career highlights on his blog – "Aviation has been my passion since my first flight a little child to Tunisia in 1992. Since then I have pursued a career as a commercial pilot. After taking control of a small aircraft for the first time in 2006, I finished my training at the Lufthansa Flight School in Bremen, Germany and Phoenix, Arizona in 2008. Only a few months later did I start flying passengers around Europe on the Airbus A320 fleet of Lufthansa. In 2011 I changed over to Lufthansa Cargo to steer the wonderful McDonnell Douglas MD-11."
An unusual perspective on the @Lufthansa Cargo MD-11 with the #Aktion_Deutschland_hilft titles. pic.twitter.com/KowGv4ik

— Felix Gottwald (@PilotFelix) February 13, 2013
25. Laura Groves, Southwest Airlines
Laura Groves is a major airline pilot, published writer, amateur sailor, kayaker, and a self-proclaimed "food truck groupie". She provides a good perspective on things from a pilot's point of view from @flygirl737700 on Twitter.
Yep, the view is the best part of the job. via @AAFO4Ever http://t.co/cLVuUrBN4e – or what abt this: pic.twitter.com/Q8lVkSRRMk

— Laura Groves (@flygirl737700) March 28, 2013
Capt. Jeff AKA @airlinepilotguy captains a major U.S. airline from his base at the world's busiest airport. When he's not hurtling through the air he's the host of his own online show called "the view from my side of the cockpit door" where he talks about piloting, aviation safety, layovers, industry news, travel-related stuff, incidents, accidents, and more.
@mjgru @airlinepilotguy Nice pic! Where is this? pic.twitter.com/XOZlgZozIH

— Capt. Jeff (@airlinepilotguy) March 4, 2014
@sami1laine is a Pilot at Finnair with a strong safety background. Flying long-haul and short-haul flights for Finland's national carrier, FO Sami is also editor-in-chief of Finnair's Safety -magazine. His inspiration comes from open minded thinking and observing different cultures.
Wonderful world from air – "a few" miles East from Helsinki @finnair pic.twitter.com/pNLY34HzKB

— Sami Laine (@sami1laine) December 26, 2013
28. Simon Burnham
A British Pilot from Devon flying in Durban South Africa, @pilotsimon208 started his flight training in 1999 at British Airways Flying School in London. At the moment he is converting his UK license to a South African one and cites a flight to Port St Johns on the Wild Coast as one of his most memorable.
Seem to have a problem with the simulator pic.twitter.com/nCpBa00jL3

— ✈PilotSimon✈ (@pilotsimon208) March 4, 2014
A380 Pilot for BA, Captain Wallsworth attempts to answer questions about British Airways and flying through his @DaveWallsworth Twitter profile. On flying over London, "'London is an amazing city to fly over. Taking off from London City, the plane points directly towards Canary Wharf and the Docklands. As soon as you're airborne you get an excellent view straight down the River Thames. You pass just west of the Olympic Village, then head towards the Severn Bridge and South Wales."
One of the four Trent 970 engines fitted to A380 G-XLEA. #A380 pic.twitter.com/IbXj7KFobb

— Captain Dave (@DaveWallsworth) October 12, 2013
US Pilot Brian documents his journey of his renewed airline pilot career on his blog, renewedpilot.com. Since 1996 he has worked as a professional pilot in the United States flying for a commuter airline, a major airline, a fractional and then back to that same major airline. Brian's blog chronicles his journey through new-hire training and life as a first year employee at a new, innovative airline.
I'm sorry… did you want to depart today? pic.twitter.com/RYMycx0PCE

— Brian (@RenewedPilot) May 16, 2013
---
Many agree it's the best job in the world and if you're a fellow #AvGeek then we hope our list of some commercial airline pilots on Twitter will help budding Captains and current aviators connect on a whole new level.
Here is a public list of airline pilots on Twitter.
On a mile of highway, you can drive a mile. On a mile of railway, you can travel a mile. On a mile of runway, you have the whole world.