Turkey is a nation of many contrasts, there are the Whirling Dervishes, ornate mosques and bazaars you'd expect but there is also a wealth of undiscovered beauty in places you would never think to look. With eight neighbouring countries (including Bulgaria, Georgia and Armenia) and numerous minority cultures within Turkey itself, there is so much to discover from sun-bleached windmills in Bodrum, to a monastery built into a sheer cliff in the Pontic mountains and famed honey from Maçahel bees by the Georgian border. One of the many tempting reasons to visit Turkey is that South Africans don't need to go into an embassy to apply for a Turkish Visa- 3 clicks and you'll have an e-Visa that's valid for a 30-day visit.
1. Tea Plantations in Rize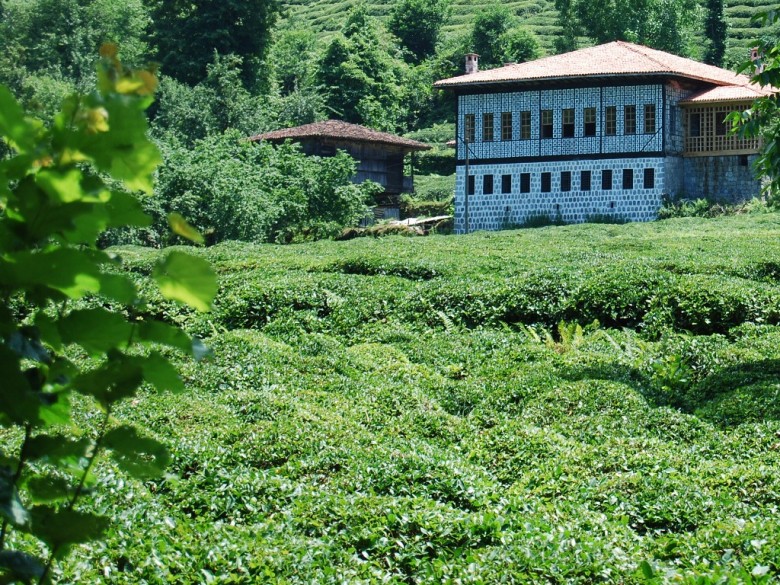 Traditional Laz house and tea plantation by Ricky Durrance
Sri Lanka, not Turkey, is where one expects to find verdant fields of tea leaves, however in the province of Rize (meaning mountain slopes in Greek) in the eastern part of the Black Sea Region, tea is the livelihood of many people. The beloved Rize tea, drunk in cafés throughout Turkey, is mahogany in colour and traditionally served in slim-waisted glasses with two or three lumps of beet sugar. Rize Province is ideal for hiking adventure holidays, venturing into the natural wilderness and getting to know the Laz culture with days spent sipping hot, sweet tea in wooden mountain huts.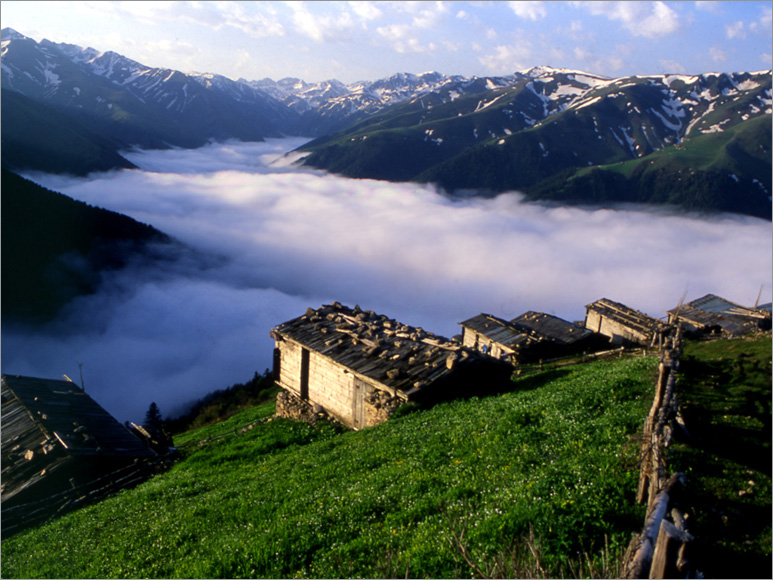 Traditional houses in Rize courtesy of Goolets
2. 1001 Ghost Churches in Ani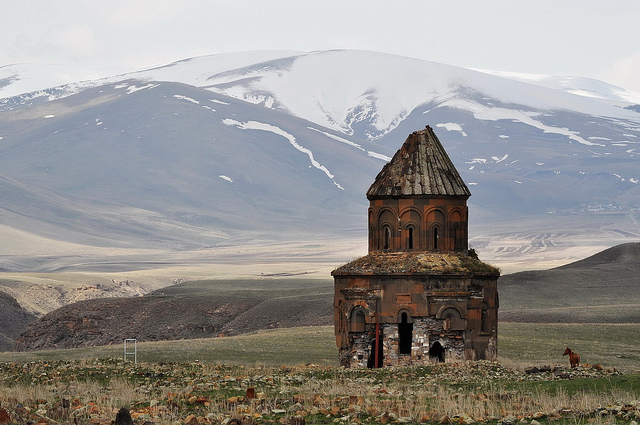 Armenian Church in Ani Turkey by Stephen Kelley at Oak Park Public Library on Fickr
Ani is found in the extreme northeastern region of Turkey right by the border of Armenia. It is here you will find the surreal landscape of 1001 crumbling churches. During Medieval times Ani was one of the largest cities on the continent, the birthplace of royalty and a cultural symbol for the Armenian people, yet various attacks and earthquakes have led the city to become deserted for over three centuries. Fortunately it is in the running to become a UNESCO World Heritage Site in 2016. A permit was previously required to visit Ani however you may now visit freely. The Italian diplomat, traveler and historian Luigi Villari who visited Ani in 1905, had the following to say:
"Today this spot, where proud kings once dwelt in splendid courts and held sway over prosperous lands and civilized subjects, where public life was active and vigorous, is a crying wilderness."
Visit Ani for a truly unusual experience, a striking landscape and a rare insight into the Turkish-Armenian past.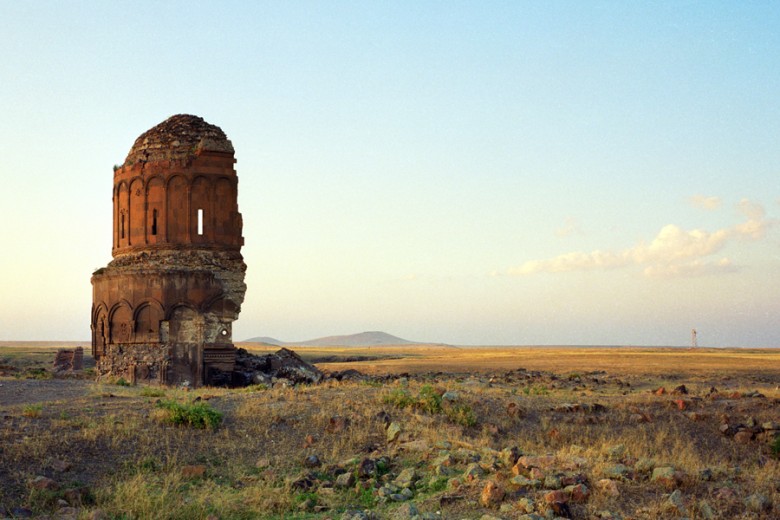 Armenian Church of Surb Prkitch courtesy of California State University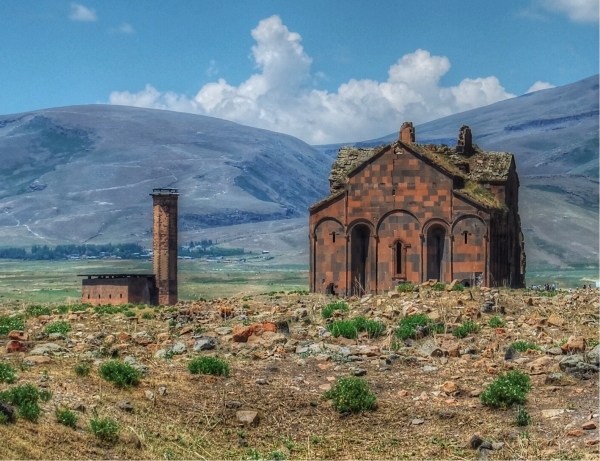 Ani Ruins by Natalie Sayin at The Turkish Travel Blog
3. Tudor-like Ottoman Houses in Amasya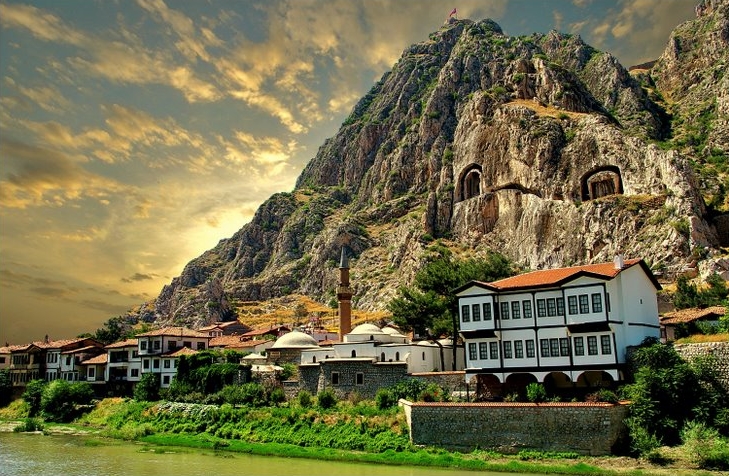 Amasya and Yeşilırmak River by Acizane Nacizane on Wikipedia Commons
Amasya looks like a city out of the depths of Tolkein's imagination. Set in the mountains above the Black Sea coast, the rock tombs of the Pontus kings are carved into the cliffs and stand ceremony above the city and the Yeşilırmak river. The typical Ottoman houses (known as Yalıboyu) of painted wood have been restored and are now used as hotels, pubs and restaurants. The city has been the birth place of two Ottoman emperors and therefore carries a rich significance in Turkish culture. Visit this magnificent city in the tradition of the Ottoman princes.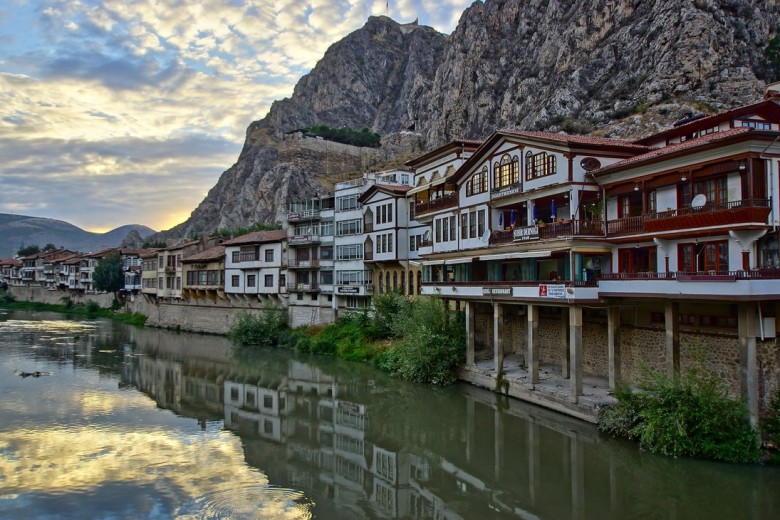 Amasya courtesy of Berakov WordPress
Also read:
Coastal Windmills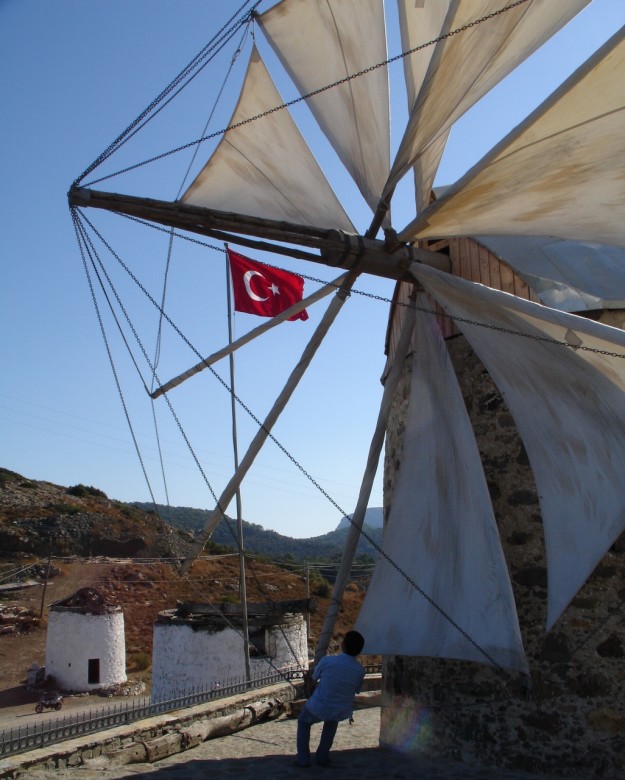 Windmill unfurling by Roving Jay
No you're not in Santorini, these windmills, made of traditional stone sit on the peninsula between the towns of Bodrum and Gumbet, catching the coastal winds. From the 18th century to the 1970's they were used by the local communities to grind flour. Visit the coastal town of Bodrum for serenity and escape the heaving bazaars and streets of Istanbul. Drink Raki and sit in the sun. The windmills make striking photographs when silhouetted against the evening light.
5. The Legend of Sumela Monastery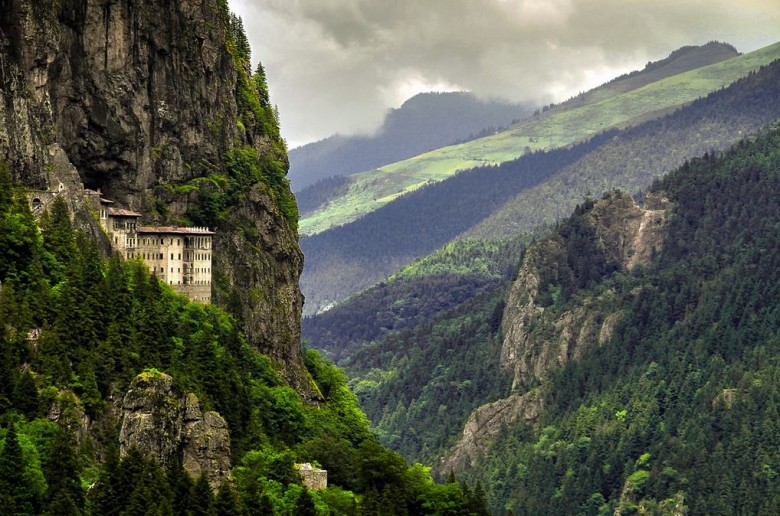 Sumela Monastery courtesy of Özcan Malkocer
The Sumela Monastery was built into this sheer mountain in 386 AD. According to legend it was constructed in this almost unreachable spot due to two priests discovering a statue of the Black Madonna (typically associated with miracles) in a cave. The priests believed that Saint Luke had sent the Madonna to the cave to inform the priests to build their monastery in this alpine spot. A more cynical view has it that the priests made up this story to garner funding for their monastery. After many centuries, it was finally abandoned in 1923. Sumela monastery is worth a visit for its dramatic setting and exquisite interior frescoes. Book a day tour from the nearby city of Trabzon. Don't forget to bring a bottle of water along (not surprisingly there are many stairs).
6. The Enormous Stone Heads at Nemrut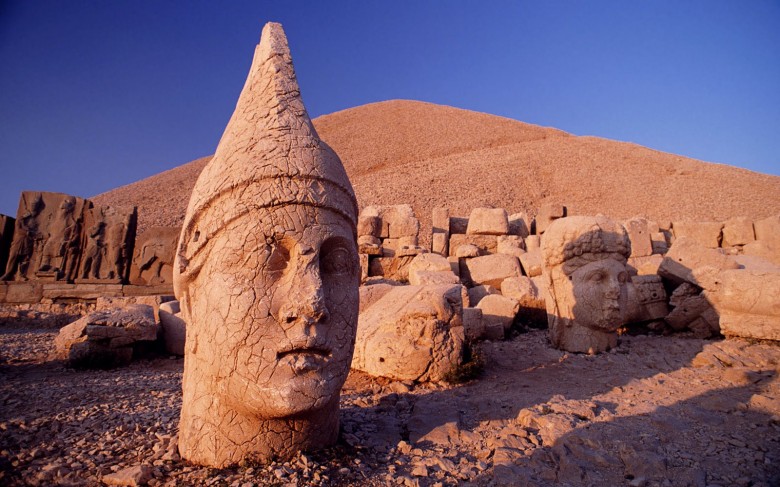 Most of this list is set in the north east of Turkey away from the troubled Syrian border, Mount Nemrut is a must-see but as it is located only 4 hours from the Syrian border it is important to exercise caution and carefully research the current political climate before visiting this part of Turkey. In 62 BC, King Antiochus I Theos of Commagene built a tomb-sanctuary flanked by enormous 9 metre-high statues of himself, two lions, two eagles and various Greek, Armenian, and Iranian gods. There is nothing like seeing ancient sculptures in their natural environment to get an idea of their staggering beauty and scale. Walk among the ancients at Nemrut.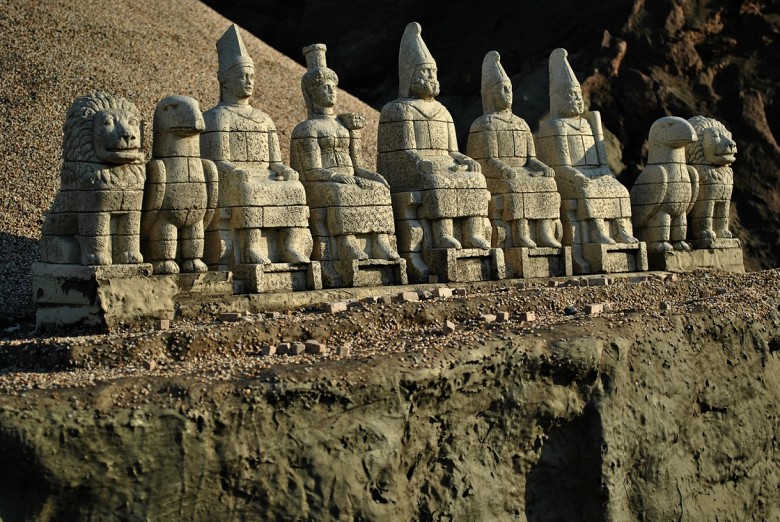 7. Taste Fresh Honey in Maçahel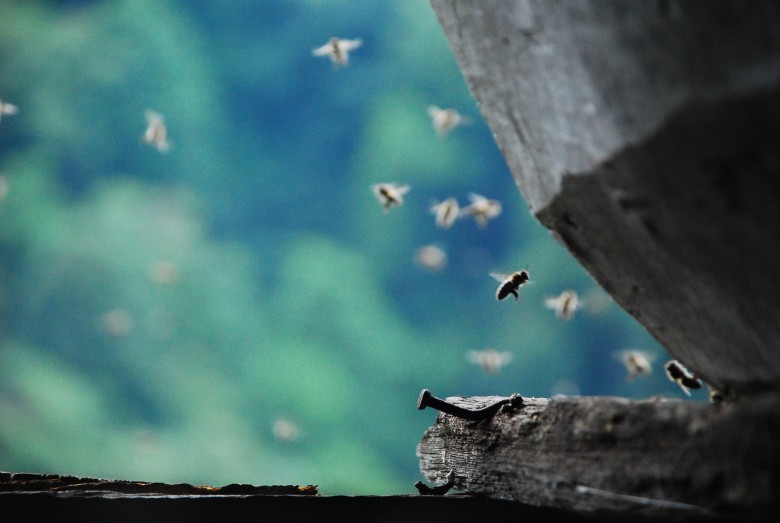 Image courtesy of Inspired Beeing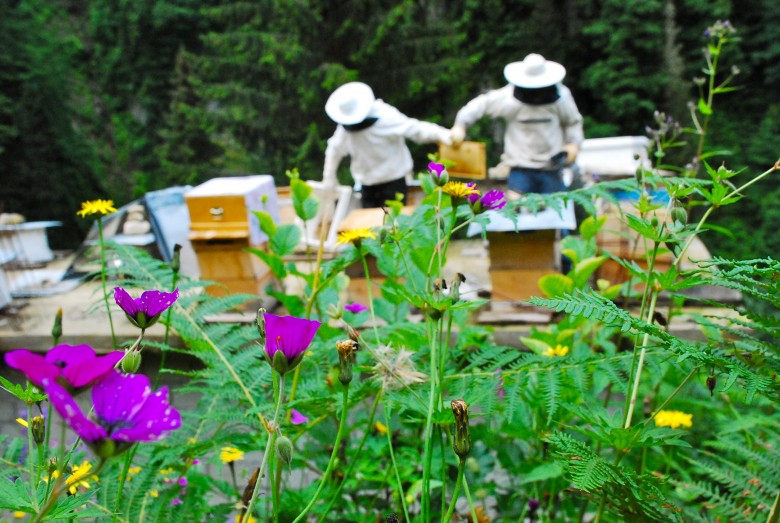 Image courtesy of Inspired Beeing
Maçahel is a little-visited region near the Georgian-border of Turkey. An American Fulbright scholar and National Geographic Young Explorer recently attempted to start a honey-heritage route in northeastern Turkey to provide income for village women in the region. Unfortunately she wasn't successful, however it is still possible to visit villages where honey is produced, especially Maral in Maçahel Province. A scientific study has revealed that the Queen bees used in Maçahel honey-making are particularly hard-working and responsible for the high-quality honey produced here. Honey is an integral part of Turkish cuisine and Turkey the world's 3rd largest honey-producer. For an experience unlike any other it is possible to stay in a small pension in the Maçahel valley if you bring a Turkish/Georgian interpreter along, otherwise it is best to organise with a tour company in Istanbul.
Follow any of these adventurous routes in Turkey and you will have had an irreplaceable, singular experience. Have you been to any of these far out locales? Let us know in the comments below.